From Colin Farquharson
BP Scottish girls championship preview
ANGUS women's champion Dawn Dewar from Monifieth, one of the title favourites, may be able to play only a few holes when the BP Scottish girls match-play golf championship gets under way with two qualifying rounds at Powfoot on the Solway Firth coastline on Tuesday.
Dawn, 17, is suffering from tendonitis in her left wrist and had physiotherapy treatment all last week before setting off from Dundee for the championship.
"Dawn's wrist is strapped up and she has hardly been able to hit a ball for a week or so because it has been so painful," said Scottish Ladies Golfing Association tournament organiser Gillian Roy.
"She is definitely going to try to play because the Scotland team for the girls home internationals is chosen at the end of the week and she feels she might not be picked otherwise. It would be such a pity if she could play only a few holes before her wrist gets too sore to continue."
Jenna Wilson from Strathaven flew back to Scotland on Sunday from Moscow where she was a member of the Scots team who were pipped for the bronze medals in the European junior women's (Under-21) team championship.
Beaten semi-finalist in the Scottish women's championship at Stranraer in May, three-handicap Jenna is one of the most improved players of the season. She lost in the semi-final of the girls' championship 12 months ago but must be favourite to take the title this week.
The only other three-handicappers in the field are Kelly Brotherton (Tulliallan) and Laura Walker (Nairn Dunbar).
The leading 32 players from a total field of 54 after Tuesday's 36 holes' stroke-play will go forward to sudden-death match-play, culminating in an 18-hole final on Friday morning.
The next best 16 after the stroke-play will contest the Ansley Reid Salver. The winner of that at Glenbervie last year, Lynne Smith (Strathaven), is competing again this week but Heather MacRae (Dunblane) who beat Louise Kenney (Pitreavie) in last year's championship final is now over the 18 years age limit.
Apart from Jenna Wilson, the only other one of the four championship semi-finalists from 2001 who is still young enough to be competing this week is Kate O'Sullivan, now playing out of Cochrane Castle. Kate shocked one of the title favourites 12 months ago, Fiona Gilbert (Carnoustie), beating her by 2 and 1 in the quarter-finals before losing by 7 and 5 to the eventual champion, Heather MacRae.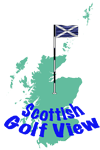 For additional news of Scottish Golf and Scottish Golfers check out our brother site scottishgolfview.com




Kirkwoodgolf is published by Gillian Kirkwood
Unless otherwise acknowledged, most photos are courtesy and copyright © Cal Carson Golf Agency
News items come from a variety of sources... Many thanks to everyone who contributes.
I'll publish anything which is related to Ladies, Juniors, Veterans, Seniors, Students, or Amateur Golf.