December 2003 Archive
---
Wednesday 31st December 2003
KirkwoodGolf wishes all readers a very Happy New Year.
Ring out the old, ring in the new,
Ring, happy bells, across the snow:
The year is going, let him go;
Ring out the false, ring in the true.
- Lord Tennyson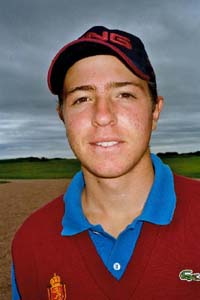 SPANISH WONDER BOY SHOOTS FINAL 64 FOR ASTONISHING FLORIDA TRIUMPH
Pablo Martin, pictured right, confirmed his rating as the Seve Ballesteros of the next decade by scoring an astonishing victory in the Orange Bowl junior international golf championship at Biltmore Golf Club, Coral Gables in Florida on Tuesday (USA time).
Ten shots behind long-time leader Randy Lowry from Texas at the beginning of the final round, the Spanish teenager from Madrid shot a terrific round of seven-under-par 64 for a 72-hole total of eight-under 276.
Pabloís glory run carried him through to a three-shot victory from the faltering Lowry who finished with a 77 for 279.
Martin won the British boys open championship at Ganton in 2001 and was a runaway winner of the European Young Masters in 2002.
Spain had four youngsters in the top 13 of the boys championship. Carlos Del Moral, also from Madrid, finished joint fifth on 282. He too finished with one of the best rounds of the tournament, a 66.
Jorge Campillo (286) from Caceres (286) came joint ninth and Miguel Cabrera (289) from Maspalomas finished 13th.
Germany-based professionalís son Ben Parker, entered from Kisdorf faded with a final round of 76 for joint 12th place on 288. Parker won the European Young Mastersí boysí title last summer.
Englandís official entry in the boys category, Denis Denison from Leeds, saved up his best round for the final day. He closed with a one-under-par 70 for a final total of 298 and joint 35th place.
United States filled the first two places in the girls championship. Esther Choe from La Quinta, California made almost all the running to win with a total of four-under-par 284. She opened with two brilliant scores of 67 and 68 to go clear of the field and then allowed them to close up again as she scored 74 and 75 in the last two rounds.
Esther won by one shot from Tiffany Chudy from Miramar, Florda. She closed with a 73 for 285.
Spain provided three of the top 12. Emma Cabrera from Maspaolomas tied for fourth on 290 after a good last round of 71; Adriana Zwanck from Algete was joint seventh with a 75 for 292 and Azahara Munoz from Malaga tied for 10th on 294 after shooting the best final round in the girlsí section, a 68.
Ben Parkerís sister, Florentyna from Southport, pulled herself up the final rankings to a creditable joint 16th place. Her one-under-par round of 71 was her best of the week and she totalled 302.
Kiran Mitharu signed off with a 76 for 311 and joint 24th place.
---
Tuesday 30th December 2003
Orange Bowl
Randy Lowry from Spring, Texas and Esther Choe from La Quinta, California are odds-on favourites to keep both the individual titles at home in the United States at the conclusion of the Junior Orange Bowl international golf championships in Florida on Tuesday.
Randy (66, 66, 70) is on 11-under-par 202 after three rounds and has a six-shot lead from fellow-American Jon McLean (Weston, Florida) in the boys' category.
The boys' par is 71 for the Biltmore course at Coral Gables, Florida. The girls' par is 72.
Esther (67, 68, 74) is on seven-under-par 209 and has a three-shot lead with one round to go in the girls' section.
Americans are also lying first and second in the girls' event with Tiffany Chudy from Miramar, Florida on 212 but Anna Rossi from Carbonera, Italy and Adriana Zwanck (Algete, Spain) are sharing third place with Julieta Granada from Asuncion, Paraguay. They are all on one-over 217.
There are two more Spanish girls in the leading 16., Emma Cabrera from Maspalomas is on 219 and Azahara Munoz from Malaga is on 226.
Southport-based Florentyna Parker, daughter of a professional, is back on 231 after scores of 74, 78 and 79.
Kiran Matharu from Leeds is on 235 after rounds of 79, 78 and 78.
Florentyna's brother, Ben Parker, who is entered from Kisdorf, Germany, is lying in joint fifth place with former British boys' open champion Pablo Martin (Spain) on one-under-par 212 in the boys' championship.
Ben has had consistent scores of 70, 71 and 71.
The official English Golf Union entry, Daniel Denison from Leeds, is on 228 after scores of 76, 74 and 78.
---
Monday 29th December 2003
Junior Orange Bowl
ENGLAND'S official representatives in the Orange Bowl junior international golf championship at Biltmore Golf Club, Coral Gables in Florida are well off the pace at the halfway stage of the 72-hole programme.
Professional's daughter Florentyna Parker from Southport has had rounds of 74 and 78 for an eight-over-par tally of 152.
Kiran Matharu from Leeds is on 157 after rounds of 79 and 78.
Leader in the girls' event by four shots is Chloe Esther from La Quinta, California. Chloe has had scores of 67 and 68 for a very good 36-hole aggregate of nine-under-par 135.
Spain has two girls in the leading 10 - Adriana Zwanck from Algete on 141 (69, 72) and Emma Cabrera from Maspalomas on 142 (72, 70).
Another Spanish girl, last year's native women's champion, Azahara Munoz from Malaga is on 148 after scores of 73 and 75.
In the boys' section, Randy Lowry from Spring, Texas has a four-shot lead after repeating scores of 66 for a tally of 10-under-par 132.
Jon McLean from Weston, Florida is his nearest challenger after rounds of 71 and 65 for 136.
Pablo Martin, the former British boys' open champion from Madrid is one of four players sharing third place on 139. Pablo has scored 69 and 70 so far against the boys' par of 71.
Florentyna Parker's brother Ben, who is entered from Kisdorf, Germany, is on 141 with rounds of 70 and 71.
English Golf Union entry Daniel Denison from Leeds has scored 76 and 74 for 150.
---
Sunday 28th December 2003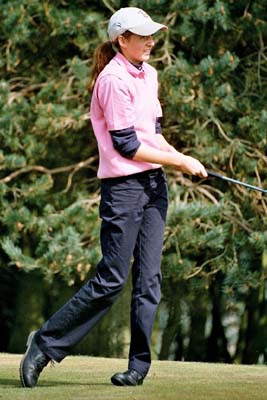 JUNIOR ORANGE BOWL
AS expected, Spanish players were at the forefront of the European challenge in the first round of the 2003 Orange Bowl junior international golf championships at Biltmore Golf Club, Coral Gables in Florida on Saturday.
Former British boys champion Pablo Martin from Madrid shot an opening round of 69 to be in joint fourth place in the boys section, three behind tied pacemakers Santiago Russi from Chile and Randy Lowry of Spring in Texas.
Germany-based Ben Parker, son of an English professional, had a creditable score of 70 but Daniel Denison from Leeds had to be content with a 76.
American entrants Esther Chloe from La Quinta, California and Mallory Hetzel of Summerville, South Carolina set the pace in the girls section with a 67 and 68 respectively.
Spainís Adriana Zwanck from Algete is lying third after a 69. Italyís Anna Rossi had a 72 and Emma Cabrera from Maspalomas, Spain a 72.
Ben Parker's sister, Florentyna from Southport, pictured right, shot a 74 and Kiran Matharu from Leeds a 79.
---
Saturday 27th December 2003
STRONG EUROPEAN CHALLENGE FOR JUNIOR ORANGE BOWL TITLES IN FLORIDA
Pablo Martin, former British boys' open champion from Madrid, heads a strong European challenge for the Junior Orange Bowl international golf titles when the three-day tournament, which has attracted entries from around the world, begins today.
Azahara Munoz, who won the Spanish women's title as a 15-year-old earlier this year, is expected to go close to winning one of the girls' age-group awards.
There are no Scots in either the boys' or girls' fields but England will have Daniel Denison from Leeds, Florentyna Parker (Southport) and Kiran Matharu (Leeds) in action.
We shall try to bring you the results at the end of each day's play.
Scottish Senior Womens Championship
Southerness Golf Club on the shores of the Solway Firth has been chosen to host the 2004 Scottish senior women's (closed) amateur championship on September 2 and 3.
It will be the eighth staging of the 36-hole stroke-play event for women over the age of 50 years and the farthest south the championship has been played.
Some (but certainly not all) of the title contenders felt that Ballater, although arguably the most picturesque setting for the championship in 2003, was not tough enough a course to separate the wheat from the chaff.
Karen Ballantyne's 36-hole aggregate of 139 was 13 strokes lower than the previous lowest in the tournament – 152 by Pamela Williamson when the Baberton player scored her second championship win.
No one is liable to say that Southerness is not a tough enough course. It has staged the Scottish women's and men's championships over the years and also the British women's open amateur stroke-play championship.
PAST SCOTTISH SENIOR WOMEN (CLOSED) AMATEUR CHAMPIONSHIP WINNERS
Year Winner Score Venue
1997 Aileen Wilson (Haggs Castle) 156 Falkirk Tryst
1998 Isobel McIntosh (Inverness) 165 Blairgowrie
1999 Pamela Williamson (Baberton) 159 East Renfrewshire
2000 Pat Hutton (Lanark) 161 Inverness
2001 Frances Liddle (Dunblane New)160 Helensburgh
2002 Pamela Williamson (Baberton) 152 Crail Balcomie
2003 Karen Ballantyne (Craigmillar Park) 139 Ballater
Other dates which are new or amended in the KirkwoodGolf 2004 calendar include
MAY
29 South of Scotland championship (Kirkcudbright).
JUNE
6 LGU Medal Finals (Crieff).
26-28 South Division inter-county matches (Dumfries & Co)
28-30 Northern Division inter-county matches (Monifieth).
JULY
21 Janice Moodie Trophy junior open (Windyhill).
AUGUST
(Note the switch of the Mary McCallay Trophy & Riccarton Rosebowl)
8 Mary McCallay Trophy (Dumfries & Galloway).
15 Riccarton Rosebowl (Hamilton).
24 County open meeting (West Linton).
SEPTEMBER
6 England v Scotland schools international (Southport & Ainsdale).
OCTOBER
20-23 Espirito Santo women's world team championship Puerto Rico
Hope Santa was good to you!
---
Wednesday 24th December 2003
Merry Christmas to all KirkwoodGolf Readers.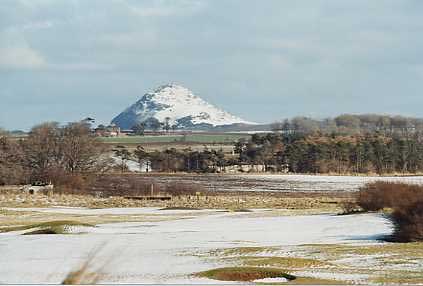 16th on Gullane No 3. Photo courtesy and copyright © Scott Patrick
---
Tuesday 23rd December 2003
ALL-ROUNDER MORAG CLAPPERTON IS NEW ABERDEENSHIRE CAPTAIN
A former hockey and tennis player of some note, Morag Clapperton (Banchory) has been appointed captain of Aberdeenshire Ladies County Golf Association for the next two years.
Morag comes from the Borders originally and was a physical education teacher at Hawick High School at the same time as Bill McLaren of rugby commentary fame.
Morag moved up to Aberdeen in 1963 to work at Aberdeen Academy and then the High School for Girls, Aberdeen before moving out to Banchory in 1977.
She was a very successful striker for the Aberdeen Bon Accord Ladies team and played for the Scotland B team.
"I did get on the pitch for the full Scotland team on a couple of occasions but that did not qualify me for an international cap," said Morag.
She was also a very good tennis player, representing Borders and North-east, and was a useful squash player as well.
"I didn't take up golf until 1981 because I didn't have the spare time with all my other sporting interests going on," said Morag.
"When I did, I thought it was an 'easy' game, probably because I was blessed with good hand-to-eye co-ordination and the first handicap I was given in golf put me in the Silver Division right away," she said.
"Of course, when I began to get my handicap down (as low as 5 at one stage), I realised that golf was not quite so 'easy' as I had first thought as a beginner."
Mrs Clapperton was a member of the Banchory Ladies team who won Aberdeenshire County Ladies Golf Association's Watt Duffus Trophy and Lyon Foursomes tournaments. She also helped Banchory to win the Deeside Women's League.
Ros Dunsmuir (Cruden Bay) is the new Aberdeenshire vice-captain.
Mary Robinson (Murcar) has stood down as county secretary and treasurer.
Karen Stalker (Fraserburgh) succeeds Mary as secretary while the treasurer's duties have been taken over by Laura McLardy (Murcar).
Anna Rae (Murcar) is the new Aberdeenshire president.
---
Monday 22nd December 2003
Christmas message from Aberdeen's Claire Hunter, currently in New Zealand.
DIANA LEAVING GLENEAGLES PR POST TO BE MEDIA MANAGER IN EDINBURGH
Diana Scott, Public Relations Manager at Gleneagles Hotel for almost seven years, is moving from the five-star Perthshire golf resort to take up a new post on January 5.
"I am leaving the fairways of Gleneagles and moving on to pastures new. I'm not going far though - just to Edinburgh to take up the post of Communications and Media Manager for eventScotland," said Diana.
"I start there on January 5 with December 24 being my last day in the office at Gleneagles.
"I'd like to say a very big thank-you for all the support I have received from so many people over the past few years."
Diana has played her part in the promotion of Gleneagles Hotel as an outstanding golf venue and if she has a regret on leaving it is probably that she will not be concerned in the build-up to the Ryder Cup which is to be played over the PGA Centenary Course, Gleneagles in 2014.
Gleneagles Hotel has not yet found a replacement for Diana but after her departure, any queries should be directed to her current assistant, Simon Brown on 01764 694182.
---
Sunday 21st December 2003
HEATHER'S GLAD SHE GOT OVER BEING HOMESICK AT SAN DIEGO
Heather MacRae, one of four Scots in the Ladies Golf Union Elite Squad from whom the team of eight for the Curtis Cup match at Formby in June will be chosen, says she felt so unhappy in her first few weeks at San Diego State University in the autumn that she seriously considered coming back to Scotland.
"I had been a couple of years at college in Texas and there were only 8,000 students there. When I arrived at San Diego State University, I discovered there were 35,000 students. It was a big shock to me. I'd had such a good time in Texas that it was a big change for me to go somewhere else. It was all new to me," said Heather (20) who is meantime home at Dunblane on holiday from California for the Festive period.
"The first tournament I played in with San Diego State wasn't very good and I was really homesick. In fact, I was ready to pack my bags and come home. But I talked to my brother and sister and they talked me round. I stayed on and everything began to fall into place. In the last few tournaments before the mid-winter break I had three top-10 finishes.
"I'm looking forward to going back to the United States. I've a lot of good tournaments coming up. It's been a good year for me. The home internationals at Cruden Bay went really well and I ended up being selected for the Great Britain & Ireland squad - so that was cool."
Heather, the BP Scottish girls' match-play champion in 2002, won the NCJAA women's title in the spring of this year while she was still a student at McLennan College near Waco, Texas. On her return to Scotland for the summer holidays, she finished runner-up to Jenna Wilson (Strathaven) after a play-off for the Scottish Under-21 junior women's championship at Kilmacolm.
Jenna enrolled at San Diego State University at the same time as Heather who was one of four Scottish players flown home by the SLGA to play in the women's home internationals. Pamela Feggans (Florida Southern), Louise Kenney & Laura Wells (both Ohio State University) were the others. Heather and Jenna's performances have given San Diego State University's women's golf team their best set of tournaments results in the first half of the American college golf season for many years.
"I don't think the Scottish Ladies Golfing Association really approve of it but I think going to college and playing golf in America is the right thing to do for me at the moment. When I left California to come home it was 75 degree in December. I can play all the year round out there. If I had not gone to the States, my golf season would have finished a few months ago," said Heather.
---
Friday 19th December 2003
R&A FUNDING SUPPORT FOR GOLF DEVELOPMENT
Jinja Golf Club, Uganda and the Swaziland Golf Union are two overseas recipients set to benefit from a range of funding initiatives announced by the R&A Full report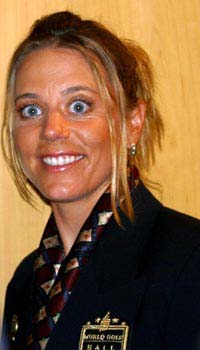 ANNIKA WINS GOLF WRITERS' POLL FOR TOP EUROPEAN OF 2003
Annika Sorenstam has won the 2003 Association of Golf Writers' Trophy.
Sorenstam's achivements have led to the 33-year-old US-based Swedish player heading the annual poll of AGW members.
Annika beat the victorious (again) Great Britain & Ireland's Walker Cup team (2nd), the winning European Solheim Cup team (of which she was a member) (3rd), and European Tour No 1 Ernie Els (4th) to take the award.
"I am deeply honoured," said Sorenstam who completed a career grand slam in the women's majors and became the first woman since 1945 to play on the US men's tour.
"I am proud of all I have accomplished and I am truly thankful to the members of the European Press for recognising my achievements. It means a lot to me to join the prestigious list of past recipients."
The trophy is awarded to the player, born or resident in Europe or twm who has or have made the most outstanding contribution to golf during the preceding 12 months.
Sorenstam is the first woman to win the award since Alison Nicholas in 1997, the year she won the United States Women's Open, and the first ever from outside Great Britain & Ireland - apart from the Solheim Cup team who beat the United States at Dalmahoy in 1992.
Annika joins Seve Ballesteros, Bernhard Langer and Sergio Garcia as Continental Euiropeans who have won the award on their own after another great season in which she was simply the best in her field.
The winning GB&I team in the Walker Cup match at Ganton pipped the winning European team in the Solheim Cup match in Sweden by a single point for second place in the 2003 poll.
RECENT WINNERS OF THE ASSOCIATION OF GOLF WRITERS' ANNUAL AWARD
1986 GB&I Curtis Cup team (Diane Bailey, capt.)
1987 European Ryder Cup team (Tony Jacklin, capt.)
1988 Sandy Lyle.
1989 GB&I Walker Cup team (Geoff Marks, capt.)
1990 Nick Faldo.
1991 Severiano Ballesteros.
1992 European Solheim Cup team (Mickey Walker, capt.)
1993 Bernhard Langer
1994 Laura Davies.
1995 European Ryder Cup team (Berenard Gallacher, capt.)
1996 Colin Montgomerie.
1997 Alison Nicholas.
1998 Lee Westwood.
1999 Sergio Garcia.
2000 Lee Westwood.
2001 GB&I Walker Cup team (Peter McEvoy, capt.)
2002 European Ryder Cup team (Sam Torrance, capt.).
---
Thursday 18th December 2003
DAVID HUISH IS A FIVE-STAR PROFESSIONAL AWARD WINNER
North Berwick's David Huish has been named one of the winners of the PGA of Europe's Five-Star Professional Awards for 2003. Huish, Leonard Owns and Leif Nyholm (Denmark) were selected by a panel of judges from nominations by member PGAs on the basis of contributions both to their profession and to the golfing community at large.
Huish has given lengthy service to the game as a successful player, a club professional and as a national and international administrator.
David led the Open championship field at the halfway stage of the 1975 championship at Carnoustie, won theBritish club professional title twice and, more recently, has been a successful player on the European Seniors Tour.
He has been captain of the PGA Scottish Region, captain of the PGA of Great Britain & Ireland, a board member and deputy chairman of the PGA of GB&I from 1987 and, during the same period, a member of the Ryder Cup committee.
---
Tuesday 16th December 2003
Three Irishmen and three Englishmen are travelling by train to the Matchplay at Wentworth.
At the station, the three English each buy a ticket and watch as the three Irish buy just one ticket between them.
"How are the three of you going to travel on only one ticket?" asks one of the English.
"Watch and learn" answers one of the Irish.
They all board the train. The English take their respective seats, but all three Irish cram into a toilet and close the door behind them. Shortly after the train has departed, the conductor arrives to collect the tickets.
He knocks on the toilet door and says, "Tickets please"
The door opens just a crack, and a single arm emerges with a ticket in hand.
The conductor takes it and moves on.
The English are mightily impressed by this, so after the game, they decide to copy the Irish (like always!)on the return trip and save some money.
When they get to the station, they buy a single ticket for the return trip.
To their astonishment, the Irish don't buy a ticket at all!!
"How are you going to travel without a ticket?" asks one perplexed Englishman.
"Watch and learn..." says one of the Irishmen.
When they board the train the three Irish cram into a toilet and soon after, the three English pile into another nearby.
The train departs.
Shortly afterwards, one of the Irish leaves the toilet, and sneaks across to the toilet where the English are hiding.
He knocks on the door and says, "Tickets please".....
[Thanks to Margaret Rodgers for this contribution.. any more?]
---
Monday 15th December 2003
SCOTS RUNNERS-UP TO ENGLAND IN ARGENTINA
Scotland's Graeme Brown (Royal Montrose) and Jamie McLeary (Leven Golfing Society) finished runners-up to England in the Juan Carlos Tailhade Cup international men's amateur golf tournament at Los Lagartos Country Club, Buenos Aires in Argentina yesterday (South America time).
England's Gary Lockerbie and Walker Cup hero Michael Skelton totalled 579 for the 72-hole event to win by seven shots from the Scottish Golf Union's representatives. It was the third title win in four years by an English pairing.
Brown and McLeary ended on 586, both Scots signing off with one-over-par 72s. They finished 12 shots clear of third-placed Argentina.
Wales (David Price and Alex Smith) were joint seventh on 606 while Ireland (Darren Crowe and Mark O'Sullivan) came 11th on 618.
English champion Lockerbie from Penrith won the individual title with rounds of 68, 76, 70 and 69 for one-under-par 283. He had five shots to spare over Australian Robin Hodgetts.
Alex Smith (Wales) came joint third on 290.
Jamie McLeary tied for fifth on 292 while Graeme Brown was eighth on 294.
COLLATED SCOREBOARD
JUAN CARLOS TAILHADE CUP
Los Lagartos CC, Buenos Aires, Argentina
FINAL TEAM TOTALS
579 England (Gary Lockerbie 69, Michael Skelton 73).
586 Scotland (Graeme Brown 72, Jamie McLeary 72).
598 Argentina ( Matias Anselmo 72, Pablo Lozada 75).
601 Canada (Lindsay Bernakevitch 70, Garth Collings 77).
603 New Zealand (Mathew Holten 72, Bradley Iles 77), Sweden (Mikael Detterberg 72, Jonas Blixt 78).
606 Wales (Alex Smith 73, David Price 83), Netherlands (Jan Van Hoof 75, Rick Huiskamp 79).
607 Spain.
612 Finland.
618 Ireland (Mark O'Sullivan 72, Darren Crowe 75).
621 Chile, Uruguay.
629 Mexico.
641 Paraguay.
No Return: Australia.
LEADING INDIVIDUAL TOTALS
283 Gary Lockerbie (Eng) 68 76 70 69.
288 Robin Hodgetts (Aus) 73 71 72 72.
290 Alex Smith (Wales) 74 71 72 73, Mathew Holten (NZ) 72 73 73 72.
292 Jamie McLeary (Sco) 70 75 75 72, Diego Perez (Uru) 71 73 79 69, Matias Anselmo (Arg) 77 72 71 72.
294 Graeme Brown (Sco) 77 78 67 72.
296 Michael Skelton (Eng) 71 76 76 73, Mikael Detterberg (Swe) 78 73 73 72.
Other totals:
304 Darren Crowe (Ire) 78 74 77 75.
314 Mark O'Sullivan (Ire) 85 76 81 72.
316 David Price (Wal) 76 84 73 83.
JOHANNA'S LAST-ROUND 70 EARNS FIRST PLACE IN MOROCCO
England's Johanna Head shot the lowest round of the 54-hole tournament - a three-under-par 70 - to tie with overnight leader, Elisabeth Esterl from Germany for first place in the Princess Lalla Meryem Cup women's pro tournament, played in conjunction with the King Hassan II Trophy men's event at Royal Dar Es Salam, Rabat in Morocco. Johanna won the sudden death play-off by sinking a 12 foot putt. Elisabeth Esterl missed from 6 feet.
The ladies played over the Blue Course and some of the invited field of 10 players found it hard going in the final round.
But not so Johanna. Her closing 70 gave her a final total of five-under-par 214, matching that of Miss Esterl who closed with a 71.
Rebecca Hudson from Doncaster, level with Miss Head at the start of the day, one shot off the pace, could not produce the improvement she needed to chalk up her first win as a professional.
Miss Hudson finished with a par 73 for a two-under par total of 217 and third place.
FINAL TOTALS
214 Elisabeth Esterl (Ger) 72 71 71, Johanna Head (Eng) 71 73 70.
217 Rebecca Hudson (Eng) 72 72 73.
222 Marie-Laure de Lorenzi (Fra) 75 74 73.
223 Sophie Sandolo (Ita) 75 69 79.
224 Ludivine Kreutz (Fra) 74 74 76.
229 Martina Eberl (Ger) 72 79 78.
230 Xonia Wunsch-Ruiz (Spa) 78 75 77.
233 Marine Monnet (Fra) 81 76 76.
239 Mounya Mamalou-Sayeh (Mor) 79 82 78.
HUTCHEON 3RD LAST IN MOROCCO GOLF
NOT quite a Luna eclipse of the field in the end but Santiago of that ilk from Madrid made all the running to win the dollars 50,000 first prize for the second year in a row in the King Hassan II Trophy golf tournament over the Red Course at Royal Dar Es Salam, Rabat in Morocco yesterday (Sunday).
Santiago Luna signed off with a two-under-par 71 for a 14-under-par total of 278. He had started the final day six shots clear of the field. In the end he had three to spare from the fast finishing Swede, Joakim Haeggman who closed with a 68 for 281.
Even faster finishing was Englishman Mark Roe - of 2003 Open championship scorecard fame or notoriety. Roe required only 66 shots for his final circuit with halves of 31 (five under par) and 35 (two under). He birdied the first, second, fourth, fifth and ninth in a bogey-free outward half.
Mark dropped his first shot at the 10th before raising his birdie count to nine with sub-par figures at the 11th, 15th, 16th and 17th before ending with a bogey 6.
A tournament that had started so brightly for lone Scot Greig Hutcheon - he was joint second at the end of the first day - went pear-shaped with subsequent scores of 78, 79 and 77.
Even in that final round, the 30-year-old Aberdonian, who plays out of Inchmarlo Golf Centre, Banchory, had reasons to be cheerful. He covered the outward half in three-under-par 33 with birdies at the first fifth, sixth and eighth and only one blemish, a bogey 4 at the short second.
But it was a game of two halves for Greig. He required 44 blows - seven over regulation - for the inward half even though he started it with a birdie. He double-bogeyed the 15th and shed single shots at the 11th, 13th, 14th, 16th, 17th and 18th.
Hutcheon finished 22nd of the invited field of 24.
Sic transit gloria.
Final Scores
278 Santiago Luna (Spa) 68 70 69 71.
281 Joakim Haeggman (Swe) 71 73 69 68.
282 Mark Roe (Eng) 70 73 73 66.
283 Nicolas Colsaerts (Bel) 70 71 72 70.
286 Soshi Tajima (Jap) 71 70 71 73, Miguel Angel Martin (Spa) 72 74 73 67.
287 Peter Baker (Eng) 74 65 75 73, Gregory Havret (Fra) 71 74 73 69.
288 Youness El Hassani (Mor) 71 72 73 72.
289 Roger Chapman (Eng) 76 70 69 74, Mustapha El Kherraz (Mor) 73 72 71 73.
290 Henryk Nystrom (Swe) 75 72 72 71.
293 Alberto Binaghi (Ita) 76 72 75 70, Bobby Casper (US) 76 75 73 69.
294 Oliver Edmond (Fra) 74 76 72 72.
295 E Canonica (Ita) 75 73 70 77.
296 Jerome Theunis (Bel) 72 75 74 75, Abdelhaq Sabi (Mor) 75 76 73 72.
297 Tom Tryon (US) 79 75 71 72.
300 Mark Davis (Eng) 79 76 71 74.
303 M Chemssedine (Mor) 76 74 75 77.
304 Greig Hutcheon (Sco) 70 78 79 77.
309 Butch Baird (US) 79 78 73 79.
310 Rachid Hali (Mor) 74 80 77 79.
---
Sunday 14th December 2003
BRILLIANT BROWN BOOSTS SCOTS IN ARGENTINA
Graeme Brown's superb four-under-par 67 lifted Scotland into second place with one round to go in the Juan Carlos Tailhade Cup international championship at Los Lagartos Country Club, near Buenos Aires in Argentina (on Saturday local time).
The Royal Montrose man struggled through the first two days with scores of 77 and 78 before catching fire in the third round with halves of 32 and 35 for the lowest score by anyone so far in the star-studded tournament.
Team-mate Jamie McLeary (Leven Golfing Society) toiled to an outward 40 but recovered after the turn with 35 home for a 75 to give Scotland a team total for the day of par 142, easily the best of the third round.
That gave them a running total of 442 - five shots off the pace being set by England's Gary Lockerbie (70) and Michael Skelton (76).
English champion Lockerbie (214) from Penrith leads the individual standings with Welshman Alex Smith (217) in third place, McLeary (220) joint fifth and Brown (222) seventh.
collated Sat night scoreboard
JUAN CARLOS TAILHADE CUP
Los Lagartos CC, Buenos Aires, Argentina.
LEADING TEAM TOTALS
THIRD ROUND
437 England (G Lockerbie 70, M Skelton 76).
442 Scotland (G Brown 67, J McLeary 75).
450 Wales (A Smith 72, D Price 73).
451 Argentina (M Anselmo 71, P Lozada 77).
452 Netherlands (R Huiskamp 74, J Van Hoof 76), Australia (R Hodgetts 72, R Kulacz 81).
452 Spain.
453 Sweden.
454 Canada, New Zealand.
466 Finland.
471 Ireland (D Crowe 77, M O'Sullivan 81).
472 Uruguay.
474 Chile, Paraguay, Mexico.
LEADING INDIVIDUAL STANDINGS
214 G Lockerbie (Eng) 68 76 70.
216 R Hodgetts (Aus) 73 71 72.
217 A Smith (Wal) 74 71 72.
218 M Holten (NZ) 72 73 73.
220 M Anselmo (Arg) 77 72 71, J McLeary (Sco) 70 75 75.
222 G Brown (Sco) 77 78 67.
Others:
223 M Skelton (Eng) 71 76 76.
229 D Crowe (Ire) 78 74 77.
233 D Price (Wal) 76 84 73.
242 M O'Sullivan (Ire) 85 76 81.
REBECCA HUDSON LYING JOINT SECOND IN PRINCESS LALLA EVENT IN MOROCCO
Rebecca Hudson, arguably Europe's No 1 female amateur golfer not so long ago, has so far failed to reproduce anything like her best form in the professional ranks.
Perhaps a winner's cheque could be the confidence boost the Doncaster player needs to change around her fortunes - and it might just come in the Princess Lalla Meyem Cup tournament over the Blue Course at Royal Dar Es Salam, Rabat in Morocco this weekend.
It's a small-field, invitation-only women's pro competition run in conjunction with the main event, the King Hassan II Trophy men's pro tournament over the Red Course at the same venue.
Miss Hudson duplicated her opening round of 72 - one under par - in today's second round and her 36-hole tally of two-under 144 puts her in a triple-tie for second place with English compatriot Johanna Head, the first-round leader, who slipped out of the pole position with a 73, and Sophie Sandolo (Italy) who had the tournament low round so far - a 69.
Leader by a single shot is Germany's Elisabeth Esterl with scores of 73 and 71 for 143.
SCOREBOARD
SECOND ROUND TOTALS
143 Elisabeth Esterl (Ger) 72 71.
144 Johanna Head (Eng) 71 73, Rebecca Hudson (Eng) 72 72, Sophie Sandolo (Ita) 75 69.
148 Ludivine Kreutz (Fra) 74 74.
149 Marie-Laure De Lorenzi (Fra) 75 74.
151 Martina Eberl (Ger) 72 79.
153 Xonia Wunsch-Ruiz (Spa) 78 75.
157 Marine Monnet (Fra) 81 76.
161 Mouynya Mamalou-Sayeh (Mor) 79 82.

HUTCHEON NIGHTMARE IN MOROCCO CONTINUES
Greig Hutcheon, the only Scot in the field, slumped even further down the scoreboard with a third-round 79 - six over par - for a 54-hole total of eight-over 227 in the King Hassan II Trophy golf tournament over the par-73 Red Course at Royal Dar Es Salam on Saturday.
At the end of Thursday's first round, Hutcheon was joint second. Then came a disastrous score of 78 on Friday. Could things get worse for the 30-year-old Aberdonian who plays out of Inchmarlo Golf Centre, Banchory?
The answer is "Yes" because Greig required 79 shots in the third round after starting his round at the sixth with a bogey and following that up with a double bogey 5 at the short ninth.
Santiago Luna looks set to retain the title. The man from Madrid had a 69 for a 12-under-par tally of 207 and he leads by six shots with one round to go.
Hutcheon is lying 22nd in the select field of 24.
SCOREBOARD
KING HASSAN II TROPHY TOURNAMENT
Red Course, Royal Dar Es Salam, Rabat, Morocco
LEADING THIRD ROUND TOTALS
207 S Luna (Spa) 68 70 69.
213 N Colsaerts (Bel) 70 71 72, S Tajima (Jap) 72 70 71, J Haeggman (Swe) 71 73 69.
214 P Baker (Eng) 74 65 75.
215 R Chapman (Eng) 76 70 69.
216 Y El Hassan (Mor) 71 72 73, M Roe (Eng) 70 73 73, M El Kherraz (Mor) 73 72 71.
218 G Havret (Fra) 71 74 73, E Canonica (Ita) 75 73 70.
219 M A Martin (Spa) 72 74 73, H Nystrom (Swe) 75 75 72.
221 J Theunis (Bel) 72 75 74.
222 O Edmond (Fra) 74 76 72.
223 A Binaghi (Ita) 76 72 75.
224 Bobby Casper (US) 76 75 73, A Sabi (Mor) 75 76 73.
225 M Chemssedine (Mor) 76 74 75, T Tryon (US) 79 75 71.
226 M Davis (Eng) 79 76 71.
227 G Hutcheon (Sco) 70 78 79.
230 B Baird (US) 79 78 73.
231 R El Hali (Mor) 74 80 77.
---
Saturday 13th December 2003
SCOTS SLIP BACK IN ARGENTINA
SCOTS Jamie McLeary (Leven Golfing Society) and Royal Montrose's Graeme Brown fell back in both the team and individual placings on the second day of the Juan Carlos Tailhade Cup international golf tournament at Los Lagartos Country Club, Buenos Aires in Argentina yesterday (Friday).
On a day when nobody bettered the par of 71, Jamie took five shots more than his opening effort with a 75 for a halfway total of 145.
Brown, still searching to find the form that earned him selection by the Scottish Golf Union for the trip to South America, followed up a 77 with a 78 for 155.
The Scots' team total of 153 was six shots worse than on Day 1 and their 36-hole total of 300 has dropped them from second to fourth place behind England (291), Spain (297) and Australia (299).
Wales are in 10th place on 305 with Ireland 11th on 313.
There's a triple tie for the halfway lead in the individual standings with English champion Gary Lockerbie, Australia's Robin Hodgetts and Diego Perez (Uruguay) all on the 144 mark. McLeary is lying seventh on 146 and Brown is joint 32nd on 155.
LEADING TEAM TOTALS
291 England 139 152 (G Lockerbie 68 76, M Skelton 71 76).
297 Spain 149 148 (G Fernandez Castano 74 75, A Garcia Heredia 75 73).
299 Australia 152 147 (R Hodgetts 73 71, R Kulacz 79 76).
300 Scotland 147 153 (J McLeary 70 75, G Brown 77 78).
302 Netherlands, New Zealand.
303 Argentina, Canada.
304 Sweden.
305 Wales 150 155 (A Smith 74 71, D Price 76 84).
313 Ireland 163 150 (D Crowe 78 74, M O'Sullivan 85 76), Finland, Uruguay.
314 Mexico.
315 Paraguay.
318 Chile.
Rules of Golf
Linda Caine wrote yesterday:-
"Folk might like to know that they can purchase the 2004 -2005 edition of The Decisions on the Rules Of Golf book at £11.99 instead of £14.99 through the publishers, Hamlyn. You just call telephone number 01903 828503 and quote reference HAM303 & they'll take the order over the phone. I ordered books for myself and the rest of the Quiz Team on Wednesday this week and they arrived today (Friday) No postage & packaging costs either - just the straight £11.99 each. Good Xmas presents perhaps?
"The new ordinary wee rules books are also available now too. These can be ordered completely free through the R & A website.

---
Thursday 11th December 2003
No News today! Is anyone playing golf?
Have you got a joke, pearl of wisdom, point of view, etc. that you'ld like to share?
---
Wednesday 10th December 2003
Broadband for Gullane
For those of you who know about my Broadband Campaign for Gullane... We reached our Trigger level of 350 this morning... Yippeeeeeeeeeeeeeeeeeeeeeeee!
EUROPEAN WRITERS' GOLF TOUR 2003
Moroccan Invitational Tournament, Golf du Soleil, Agadir, December 3, 5 and 6
Here are photos from my camera and the Cal Carson Golf Agency has been busy too.. I've split them up into the Tournament, the LGU Squad and Agadir, Golf de Soleil and the Dunes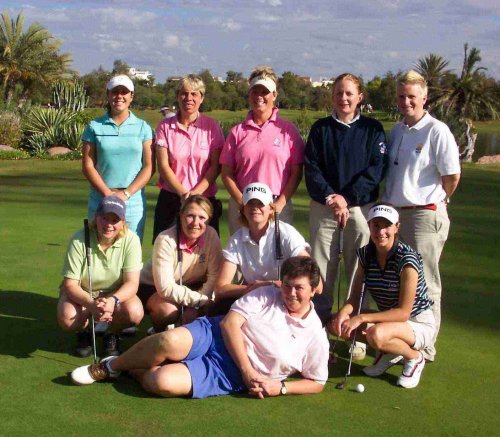 Curtis Cup Squad in Morocco
Back Row L to R: Kate Phillips, Kerry Smith, Shelley McKevitt, Tricia Mangan, Sarah Jones
Front Row L to R: Claire Coughlan, Sophie Walker, Anna Highgate, Lynn Kenny
Front: Ada O'Sullivan, Curtis Cup Captain
---
Tuesday 9th December 2003
EUROPEAN WRITERS' GOLF TOUR 2003
Moroccan Invitational Tournament, Golf du Soleil, Agadir, December 3, 5 and 6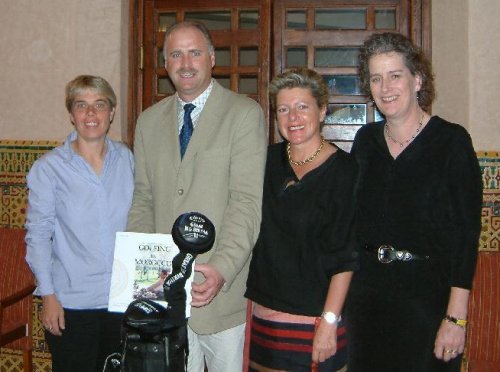 Kerry Smith, Ray Scott, Inge Kent and Patricia Davies after the Gala Prize-giving
Ray Scott (Waterford Radio), Patricia Davies (The Times), Inge Kent (Ceta Images) and Kerry Smith (Waterlooville Golf Club) were the principal category winners at the inaugural Moroccan Invitational Golf Tournament played over 54 holes, under Stableford handicap points rules, at the Golf du Soleil course, Agadir. Report, full scores and more photos

LGU Press Release
CURTIS CUP TICKETS AVAILABLE TO PURCHASE ON-LINE
Tickets for next year's Curtis Cup, to be played at Formby Golf Club from 12th to 13th June, are now on sale and, for the first time, members of the public will be able to purchase tickets on-line.
Following the successes of Europe's Ryder Cup and Solheim Cup teams, as well as Great Britain and Ireland's victorious Walker Cup side, the cream of GB&I's female amateurs will be seeking to complete a Grand Slam of triumphs against the United States in team competition.
An adult season ticket for the biennial clash, which includes entry to the two practice days on Thursday 10th and Friday 11th June, the opening ceremony on Friday 11th June and two days of tournament play over the weekend of Saturday 12th and Sunday 13th June, costs £28.00 (£25.00 for senior citizens) and can be purchased on-line at www.lgu.org.
Alternatively, members of the public can buy their tickets through the Curtis Cup ticket hot-line on 0870 366 6541.
A daily ticket for tournament play on Saturday and Sunday will cost £15 per day while juniors, under the age of 16, can enjoy the experience free of charge, if accompanied by an adult.
The Curtis Cup was first played in 1932 at Wentworth. The Great Britain & Ireland team hope to follow on from their Vagliano Trophy victory against the Continent of Europe and regain the Curtis Cup that they last won at Killarney in 1996.

LADIES' GOLF UNION MOVES NEARER A UNIFIED HANDICAPPING SYSTEM
The Ladies' Golf Union's move towards a Unified Handicapping System has taken a step nearer completion when, at a series of AGM's held in England, Scotland and Wales, clubs emphatically gave their support to adopt the system.
Over 98% of clubs who voted in Wales were in favour of the CONGU UHS while over 93% of clubs in England and over 90% of clubs in Scotland also backed the system.
The Irish Ladies' Golf Union will vote on Unified Handicapping at their AGM on 17th January before the final vote is taken at the LGU AGM on 21st January.
Should the system be adopted, then the LGU will cease to be the handicapping authority for its member clubs. Instead, the Council of National Golf Unions (CONGU) will be the policy making body and overall jurisdiction for the administration of the system will be the responsibility of the men's and ladies' Unions and Associations in each of the four Home Countries.
"The emphatic way in which clubs in Wales, Scotland and England have voted in favour of the CONGU UHS is great news and a resounding endorsement of the plan to unify handicapping in Great Britain & Ireland," said Andy Salmon, the Secretary/CEO of the Ladies' Golf Union.
"We now look forward to the Irish Ladies' Golf Union's vote on 17th January and the LGU AGM on 21st January with great optimism."
Kevin McIntyre, the Secretary of CONGU, added: "The goal was the achievement of Unified Handicapping and we are delighted that the ladies have fully endorsed the acceptance of the system so far. We have put a lot of work into preparing this over the past two years and hopefully now it is all systems go. CONGU is very much looking forward to working with the respective ladies ' Golf Unions and Associations in the near future."

ELGA win CONGU handicapping support at the AGM
The English Ladies' Golf Association (ELGA) held their 51st Annual General Meeting (AGM) at the Queen's Hotel, Leeds, on the 4 December 2003.
In excess of 360 ladies (and a hand full of men) were present to witness proceedings.
The resolutions proposed by the Ladies' Golf Union (LGU) to approve amendments to the rules of the Ladies' Golf Union included the change from the LGU Handicapping System to the CONGU Unified Handicapping System. The resolutions were significantly supported by the ladies present and the proxy votes received. 595 votes for and 40 votes against resulted in 16.76 ELGA votes for and 1.24 ELGA votes against being taken to the LGU AGM on the 21st January 2004. The ELGA votes will be cast together with the votes from Wales, Scotland and Ireland to determine the overall result.
Mrs Joy Hunter, ELGA Chairman, presented the Order of Merit Award to Emma Duggleby and the Junior Order of Merit award to Kiran Matharu. Joy also presented the Silver Tee Award, won by Sophie Walker, who is currently in Morocco with the GB and I squad and the award was collected by Julia Sales on her behalf.
The ELGA Trust Grand Draw having raised over £17,000 was drawn by Pauline Frazer. Sue Birley, Surrey won the first prize – a luxury golf holiday for 2 in Almeria Spain, kindly donated by Tarleton Travel and the European School of golf.
Mavis Berry, Sheffield won 2nd prize - 2 season tickets for the 2004 Open Championship at Royal Troon.
The third prize was a dishwasher donated by AEG and was won by Sue Hill, Cambridgeshire.
The AGM was deemed to be a success and welcomed in the new Chairman, Mrs Cathy Bowerbank and Mrs Maureen Lockett the new ELGA President. Both ladies are looking forward to 2004, where among other events ELGA will be hosting the European Lady Junior Championships.

R&A TO INTRODUCE NEW TEST FOR 'SPRING-LIKE' EFFECT
The Royal and Ancient Golf Club of St Andrews (the "R&A"), which is the governing authority for the Rules of Golf outside the United States of America and Mexico, has written to golf equipment manufacturers confirming that the proposed new Pendulum Test will be introduced from 1st January 2004.
This new test, which replaces the current Coefficient of Restitution Test, is designed to measure the clubhead flexibility (or 'spring-like' effect) of a driving club. It consists of a steel weight suspended on a pendulum being released from varying heights to strike the clubface. The amount of time these two objects are in contact is the basis for the test, and the conformance limit has been set at 239 microseconds, plus a test tolerance of 18 microseconds. The full test protocol is available on the R&A's website (www. randa.org).
The proposal, issued in February 2003, prompted many comments from manufacturers – all of which have been reviewed and carefully considered. Some changes have been made to the original proposal as a result of this input.
Speaking about the new test, David Rickman, Rules Secretary of the R&A said "The introduction of the Pendulum Test is the culmination of a lengthy period of work carried out by both the R&A and the United States Golf Association. The new test is relatively simple and non-destructive and the device is portable. We believe that in developing this new test we have satisfied not only our requirements, but also those of manufacturers and other interested parties such as the Professional Tours."
In the R&A's areas of rules jurisdiction, from 1st January 2004 until 31st December 2007, the new test is only relevant in elite level competitions (where an appropriate Condition of Competition has been introduced). For most competitions and all recreational play, there will continue to be no 'spring-like' effect test or conformance limit until 1st January 2008.

MAKING GOLF CHILD'S PLAY
A five-strong development team has been given the task of encouraging more children to play golf as part of a nationwide initiative to increase youth participation in the sport. More information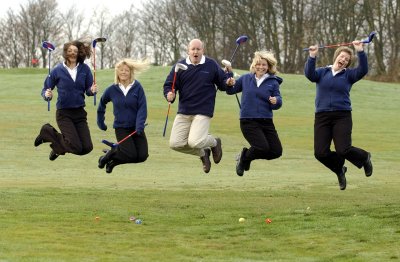 Jumping into action - new clubgolf team ready for the challenge.
(Pictured L to R - Katie Oman, Dawn Middleton, Willie MacKay, Gill Kelly and Shelia Lamb.)
Picture courtesy of Steve Lindridge, Ideal Images
---
Monday 8th December 2003
SLGA SEARCHING FOR TWO NEW MEMBERS OF PERMANENT STAFF
The Scottish Ladies Golfing Association, the governing body for women's and girls' amateur golf in Scotland, is about to lose two of its three permanent staff members at its Drumoig headquarters near Leuchars in Fife. Tournament secretary Gillian Roy from Monifieth and administration assistant Fiona Lockhart from St Andrews have both tendered their resignations.
"Gillian is taking time out to go round the world, principally to Australia, and Fiona is moving on to a job in the club services department of the Scottish Golf Union. Both resignations came as a total surprise to us," said SLGA secretary Dr Sheila Hartley.
"So, as a result of Gillian and Fiona seeking pastures new, we are looking for a tournament secretary and an administrative assistant. The positions are being advertised in the Press and on the SLGA website as from Friday."
The SLGA tournament secretary is responsible for the day to day organisation, management of and attendance at competitions held under the auspices of the association, notably the national championships for women and girls. Gillian Roy's predecessor in the post was Susan Simpson who became the SLGA secretary before she moved to the Ladies Golf Union as championship secretary.
The administrative assistant' role requires a high level of computer literacy and experience in website design and maintenance.
The telephone number of the SLGA is 01382 549502 and its website address is www.slga.scottishgolf.com.
Further information
---
Sunday 7th December 2003
Well... just back from Morocco, a day earlier than the main party (some of us have to work!) You'll be hearing about the trip very soon.
However I can't go to bed until I put up this photo of Nancy Duncan picking her ball out of the hole after acing the 9th on the Blue course at Golf de Soleil, Agadir (witnessed by me... Sorry, Nancy, I didn't quite have the camera ready when the ball fell in the hole). It was Nancy's second hole-in-one.
Get the banners out in Great Brechin for her return tomorrow!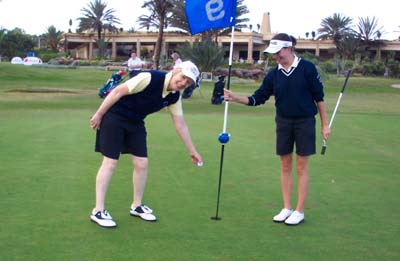 ---
---