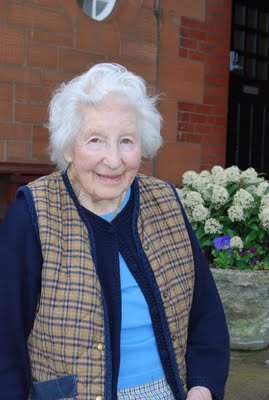 Phil, she will be 99 in August, at the Troon Ladies clubhouse
By COLIN FARQUHARSON
Phil Wylie, the oldest surviving Curtis Cup player on either side of the Atlantic, pictured above at the Ladies Golf Club Troon clubhouse on Saturday (by Cal Carson Golf Agency).
She was not able to get out on to the course on the second day of the Helen Holm Scottish women's open amateur stroke-play championship but enjoyed sitting in the clubhouse with her carer, Marion McLarty, whose husband is a Royal Troon GC member.
"I'm feeling fine but the arthritis in my legs and ankles means I can't get around," said Phil who will be 99 years old in August.
"I enjoyed the past Curtis Cup players' evening at the last Curtis Cup at St Andrews in 2008 ... but I don't know if I'll make it to the next Curtis Cup in this country (Nairn in 2012)."
Of course you will, Phil.
She lives only a few doors down from the ladies' clubhouse at Troon, just across the road from the short 17th on the Royal Troon links.
Labels: Amateur Ladies