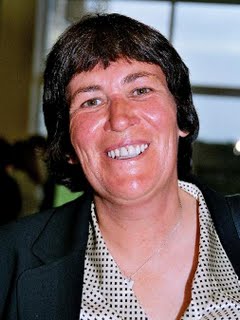 Roz Adams leads from Fiona Anderson
-
in
English seniors' qualifying in Kent
NEWS RELEASE ISSUED BY ENGLISH WOMEN'S GOLF ASSOCIATION
Surrey's Roz Adams scored two-over par 75 to take the halfway lead in qualifying for the English senior championship at Littlestone, Kent today.
The senior international coped well with a tricky wind and finished three shots clear of the field. Her closest challenger, on 78, is Lancashire's former Scottish champion, Fiona Anderson (
pictured right by Cal Carson Golf Agency

),
from Blairgowrie, while Lincolnshire's Pat West and Surrey's Carole Caldwell are a shot further back.
Defending champion Chris Quinn of Hampshire – who won both English senior titles last year – is handily placed in a share of ninth place after returning 81.
Littlestone's Julie Ballard leads the local challenge after she scored a very steady 83 to share 16th place. Her club colleague Rosemary Smallman finished with a birdie for 86 and is in a group in 35th place.
The first round was played in bright sunshine but cool temperatures, particularly in the morning, and the changing direction of the wind made club selection challenging.
"The wind made it interesting," said Roz Adams, who had three birdies in her round. "It was a case of trying not to make too many mistakes and holing a few putts. The greens are beautiful, absolutely stunning - if you can't putt on these, you can't putt on anything!"
Overall, she declared herself: "Very pleased. It's still early in the season and it's nice to put in a steady round."
Spalding's Pat West completed her round in style, playing the last five holes in one-under par. "I enjoyed it," she said afterwards. "The wind was moving around and made you think about the clubs all the time, but I has some lucky bounces and managed to sink some good putts. Today the gods were with me!"
After tomorrow's second qualifying round the top 16 players will go forward to contest the championship match-play. The next 16 will play in Flight Two.
LEADING SCORES
Par 73
75 Rozalyn Adams (Addington Court Ladies).
78
Fiona Anderson
(Formby Ladies).
79 Pat West (Spalding), Carole Caldwell (Sunningdale).
80 Sue Timberlake (Edgbaston), Barbara Laird (Sandiway), Felicity Christine (Banstead Downs), Sandra Paul (Huddersfield).
81 Alison Gee (Clandon Regis), Jo Ashmore (Barnham Broom), Christine Quinn (Hockley).
82 Judy McCairns (Oxford Ladies), Marion Bridgen (Walton Heath), Annie Gowing (Frilford Heath), Liz Moverley (Copt Heath).
83 Christine Watson (Beaconsfield), Janet Melville (Sherwood Forest), Pat Wrightson (Huddersfield), Hilary Smyth (Pannal), Ruth Lindley (Hartlepool), Cathy Armstrong (Ellesborough), Julie Ballard (Littlestone), Carole Weir (Beaconsfield), Carol Wild (Notts Ladies).
Full details and hole-by-hole scoring:
http://www.englishwomensgolf.org/
Labels: Senior ladies