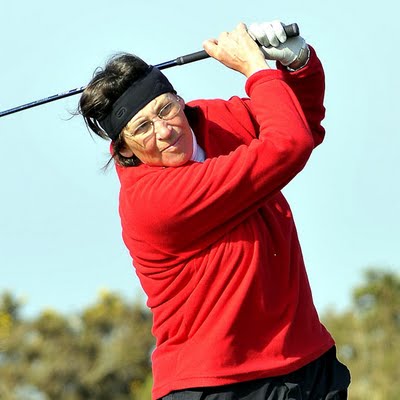 Fiona Anderson in action with her characteristic style. Image by courtesy of Leaderboardphotography.
Fiona leads qualifiers for English senior
championship
NEWS RELEASE ISSUED BY ENGLISH WOMEN'S GOLF ASSOCIATION
(with a few additional words by Colin Farquharson

)

Five times Scottish women's amateur championship finalist Fiona Anderson, originally from Blairgowrie, leads the qualifiers for the match-play stages of the English senior championship at Littlestone, Kent.
Fiona, who spent her working life as a banker, has lived in Lancashire for the past 16 years and plays at Formby Ladies.
She beat Christine Middleton (Cruden Bay) in the 1987 Scottish final at Nairn but lost in four other finals to players of the calibre of Belle Robertson (1980), Gillian Stewart (1983), Shirley Lawson (1988) and Catriona Lambert, Matthew to be (1991).
Miss Anderson took the top spot at Littlestone with a second-round score of one-over 74 and a 36-hole total of 152. In the first round she will play England senior international Janet (Collingham) Melville who won a play-off for the 16th and final place in the championship matchplay flight.
"I'm delighted," said Fiona. "It was much easier today. The wind was not as strong but it was quite cold and so the ball was not travelling so far. But it was gorgeous and the course is in excellent condition and the greens are superb."
Fiona, who was also a GB&I international (1987 Vagliano Trophy match) and captained Scotland internationals teams, played very steadily, with two bogeys on the way out and one birdie on the way home. Otherwise it was pars all the way.
She had just one three-putt, for bogey on the third, and was happy to settle, mostly, for two putting. However, she did find the hole with one putt when necessary, for example when she got up and down for par from a "deadly" place on the sixth, and for birdie on the 12th.
"I haven't had the pleasure of playing here before but I do realise it's a course that takes a lot of knowing and that there are some places that are no-go areas!"
Defending champion Chris Quinn, from Hampshire, is the second seed after she moved up the leaderboard with a two-over 75. Chris - who won both English senior titles last year - opened her challenge with a first-round 81 which she described as "defensive". But normal service was resumed with her 75:
"Today was a lot better. At this stage you have to be careful not to be too defensive, you have to play decent golf on this course."
She got off to an excellent start with birdies on the first two holes and produced two matching halves, each of one-over par. It might have been better: she was on the front of the long 16th in two, but three-putted for par.
But as Chris pointed out: "That was my only three-putt of the day, instead of four yesterday."
The leading 16 players qualified for the championship match-play flight and the next 16 went into Flight Two. Pat Wrightson (Huddersfield), who lost the play-off for the last championship place, became the top qualifier in Flight Two.
Three Littlestone members are involved in the match-play stages. Julie Ballard qualified for the championship flight while Geraldine Bray and Rosemary Smallman are in Flight Two. The matches will begin at 8.30am tomorrow, starting with the championship flight, and spectators
are welcome.
Par 146 (2x73)
152 Fiona Anderson (Formby Ladies) 78 74.
156 Chris Quinn (Hockley) 81 75.
158 Annie Gowing (Frilford Heath) 82 76, Barbara Laird (Sandiway) 80 78.
160 Carole Caldwell (Sunningdale) 79 81, Rozalyn Adams (Addington Court Ladies).
163 Caroline Marron (Bromborough) 84 79, Felicity Christine (Banstead Downs) 80 83.
164 Pat West (Spalding) 79 85.
165 Judy Butler (Malton & Norton) 85 80, Julie Ballard (Littlestone) 83 82, Carole Weir (Beaconsfield) 83 82, Judy McCairns (Oxford Ladies') 82 83, Jo Ashmore (Barnham Broom) 81 84, Sandra Paul (Huddersfield) 80 85.
166 Janet Melville (Sherwood Forest) 83 83, Pat Wrightson (Huddersfield) 83 83.
167 Irene Brien (Wentworth) 87 80, Linda Noblett (Darwen) 85 82, Cathy Armstrong (Ellesborough) 83 84, Ruth Lindley (Hartlepool) 83 84.
168 Rosemary Smallman (Littlestone) 86 82, Vivien Saunders (Cambridge Meridian) 84 84, Hilary Smyth (Pannal) 83 85; Carol Wild (Notts Ladies') 83 85, Liz Moverley (Copt Heath) 82 86.
168 Alison Gee (Clandon Regis) 81 87.
169 Debbie Richards (Burhill) 86 83, Paula Parker (St Neots) 85 84, +Sue Timberlake (Edgbaston) 80 89.
170 Geraldine Bray (Littlestone) 87 83, Sue Heathcote (Minchinhampton) 85 85.
171 Anne Bridges (Mentmore) 88 83.
+Sue Timberlake withdrew from the match-play stages.

Fiona Anderson v Janet Melville
Pat West v Felicity Christine
Carole Caldwell v Carole Weir
Judy McCairns v Barbara Laird
Annie Gowing v Jo Ashmore
Julie Ballard v Roz Adams
Caroline Marron v Judy Butler
Sandra Paul v Chris Quinn
Pat Wrightson v Anne Bridges
Carol Wild v Hilary Smyth
Ruth Lindley v Debbie Richards
Paula Parker v Cathy Armstrong
Linda Noblett v Geraldine Bray
Alison Gee v Rosemary Smallman
Vivien Saunders v Liz Moverley
Sue Heathcote v Irene Brien
Lyndsey Hewison

Press & PR Officer
Labels: Senior ladies