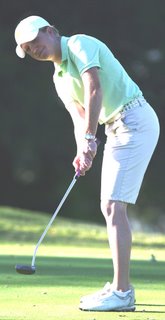 HANNAH BURKE LYING THIRD WHEN
BAD LIGHT STOPS PLAY IN RON
MOORE INTERCOLLEGIATE
Darkness halted play with no second rounds completed in the Ron Moore Women's Intercollegiate tournament at Highlands Ranch Golf Club, Colorado.
There are three English students in the field of 96 - Baylor's Hannah Burke (pictured right) and Sian Reddick and Ellie Givens, the new English Under-18 girls' champion from Darlington and a freshman student at the University of Denver.
At the end of the first round, Hannah and Sian were lying joint second on 72, par for the longish, 6,518yd course - three shots behind the leader, Denver's Stephanie Sherlock - with Ellie, making her debut on the US college circuit, back in a share of 35th place on 77 after having three double bogeys on her card.
Hannah and Sian had played a further nine holes when play was halted for the day. Hannah's overall position had moved her to third place. She had two birdies, at the third and the ninth on her second circuit but also a double bogey at the sixth, which left her at level par overall.
Sian, had dropped down to a share of fourth place. She had birdies at the second and sixth but bogeyed the third, fifth and seventh on her second round to drop a shot overall.
Ellie, on the other hand, had improved from sharing 48th place to sharing 35th place. She has only three holes of her second round to play. She has had another double bogey - her fourth of her debut day - at the eighth but birdied the second and 17th. She also shed single shots at the first, fourth and 12th.
It's a big confusing to hark back to their first rounds but worth pointing out that Hannah Burke, who comes from Welwyn Garden City, had an eagle 3 at the 532yd par-5 11th and birdies at the seventh and 18th. She was three under par for the four par-5s in her first round.
Sian, the 2004 English women's amateur stroke-play champion from Folkestone, had bogeys at the first and second in her first round but picked up the pace with birdies at the fourth and seventh and then reeled off 11 straight pars for a 72.
Ellie Givens double bogeyed the second, fourth and 12th and also had a bogey at the eighth in 41 for the outward half. She had a birdie at the 10th.
Baylor University, Texas totalled 300 for the first round and were lying second to Nebraska (298) at that stage. But since then, over the second-r0und holes completed, Baylor have moved up to lead from Tulsa with Nebraska being edged back to third place.
It is a 54-hole tournament so the girls will have to start early today to complete their second rounds and then go out again.
Par 72. 6,518yd.
69 Stephanie Sherlock (Denver).
72 Hannah Burke (Baylor), Sian Reddick (Baylor).
Other score:
77 Ellie Givens (Denver) (jt 35th).
298 Nebraska.
300 Baylor.
303 Tulsa.
Labels: Student golf