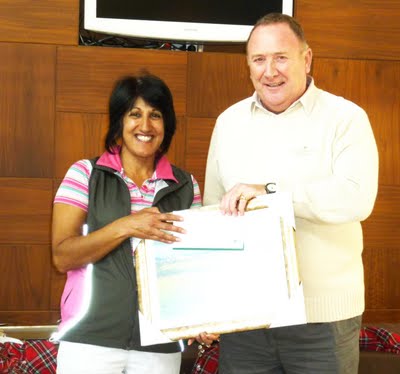 Kam Cheema, from the Redlibbets Golf Club, Kent, winner of the Murcia Senior Ladies' Open title at the 3rd Hacienda del Alamo Women's & Girls Festival, receives her prize from Steve Haskins, the Hacienda del Alamo Golf Club captain.
Apologies to Kam for not displaying this picture at the time the scores were "posted," but this particular picture was not made available to the Editor.

Message from Kam to Tournament Controller Lee Harrington and his helpers:
"Thank you for all the hard work you put in to making this lovely tournament run smoothly, despite the unusually bad weather! As with last year, it was thoroughly enjoyable, well organised, couldn't fault it and Lee looked after us all very well, much appreciated!
"The new format spread out over a longer period with a rest day in the middle was also a good idea, as was the Stableford format for us seniors."
+If you played at the 3rd Hacienda del Alamo Festival and want to make any comments, particularly suggestions as to how the week can be improved in 2011, please E-mail your observations to
Colin@scottishgolfview.com
Labels: 2010 HDA FESTIVAL