Low scoring fireworks display at Hacienda del Alamo Festival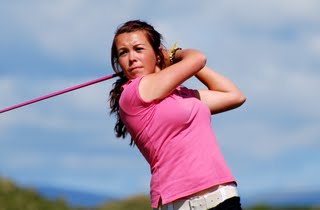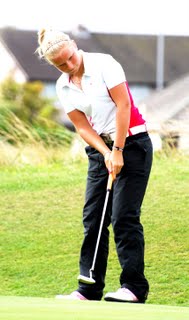 Hayley Davis (Ferndown), left, and Hannah Barwood (Knowle), first-round leaders in the Hacienda del Alamo Ladies Open. Images by Cal Carson Golf Agency. Click on them to enlarge

.

Brilliant round of six-under 66 gives 17-year-old
-
Hayley Davis four-shot lead from Hannah Barwood
-
Dorset teenager Hayley Davis from the Ferndown club took advantage of a mild spring-like day, with not a drop of rain (until after the last players were back in the clubhouse, to shoot a splendid score of six-under-par 66 in the first round of the 54-hole Hacienda del Alamo Ladies Open at the five-star Hacienda del Alamo Golf Resort in the Murcia region of south-east Spain today.
Hayley, who had her 17th birthday at the beginning of this month, burst clear of the small but quality field of Curtis Cup team place contenders, with birdies at the long fourth, the short eighth, the par-4 10th, 11th and 13th, and also the treacherous par-5 18th.
She did not have a single bogey in halves of 34 and 32 for the Dave Thomas-designed course.
Tournament controller Lee Harrington commented: "This is certainly the lowest competitive medal round by by a lady at Hacienda del Alamo although an official course record cannot be awarded due to the fact that we are playing preferred lies this week. Nevertheless, it was some round of golf by young Hayley."
"I'm just pleased that I scored better than I did in the Murcia Ladies Open at the start of the week (she had rounds of 82 and 72 to finish sixth)," said Hayley who looks set for another great season in 2010.
Last year, she was the first English player for eight years to win the Scottish Under-16 girls' open stroke-play championship at Craigielaw. After that she helped England to retain the girls' home international championship, and then lost in the quarter-finals of the British girls championship, going down on the 18th green to the French girl, Perrine Delacour, who went on to win the title. And Hayley also won the South Region championship and the Liphook Scratch Cup.
Hayley's playing partner Danielle Anderson said that it was a great round to watch.
"Hayley was completely in control from start to finish, and she was holing everything, which helps!" said Danielle who went round in 77.
Davis's nearest challenger is former English amateur champion Hannah Barwood (Knowle) with a two-under-par 70, followed by Charlotte Ellis (Minchinhampton) with a 71. Charlotte did not play in the Murcia Ladies Open earlier in the week.
The winner of that title over 36 holes, Welsh international Amy Boulden (Maesdu), had a 74 today and Scottish Under-21 champion Kelsey MacDonald (Nairn Dunbar), beaten on a card countback by Amy on Tuesday, had to settle for a 76.
In the Seniors Open over 36 holes, Linda Marr (Fleetwod) leads with 26 Stableford points off a handicap of 26pt. But she is only one ahead of Kam Cheema (Red Libbets) and local player Marilynn Pearce.
Amber Ratcliffe, 14-year-old Royal Cromer prospect, has a four-shot lead in the Under-16 Girls' Open after a fine scratch round of 74. Dulcie Sverdloff (Thorpe Hall), with a 78, was the only other player in this category to break 80.
In the Under-18s section, Emily Taylor (Royal Lytham) shot a 74 to lead by two from Holly Robinson (Co Sligo).
Labels: 2010 HDA FESTIVAL