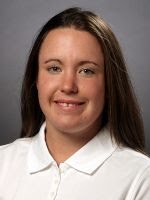 Ellie Givens finishes runner-up to US
Curtis Cup team selection Kim
Ellie Givens, the 2007 English girls champion from Darlington, played her part in a takeover by the University of Denver of the leading positions in the Sun Belt Conference women's tournament at The Shoals, Alabama last week (April 19 to 21).
Ellie,
pictured,
a junior (third-year) student, achieved her highest finish of the season in coming second to freshman team-mate Kimberly Kim who has been chosen to play for the United States in the Curtis Cup match against Great Britain & Ireland at Essex County Club, Massachusetts from June 11-13.
Kimberley, scoring her first win on the US women's college circuit, had rounds of 69, 75 and 71 for a one-under-par total of 215 over the par-72, 6123yd course.
She finished only a shot ahead of Ellie Givens who had rounds of 70, 74 and 72.
A third Denver player, Kelly Drack, finished third on 217 and their monopoly of the top-10 placings continued with Stephanie Sherlock finished fifth on 219 and Sarah Faller from Galway coming seven on 221 with scores of 71, 74 and 76.
This is the tournament - as we reported a day or two ago - in which Wales' Anna Carling (Arkansas State) tied for 13th place on 226 with scores of 78, 76 and 72.
Another British student, Clara Leathers (Middle Tennessee State) finished joint 27th in a field of 55 players with scores of 80, 75 and 76. Clara, a final year student, hails from Aylesbury.
Not surprising that Denver won the Sun Belt Conference title by a staggering 34 shots from Middle Tennessee State with Arkansas-Little Rock third in a field of 11 teams.
After the tournament, Ellie Givens, Sarah Faller and Anna Carling were among the players named to the Sun Belt Conference team.
It's not a team in the European sense of the word in that American post-tournament teams never play any matches. It is a selection of the players who are considered the best in the conference.
Ellie the highest-placed English student next to Jodi Ewart (University of New Mexico) in Golfweek's current American college women's rankings.
Jodi is seventh, Sally Watson 42nd, Ellie Givens 70th and Hannah Burke 94th. They are the only British students in the US women's college circuit top 100.
What a boost it would have been for the GB&I Curtis Cup team to have had Jodi Ewart in its line-up, but the Yorkshire girl is turning professional as soon as she is finished with university and before the Curtis Cup so that she can play on the Futures Tour right away.
Labels: US COLLEGES