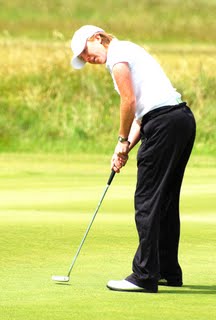 Big-12 Conference runner-up
-
Hannah Burke honoured
NEWS RELEASE ISSUED BY THE ENGLISH WOMEN'S GOLF ASSOCIATION
Hertfordshire's Hannah Burke scooped a host of honours when she was runner-up in the Big 12 Conference women's championship on the US college circuit.
Hannah,
pictured right by Cal Carson Golf Agency
, is a senior student at Baylor University, Texas and this was her 13th career top-five finish – a new college record. The 22-year-old from Mid Herts has had five top-fives this season alone.
She also shares the college record for 21 top-10 finishes – and for that achievement she was named to the Big 12 All-Tournament Team. She's the first player from Baylor to win this recognition three times.
In the championship, at the Jimmie Austin OU club in Oklahoma, Hannah finished eight shots behind Oklahoma State's Swedish player Caroline Hedwall. After a four-over 76 in the first opening round, Hannah shot two-under over the final 36 holes with back-to-back 71s.
Baylor head coach Sylvia Ferndon said: "I couldn't be prouder of Hannah finishing second; she deserves it. She's been a great leader."
Lyndsey Hewison
Press & PR Officer
BIG-12 WOMEN'S CONFERENCE
Oklahoma venue
LEADING INDIVIDUAL TOTALS
Par 72. 6327yd
210 Caroline Hedwall (Oklahoma State) 70 67 73.
218 Hannah Burke (Baylor) 76 71 71.
Selected totals:
226 Nicola Race (Missouri) 78 76 72 (jt 15th). Nicola comes from Essex.
235 Hannah Lovelock (Missouri) 78 76 81 (jt 39th). Hannah comes from Surrey.
243 Ami Storey (Kansas State) 80 82 81. Ami comes from Ponteland, NE England.
LEADING TEAM TOTALS
896 Texas A & M.
897 Oklahoma State.
Selected totals:
917 Missouri (7th).
920 Baylor (9th of 12 teams).
Labels: US COLLEGES