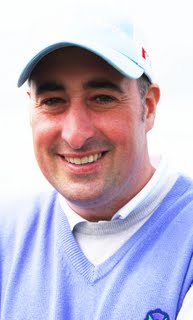 Ladies' amateur golf has changed
for the better,
says coach Craggs
FROM THE SCOTSMAN WEBSITE
The latest staging of the Helen Holm Scottish Ladies' Open Stroke Play Championship at Troon provided conclusive proof the face of ladies' golf has been changed for good.
And, without wanting to cause any offence to the players who did their bit for the Scottish game over the years – Belle Robertson in particular springs to mind – it's certainly a change for the better.
My first real experience of women's amateur Golf came more than 20 years ago. I was a junior reporter on my local newspaper in Berwickshire and one of our readers, Gay Buchanan from Eyemouth – the sister of former Kenyan Open winner Craig Maltman – qualified to represent Scotland in the (now defunct] Ford Women's Home Internationals at Royal Lytham.
I went down to Lancashire to caddie for her and recall the journey well, due to the fact it took us a lot longer than it should have because we initially ended up in Stockport instead of Southport. George Will, who played in three Ryder Cups in the 1960s, captained the Scottish team that week and, to this day, it remains one of the many marvellous experiences golf has provided me over the years due mainly to the friendly nature of everyone involved.
All the players who took part in that event were – and I sincerely hope I don't upset anyone with this recollection – a fair bit older than me and, at the time, I didn't give it a thought.
Catriona Lambert, as she was at the time, was probably the first younger woman I really came across on a golf course yet even the current Ricoh Women's British Open champion would surely be surprised to see so many players under the age of 18 in the field for the Helen Holm event played over Troon Portland and, for the final day, Royal Troon.
Kevin Craggs, pictured above by Cal Carson Golf Agency, the national coach of the Scottish Ladies Golf Association, believes the women's game is making great progress.
"It is becoming attractive to watch," he said, "and, while the cynics out there may have said in the past that it was a case of 'all gear and no idea', now it's 'all gear and a bloody good idea'."
That is definitely the case with the 15-year-old Maguire twins, Leona and Lisa, from Ireland. They played in a professional event at the age of 12 and Shane O'Grady, their coach, remarked at the time: "I've never coached anyone that good at that age. They are exceptionally good. They have the maturity of 17-year-old boys."
A year after finishing first and third, the Maguires tied for sixth on this occasion in the Helen Holm and look to have exciting futures ahead of them.
Scotland also has some promising young talent coming through, the likes of Kelsey MacDonald, Louise Kenney and Pamela Pretswell having good reason to be looking over their shoulders at the progress being made younger players such as Rachael Watton, Alyson McKechin, Gabrielle MacDonald, Ailsa Summers and Lesley Atkins.
Watch out for some of them being in the frame when the Curtis Cup comes to Nairn in 2012.
"For so long Scotland has prided itself on tradition but the wheel is finally turning," added Craggs, who has worked with the SLGA for the past four years and was delighted to see both Carly Booth and Kylie Walker show they had games that were good enough to earn Ladies European Tour cards this season.
"People still understand the values of tradition but they are also seeing the importance of progression and that's a big thing for me."
Strength and conditioning work as well as nutrition is also playing a far bigger role.
"The days of women's golf being a game where they tickled it up the middle and relied on being good pitch and putters to make their score are gone," said Craggs. "They are ball strikers who can shift the ball a fair distance off the tee."
Over the years we have often heard women golfers being criticised for lacking creativity with their shots but, on Sunday, we saw players showing wonderful imagination as they produced a variety of shots on an Open Championship course.
"I'm really excited about the direction women's golf is heading," continued Craggs, "and, when we were lucky enough to have Catriona Matthew with us on a training trip to Spain, she said a wonderful thing that was a compliment to the players. She told them that when she first went on the Tour she had to learn her apprenticeship but nowadays she believes the top amateurs have the tools to do well straight away in the professional game, something that's been proved by the likes of Anna Nordqvist."
Labels: Amateur Ladies, Girls