Irish Ladies Championship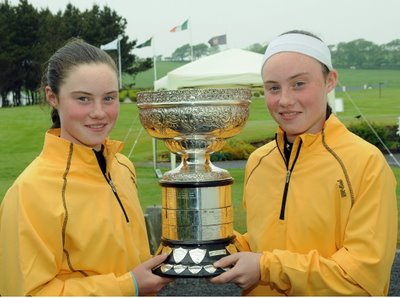 Leona (pictured above left) and her twin sister Lisa Maguire
with the Irish Ladies Championship trophy

THIRTEEN-YEAR-OLD LEONA BEATS TWIN SISTER IN
FINAL OF IRISH WOMEN'S CHAMPIONSHIP
The Irish women's amateur golf championship was today won by 13-year-old Leona Maguire who beat her twin sister Lisa 3 and 2 in the 18-hole final at Westport Golf Club.
Leona, who won the Scottish Under-16 girls open title last year, is the youngest ever winner of the Irish women's title.
They are both members of the Slieve Russell club in Ballyconnell in Co Carlow.
It is the first time Leona has beaten Lisa in the final of any tournament.
Leona was the leading qualifier for the match-play stages and Lisa was the No 3 seed.
In the two previous finals they have contested - the Leinster girls and the Connacht girls championships, Lisa won both times
.
In wild, wet weather in Westport for the historic final, Leona Maguire went one up with a par on the second hole. A birdie double her lead at the fifth but Lisa won back the sixth.
Leona regained the two-hole margin on the seventh hole with a par. However, not to be outdone, Lisa eagled the par-5 eighth hole and at the turn Leona held a slender one-hole advantage.
Lisa levelled the match at the 10th but Leona took a three-hole lead by winning the 11th, 12th and 13th holes. Her lead was reduced to two as Lisa had a par to win the 14th. The 15th was halved but Leona went on to win the match 3 and 2 on the 16th hole.
+What price the Maguire sisters being in the GB&I Curtis Cup team at Nairn Golf Club in four years' time? They will be 17 by then.
Labels: Girls