Scottish Ladies Strokeplay Prizegiving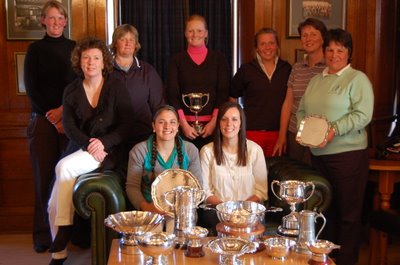 Gillian Kirkwood's picture of the leading trophy winners in the stroke-play section of the 94th Scottish women's amateur championship at Lossiemouth. Left to right: Claire Hargan, Belinda Murphy, Martine Pow, Kylie Walker, Julie Vass, Anne Ryan, Mary Summers. Seated: Kelsey MacDonald and Louise Kenney

.
Lossiemouth qualifying rounds' trophy winners
The full list of trophy winners and what they did to win them is:
Beddows Memorial Trophy for the lowest gross score in the first qualifying round:
Kylie Walker
(Buchanan Castle ) 73 bih
St Andrews Quaich for lowest nett score in the first qualifying round:
Julie Vass
(Tain) 82-10=72

Eglinton Quaich for Lowest Aggregate Gross Score - Team First round:
Mortonhall (Claire Hargan 73, Belinda Murphy 86, total 159).
Grainger Cup for lowest aggregate nett total - Team First round:
Tain (Anne Ryan 78 Julie Vass 72 Total 150).

Glover 21st Anniversary Cup for the lowest gross score in the second round:
Louise Kenney (Pitreavie) 74 bih

Lyon Salver for the best nett in second round:
Mary Summers (Panmure Barry) 74-44=70

Margaret Scouler Buchanan Cup for the best aggregate gross:
Kelsey Macdonald (Nairn Dunbar) 75+74=149

McInnes Shaw Cup for the best aggregate nett:
Julie Vass (Tain) 72+75 =147


St Rule Salver for the best gross aggregate from an under 21:
Kelsey Macdonald (Nairn Dunbar) 75+74 =149


NPFA Cup for the lowest net score in the medal rounds:
Mary Summers (Panmure Barry) 74-4=70


McRobert Thistle Cup for the lowest scratch score in the qualifying rounds:
Kylie Walker (Buchanan Castle) 73 bih

Dunlop Hill Trophy for the best second round score by a past champion:
Martine Pow (Selkirk) 76
Labels: Amateur Ladies