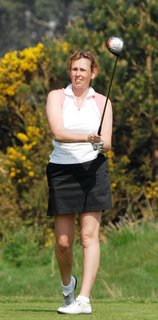 Emma (Duggleby) Brown wins
Astor Salver
for second time.
Former British champion and past Curtis Cup player Emma (Duggleby) Brown (Malton & Norton) made the trip down from Yorkshire worthwhile when she won the prestigious The Berkshire Golf Club's annual 36-hole women's open tournament, the Astor Salver, by one shot.
Emma,
pictured right by courtesy of leaderboardphotography.co (all
rights
reserved),
held the trophy two years ago in her maiden name of Duggleby. She will be back at The Berkshire in July for the English stroke-play championship.
"It was a good practice round," she laughed. The Malton & Norton player started on the Blue course with a three-under 69 and followed up with a level par 73 on the Red to win by a shot from Sahra Hassan of Wales. "I started a bit scrappy in the morning but then I had a few birdies. I got off to an iffy start in the afternoon as well and was three-over after six but then I didn't drop any more shots and came back in three-under," she said.
Emma's plans for this season include defending the British mid-amateur championship as well as playing in the English stroke-play, which she won 10 years ago. She is also considering trying to qualify for the Women's British Open. She recently reached the semi-finals of the English championship at Ganton – an event which she has won twice.
FINAL TOTALS
Red Course first (SS 74, CSS 73)
Blue Course second (SS 74, CSS 73)
1 EMMA BROWN (Malton & Norton) 73 69: 142
2 SAHRA HASSAN (Vale of Glamorgan) 69 74: 143
3 SARAH ATTWOOD (Gog Magog) 72 72: 144
4 KYM LARRATT (Kibworth 68 77: 145
5 HOLLY CLYBURN (Woodhall Spa) 76 70: 146
6 SIAN JAMES (Bristol & Clifton) 75 72: 147
6 Charlie Douglass (Brocket Hall) 74 73: 147
6 HANNAH JENKINS (Cradoc) 71 76: 147
9 TARA WATTERS (Muswell Hill) 76 72: 148
9 LISA BARTON (Coventry) 75 73: 148
11 LUCY GOULD (Bargoed) 75 74: 149
Best Score RED - Claire Starkie (Silsden) .
Runner Up RED - Fiona Thompson (Ellesborough).
Best Score BLUE - Stephanie Evans (Vale of Llangollen).
Runner Up BLUE - Nicola Whitmore (Woburn).
+Detailed scores not available for this section.
Labels: Amateur Ladies