Saturday tee times for Elm Park GC, Dublin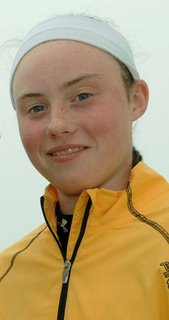 MAGUIRE TWINS TO LEAD IRISH
CHALLENGE AT OPEN STROKE-PLAY

PRESS RELEASE ISSUED BY IRISH LADIES GOLF UNION
Leona Maguire (Slieve Russell), pictured right, sets out to add the Irish Open Stroke-play title to her Irish Women's Close victory in May when play commences in the 54 hole tournament on Saturday at Elm Park Golf Club, Dublin.
Leona's 12-year-old twin sister Lisa, runner-up to Leona at the Women's Close in Westport, will be one of her main rivals in the 72-player field, all playing off a handicap of 4 or less. The playing standard has risen in recent years and this year's championship sees a record 38 overseas competitors travelling from Australia, Belgium, Czech Republic, England, France, Germany, Iceland, Italy, Scotland, South Africa, Spain, Turkey and Wales.
With a host of Senior and Junior Internationals on show, the Maguires will need to be at their best to lift the silverware on Sunday afternoon.
Breanne Loucks (Wrexham), fresh from her appearance in last month's Curtis Cup at St Andrews, heads a strong field which includes internationals preparing for the Women's European Team Championships in early July and the complete French Under-18 team due to travel to the Junior European Team Championships the following weekend.
Aside from the Maguires, Ireland's strongest challengers will be Niamh Kitching (Claremorris), Tara Delaney (Carlow), Danielle McVeigh (Royal Co Down Ladies), Maura Morrin (The Curragh), Gillian O'Leary (Cork) and recently capped Dawn Marie Conaty (Ashbourne).
Two rounds of 18 holes will commence at 7.30am on Saturday morning with the top 40 plus ties playing the final 18 holes on Sunday.
With no entry fee for spectators, the tournament provides the perfect opportunity to see the sensational Maguire twins compete on home soil alongside Europe's elite amateurs. The final round starts 7.30am on Sunday with the leaders teeing off at 12 noon.
SATURDAY'S STARTING TIMES
07:30 & 12:30 Niamh Kitching (Claremorris), Laurence Herman (BEL), Nina Holleder (GER).
07:40 & 12:40 Tara Delaney (Carlow), Emilie Alonso (FRA), Pamela Pretswell (SCO).
07:50 & 12:50 Karen Delaney (Carlow), Audrey Goumard (FRA), Megan Briggs (SCO).
08:00 & 13:00 Danielle McVeigh (RCDL), Alexandra Bonetti (FRA), Charlotte Wild (ENG).
08:10 & 13:10 Victoria Bradshaw (Bangor), Rosanna Crepiat (FRA), Charlotte Ellis (ENG).
08:20 & 13:20 Aoife Lowry (Tipperary), Naoimh McMahon (Shannon), Shirley Harvey (Ballyclare).
08:30 & 13:30 Karen O'Neill (Douglas), Sarah Carty (The Island), Pat Doran (Donabate).
08:40 & 13:40 Aedin Murphy (Carlow), Eilidh Briggs (SCO), Tara Watters (ENG).
08:50 & 13:50 Louise Mernagh (Woodenbridge), Claire-Marie Carlton (SCO), Jo Nicolson (WAL).
09:00 & 14:00 Lisa Maguire (Slieve Russell), Hermione Fitzgerald (ENG), Monique Smit (RSA).
09:10 & 14:10 Leona Maguire (Slieve Russell), Breanne Loucks (WAL), Gillian O'Leary (Cork).
09:20 & 14:20 Deirdre Smith (Co. Louth), Roseanne Niven (SCO), Leigh Whittaker (GER).
09:40 & 14:40 Maura Morrin (The Curragh), Louise Kenney (SCO), Valdis Thora Jonsdottir (ISL).
09:50 & 14:50 Dawn Marie Conaty (Ashbourne), Elle Sandak (AUS), Anne McCormack (Roscommon).
10:00 & 15:00 Deirdre Walsh (Milltown), Ragna Bjork Olafsdottir (ISL), Christine Armanasco (Claremorris).
10:10 & 15:10 Sarah Faller (Galway), Tara Davies (WAL), Tinna Johannsdottir (ISL).
10:20 & 15:20 Catherine Tucker (Limerick), Rebecca Watson (SCO), Sarah Cunningham (Ennis).
10:30 & 15:30 Rachel Cassidy (University of Stirling), Elcin Ulu (TUR), Rhian Wyn Thomas (WAL).
10:40 & 15:40 Sue Phillips (Woodbrook), Matia Maffiuleiti (ITA), Nejla Gercek (TUR).
10:50 & 15:50 Ciara Butler (Newlands), Emma Fairnie (SCO), Sarah Crowe (Tipperary).
11:00 & 16:00 Mary McKenna (Donabate), Fiona Howard (ENG), Sandra Atkinson (Woodbrook).
11:10 & 16:10 Emma O'Driscoll (Ballybunion), Lauren Mackin (ESP), Vicki Power (Dundalk)11:20 & 16:20 Gemma Hegarty (Greencastle), Jocelyn Carthew (SCO), Claire MacDonald (SCO).
11:30 & 16:30 Maria Dunne (Skerries), Jane Turner (SCO), Veronika Holisova (CZE).
Labels: Amateur Ladies