English women's closed stroke-play championship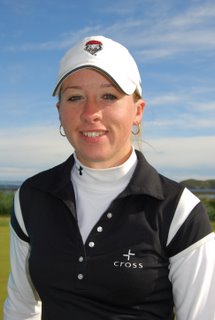 Parker blows up and Ewart beats
Bennett at fourth play-off hole
PRESS RELEASE ISSUED BY ENGLISH WOMEN'S GOLF ASSOCIATION
Yorkshire's Jodi Ewart won a sudden death play-off at the fourth hole to successfully defend her title in the English women's stroke-play championship at The Berkshire.
She defeated Hampshire's Liz Bennett after the two Curtis Cup players had tied on three-under par at the end of 72 holes of regulation play.
"This is incredible, it's got to be my best individual win," said Jodi, who plays at Catterick and is a student at New Mexico University in the USA . "It was wonderful to win last year but the field is much better this year and so it's more special."
The 20-year-old, pictured right by Cal Carson Golf Agency (all rights reserved), also won the Under-21 and Under-23 trophies.
However, with one round to play the outcome of the championship had looked very different. Lancashire's Florentyna Parker, who had been in front from the first day, had extended her lead over the field to seven shots.She was on eight-under par while her four closest challengers were on one-under.
Alongside Jodi and Liz Bennett (Brokenhurst Manor) were English champion Hannah Barwood (Knowle) and Kerry Smith (Waterlooville).
"I didn't think I had a chance," said Jodi. "To be honest I went out to play for second place." Florentyna, who also played in the Curtis Cup, was still seven-under at the turn and well clear of the field. But her lead fell away on the back nine as she dropped a series of shots and she eventually came in with an 80 and a level par total 288 for the tournament.
Meanwhile Liz , who was playing three groups ahead, took the clubhouse lead when she returned a final round 70 for a total of three-under par 285. Jodi, who knew the situa tion, birdied the 17th to get to four-under but then dropped a shot at the 18th, where her approach found a greenside bunker.
The two golfers returned to the course for the sudden death play-off and halved holes one, two and 17 in par before coming to the 399-yard 18th where Jodi took the title with a textbook 4. Liz, who had chipped impressively on the first two play-off holes, just failed to get up and down on this occasion.
"At lunchtime I certainly didn't expect to be in a play-off," said Liz. "I played solidly all week and I'm pleased with that."
The next big date for all three Curtis Cup players comes on Monday when they return to The Berkshire, alongside five other English amateurs, to play for places in the Ricoh Women's British Open.
Gloucestershire won the Under-23 county team trophy, thanks to Charlotte Ellis and Hannah Barwood whose combined scores from the first two rounds totalled 287.
Next year's English stroke-play championship will be an OPEN tournament and will take place at Enmore Park, Somerset, from August 4-6.
Par 288 (4 x 72) CSS 77 76 76 76
285
Jodi Ewart (Catterick) 70 69 76 70, Liz Bennett (Brokenhurst Manor) 71 73 71 70 (Ewart won play-off at fourth extra hole).
288
Ellie Givens (Blackwell Grange) 73 74 72 69, Kerry Smith (Waterlooville) 72 70 73 73, Florentyna Parker (Royal Birkdale) 69 68 71 80.
289 Rachel Jennings (Izaak Walton) 74 74 72 69.
291 Charlotte Ellis (Minchinhampton) 72 72 74 73.
292 Emma Brown (Malton & Norton) 74 71 74 73.
293 Hannah Ralph (Cowdray Park) 76 73 74 70, Naomi Edwards (Ganton) 71 77 72 73.
294 Hannah Barwood (Knowle) 70 73 72 79.
295 Holly Aitchison (Befordshire) 69 76 78 72.
296 Sian James (Bristol & Clifton) 77 71 72 76, Hannah Burke (Mid-Herts) 72 69 76 79.
297 Laura Collin (John O'Gaunt) 75 74 71 77.
Full details and hole-by-hole scoring: www.englishwomensgolf.org
Lyndsey Hewison
Press & PR Officer
Labels: Amateur Ladies