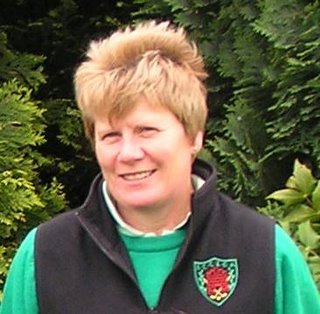 Only two seniors break 80
in
first round at Deeside
Deeside Golf Club's women's course proved too difficult a test for the 75 competitors in the first round of the 36-hole Scottish senior women's amateur stroke-play championship.
On a wind-free day, only two players - Margaret Tough (Falkirk) with a 77 and Tain's Mary Smith with a 79 - broke 80 over a course with a par of 72. The CSS was 76 (reduction only).
Some players blamed the pin placements, which were chosen by club professional Frank Coutts, for the high scores.
Margaret Tough, pictured right, who plays off three, had birdies at the second and sixth but a double bogey 6 at the 15th and other shots dropped at the fourth, ninth, 10th, 11th and 16th in halves of 37 (level par) and 40 (five over).
Mary Smith, a five-handicapper, also had a double bogey at the 15th in a weak finish which saw her drop four shots over the last four holes. She had one birdie to her credit, at the long seventh.
Defending champion Kathleen Sutherland (Royal Montrose), whose handicap has come down from 3 to 2 recently, had an inward half of 42 in compiling an 81.She had double bogey 6s at the 10th and 15th.
There will be a play-off if necessary to decide the stroke-play champion at the end of Wednesday's second round. The 16 players with the lowest 36-hole aggregates will qualify for the seniors' match-play championship over the same course on Thursday and Friday.
For the first time, there will be a play-off if necessary to produce the precise number of 16 qualifiers.

SCOTTISH SENIOR WOMEN'S AMATEUR CHAMPIONSHIP
Deeside Golf Club
ALL THE FIRST ROUND SCORES
Par 72. CSS 76
77 Margaret Tough (Falkirk) 37-40.
79 Mary Smith (Tain) 40-30.
81 Lorna Bennett (Ladybank) 41-40, Noreen Fenton (Merchants of Edinburgh) 41-40, Fiona de Vries (St Rule) 41-40, Kathleen Sutherland (Royal Montrose) 39-42.
82 Moira Thomson (North Berwick) 42-40, Jill Harrison (Cruden Bay) 41-41, Suzanne Cadden (Cardross) 40-42
83 Heather Anderson (Downfield) 43-40, Alex Glennie (Kilmarnock Barassie) 42-41, Pat Wilson (Murcar Links) 41-42.
84 Lesley Johnston (Gullane Ladies) 42-42, Lynne Terry (Cruden Bay) 42-42, Shelagh Quinn (Stirling) 40-44, Sandy Bushby (Strathmore) 39-45.
85 Patricia Hutton (Lanark) 45-40, Frances Neish (Forres) 43-42, Karen Ballantyne (Craigmillar Park) 41-44, Fiona Hunter (Baberton) 41-44
86 May Hughes (Lanark) 44-42, Sue Penman (Gullane) 42-44
87 Anna Telfer (Milngavie) 47-40, Elizabeth Simpson (Murrayfield) 45-42, Barbara Biggart (North Berwick) 44-43, Rose Anderson (Huntly) 43-44, Anne Bowman (McDonald Ellon) 43-45.
88 Ruth Brown (Lothianburn) 46-42, Rita Dee (Kingsknowe) 44-44, Ann Smart (Banchory) 44-44, Janice Paterson (Drumpellier) 44-44, Isobel McIntosh (Inverness) 43-45.
89 Margaret MacNaughtan (Aberdeen Ladies) 49-40, Isobel Harvey (St Rule),46-43, Linda McDougall (Greenock) 46-43, Rosaleen Dunsmuir (Cruden Bay) 45-44, Johanna Carrigan (The Australian) 44-45, Louise Graham (Carnoustie Ladies) 43-46.
90 Pam Gordon (Inverness) 47-42, Jennifer Mack (Haggs Castle) 47-42.
91 Winifred MacCallum (Falkirk) 48-43.
92 Carol Fell (Ranfurly Castle) 50-42, Eleanor Fisken (Nairn) 45-47.
93 Helen Faulds (Douglas Park) 50-43, Dorothy MacKinnon (McDonald Ellon) 50-43, Stella Bain (Aberdeen Ladies) 49-44, Norma Smith (Downfield) 48-45, Jean Bald (Aberdour) 46-47, Emma Wilson (Elie & Earlsferry Ladies) 45-48.
94 Sheila Reid (Aberdeen Ladies) 51-43, Maureen McRobb (Kingsknowe) 50-44, Morag Clapperton (Banchory) 48-46, Esme Hill (Dumfries & Co) 48-46, Judy Slater (Aboyne) 47-47, Anne Stalker (Aberdeen Ladies) 47-47, Janice Cumming (Inverness) 47-47, Maureen Neilson (Greenock) 45-49.
95 Hazel Kelly (Ladies Panmure Barry), Anne Ellen (Nairn), Ann Moffat (St Regulus).
96 Nancy Duncan (Brechin), Doris Dunn (Dunblane New), Moira Begbie (Murrayshall), Carol Whicher (Aberdeen Ladies), Elinor Grant (Douglas Park).
97 Anne Terrey (Greenock).
99 Fiona Roger (Ranfurly Castle), Catherine Bryce (Ballater).
101 Pat Nile (Banchory).
102 Lindsey McNiven (Aberdeen Ladies).
104 Elizabeth Rose (Aboyne).
105 Gwynneth Haines (St Regulus).
107 Diane Gray (Lanark).
1089 Anne Hood (Dunblane New).
110 Helen MacGregor (Hilton Park).
Labels: Senior ladies