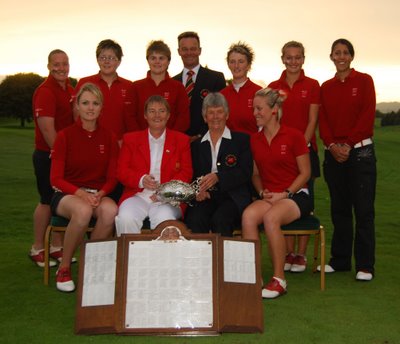 Winning Wales team with their captain Sue Turner and coach Jeremy Bennett. You can enlarge the image by clicking on it (Cal Carson Golf Agency image, all rights reserved).
WALES WIN WHI ON A TIE-BREAKER AND
SCOTS FIND WINNING FORMULA AT LAST

Wales won the women's home amateur golf internationals title in a nail-biting finish at Wrexham today.
Although beaten 5 1/2-3 1/2 by England, the defending champions, in their final match, the Welsh won the title 12-10 on an individual games won countback.
Both Wales and England had finished two match wins apiece.
Scotland registered their first win of the tournament when they beat Ireland 6 1/2-2 1/2 and they were able to pip the Irish for third place in the final table. Both teams had finished with one match win each and Scotland had an 11-8 advantage in the individual games-won tie-breaker.
The Scots' morning capture of 2 1/2pt from the foursomes, meant they needed "only"2 1/2pt from the six singles to chalk up their first win.
They got their first one of the afternoon when Emily Ogilvy won the fourth tie by 5 and 4 over Gemma Hegarty.Scotland gained a second singles victory when Kelsey MacDonald beat Niamh Kitching 4 and 2.
MacDonald had been one up at the turn with successes at the first, fifth and ninth but losses at the second and fourth.
The Scot won the 10th to go two up but her opponent took the 13th before MacDonald got a birdie 2 at the 14th to go back to two up and she quickly finished the match by taking the 15th and 16th.
Ireland won the top two singles with Tara Delaney coming back from two down at the turn to beat Scottish champion Michele Thomson by one hole, while Danielle McVeigh beat Kylie Walker by 2 and 1 after being one down at the turn.
McVeigh squared matters against Walker by winning the 11th and she also won the 14th to go one up. A birdie at the 16th put McVeigh two up and a half at the 17th ended the match in her favour.
Scotland clinched their first win when Louise Kenney boosted the day's points total to 5 ˝ with a 3 and 2 win over Gillian O'Leary. Louise pitched in from through the back of the green at the ninth to go two up and she increased the lead to three at the 11th.
Pamela Pretswell completed a 6 ˝-2 ˝ win for Scotland by beating Aedin Murphy 4 and 2 in the sixth singles. Pretswell was two down until she won the eighth and the ninth, the Irish player running into tree trouble at the ninth.
Pretswell surged into a three-hole lead by winning the 13th, the 14th and the 15th with a birdie.
Ireland conceded the 16th, giving Pretswell a 4 and 2 victory.
Now if only Scotland had found a winning foursomes formula on the first day!
Details:
SCOTLAND 6 1/2, IRELAND 2 1/2
Foursomes: P Pretswell & L Kenney bt N Kitching & D McVeigh 1 hole; M Thomson & M Briggs halved with G Hegarty & A Murphy; K Walker & K MacDonald bt K Delaney & T Delaney 3 and 2 (2 1/2-1/2).
Singles: Thomson lost to T Delaney 1 hole, Walker lost to McVeigh 2 and 1, MacDonald bt Kitching 4 and 2, E Ogilvy bt Hegarty 5 and 4, Kenney bt G O'Leary 3 and 2, Pretswell bt Murphy 4 and 2 (4-2).
WALES 3 1/2, ENGLAND 5 1/2

Foursomes: S Hassan & R Wyn Thomas halved with R Connor & C Ellis; B Loucks & A Boulden lost to K Smith & E Bennett 1 hole; T Davies & S Evans lost to N Edwardsd & F Parker 4 and 3 (1/2-2 1/2).
Singles: Loucks lost to Parker 1 hole, Hassan bt Smith 2 holes, H Jenkins lost to Edwards 2 and 1, Evans bt Barwood 1 hole, Boulden bt R Jennings 3 and 1, Davies lost to Bennett 2 and 1 (3-3).
HOW THEY FINISHED
1 Wales 2 pt (individual games won 12).
2 England 2 pt (individual games won 10).
3 Scotland 1pt (individual games won 11).
4 Ireland 1pt (individual games won 8).
NEXT YEAR'S WOMEN'S HOME INTERNATIONALS WILL BE HOSTED BY ROYAL ABERDEEN GOLF CLUB.
Labels: Amateur Ladies