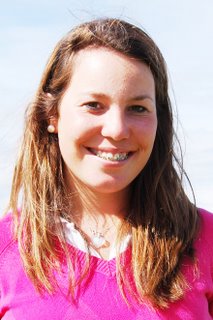 Roseanne and Kylie ranked in top
20 for 2008 by European GA
Scotland had two players - Roseanne Niven and Kylie Walker - in the top 20 of the final 2008 European Golf Association female amateur rankings for the year.
Spanish ace Carola Ciganda was, not surprisingly, ranked No 1 ahead of compatriot Maria Hernandez with Sweden's Anna Nordqvist, the British women's open amateur champion placed third.
Roseanne (Crieff & California-Berkeley University), 19,
pictured right by Cal Carson Golf Agency,
was ranked No 8 for a year in which she won the British women's open amateur stroke-play championship - beating Kylie Walker in a play-off - and was the only British or Irish player to reach the last four of the British women's open amateur championship at North Berwick.
Kylie Walker (Buchanan Castle), 22, was placed 17th for a season in which she produced a consistenly higher level of performance, starting with the Helen Holm Scottish women's open amateur stroke-play championship in which she became only the second player to break 70 of the LGU tees on the Royal Troon championship course.
Including Carlota Ciganda who enrols at Arizona State University next month, 15 of the EGA's top 20 are golf scholarships students at United States colleges.
The top 20 European Golf Association female amateur rankings for 2008 are:
1 CARLOTA CIGANDA (Spain) 267.50pt.
2 MARIA HERNANDEZ (Spain) 242.50.
3 ANNA NORDQVIST (Sweden) 205.00.
4 CHRISTEL BOELJON (Netherlands) 182.60.
5 CAROLINE MASSON (Germany) 180.50.
6 BARBARA GENUINI ( France) 180.00.
7 CAROLINE HEDWALL (Sweden) 168.00.
8 ROSEANNE NIVEN (Scotland) 153.17.
9 AZAHARA MUNOZ (Spain) 150.00.
10 STEPHANIE KIRCHMAYR (Germany) 148.50.
11 THERESE KOELBACK (Denmark) 135.00.
12 VALENTINE DERREY (France) 127.50.
13 BREANNE LOUCKS (Wales) 125.50.
14 TARA DELANEY (Ireland) 122.50.
15 BENEDICTE TOUMPSIN (Belgium) 121.50.
16 JACQUELINE HEDWALL (Sweden) 116.63.
17 KYLIE WALKER (Scotland) 114.63.
18 SAHRA HASSAN (Wales) 114.40.
19 CAROLINE WESTRUP (Sweden) 110.00
20 PIA HALBIG (Germany) 108.75.
+See the European Golf Association website for the method used to award points in designated tournaments.
+Switch over to
http://www.scottishgolfview.com/
to see how Scots are in the EGA final men's amateur rankings for 2008.
Labels: Amateur Ladies