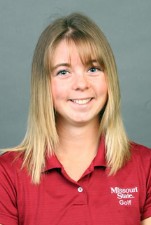 Ami Storey now leading British
player at Rio Verde, Arizona
Ami Storey (Kansas State University) from Ponteland leapfrogged over Welsh women's champion Kristy O'Connor (Ball State) from Lancashire to be the leading British player with one round to to in The Duramed Collegiate women's tournament at Rio Verde, Arizona.
Ami scored 76 and 75 to improved to joint 15th place on 151. She has done it with consistent scoring, having had only one birdie - at the seventh in the second round - through the first 36 holes.
Kristy O'Connor dropped out of the to 10 to a share of 35th place with rounds of 75 and 79 for 154. She had eight bogeys and no birdies in her second round over the par-72, 6260yd course at Quail Run.
Stacey Rodgers (Missouri State), pictured above, from Sussex is sharing 64th place on 160 with scores of 81 and 79. She had a triple bogey at the second in her second round and two double bogeys in her first circuit.
Meghan Gockel (Kansas leads on 145 (73-72) by two shots from Boram Lee (Toledo) (76-71), Carly Werwie (Wisconsin) (75-72) and Sara Wikstrom (Arkansas-Littrle Rock) (74-73).
Kansas (589) lead by 10 from Toledo in the team event which features 20 colleges.
JACK HILUTA DROPS OUT OF TOP TEN
Jack Hiluta dropped from joint ninth to 21st in the Ron Smith USF Invitational at Lake Jovita Country Club, Dade City in Florida.
Over a par-72, longish course of 7017yd, Jack has scored 69 and 74 for 143 - nine shots behind the leader Matt Stauch (Florida Southern College) (67-67) who leads by five from Santiago Rivas (Texas Tech) (69-7)) and Mike Van Sickle (Marquette) (70-69).
Middle Tennessee lead the team event from Marquette in a field of 23 teams.
Labels: US COLLEGES