Leveret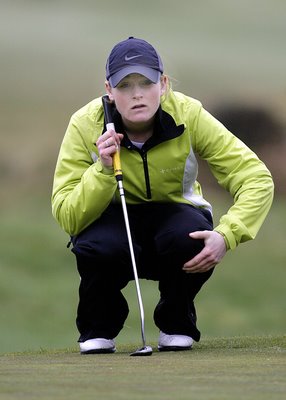 CORISANDE LEE WINS THE LEVERET
On the last Saturday in March, once again the weather stayed fair for the Leveret 36 hole scratch trophy at Formby Ladies Golf Club. An icy wind blew quite menacingly from the Northwest all day and with temperatures failing to make double figures the course proved too stern a test for the majority of the field.
Cori Lee (pictured right, image courtesy and copyright Tom Ward) from the West Lancashire Golf Club scored an extremely impressive 71 +70 = 141 and was a very worthy winner in the highest quality field the Leveret has seen.
Of the 54 competitors, 20 were off scratch or better and the highest handicap was 3. This confirms how highly the players rate the opening event of the season and how determined they are to master the challenging course that tests so many of their golfing skills.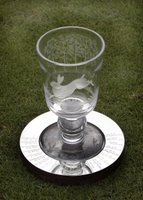 In the morning the CSS rose from 72 to 74 then to 73 in the afternoon as the sun tried hard to shine & the wind dropped slightly. Cori Lee was chased all day by her playing partner, Holly Clyburn, Woodhall Spa who will rue the 3 times she hit the flagstick in the afternoon round without the ball ever disappearing. Holly was only 2 shots adrift after 14 holes in the afternoon but Cori then showed her class by covering the last 4 holes in par to steady the ship and regain the trophy she won in 2006.
The experienced Emma Brown, Malton & Norton had a consistent 74 + 74 = 148 for third place. In fourth place young Emily Taylor, Royal Lytham did much to impress the Lancashire & England selectors with rounds of 75 + 76 = 151 proving how well she copes with difficult conditions.
The Leveret is well supported by many teenagers and 13 year old Charley Hull from Kettering showed how talented a player she already is. Playing off 3 handicap her 76 + 77 = 153 placed her 6th equal in the scratch event and winner outwith the main prize winners of the aggregate handicap prize. Formby Ladies hopes Charley and all this year's field will return next year.
FULL RESULTS
141 CORI LEE (71,70)
145 HOLLY CLYBURN (73,72)
148 EMMA BROWN (74,74)
151 EMILY TAYLOR (75,76)
152 CHARLOTTE WILD (76,76)
153 LAURA COLLIN (80,73), NAOMI EDWARDS (78,75), CHARLEY HULL (76,77), NIKKI DUNN (74,79), KATE WHITMORE (74,79)
154 RACHEL CONNOR (81,73), NATASHA GOBEY (79,75), EMMA CLEGG (77,77), TARA DAVIES (77,77), CHARLOTTE ELLIS (76,78)
155 AMY BOULDEN (80,75), CAROLINE MARRON (78,77), ELIZABETH MALLETT (76,79), ELLIE ROBINSON (75,80)
156 TILLY HOLDER (81,75), ALEXANDRA PETERS (80,76), SARA GARBUTT (79,77)
157 KIM CROOKS (81,76), NATALIE LOWE (80,77), ABBEY GITTENS (79,78), NIKKI FOSTER (78,79), Sarah Attwood (77,80)
158 KATIE BEST (83,75), CHARLOTTE DALTON (82,76), EMMA GODDARD (81,77)
159 JANE BINNING (85,74), KYM LARRATT (82,77)
160 RACHEL GOODALL (84,76), SAMANTHA BIRKS (83,77), SARAH WALTON (81,79)
161 JENNA BIRCH (84,77), CHARLIE DOUGLASS (84,77), HELEN SEARLE (82,79), MARIE ALLEN (82,79), Kelly Tidy (80,81), BRONTE LAW (79,82)
162 Laura Harvey (80,82)
163 JESSICA RIGBY (84,79)
164 AMY SKOULDING (85,79), RACHEL DRUMMOND (81,83)
165 LISA BARTON (85,80)
166 BRONWYN DAVIES (81,85), BROGAN TOWNEND (81,85)
167 ANNA CARLING (83,84), CLAIRE MACDONALD (83,84), KAREN HEYWOOD (79,88)
170 REBECCA MCGINLEY (84,86)
184 CHARLOTTE AUSTWIC (95,89)
Tom Ward's photographs can be found on his Flickr site at
www.flickr.com/photos/twardpress/sets/72157616034619188
All images Courtesy and Copyright Tom Ward
Thanks to Fiona Anderson for the report
Labels: Amateur Ladies