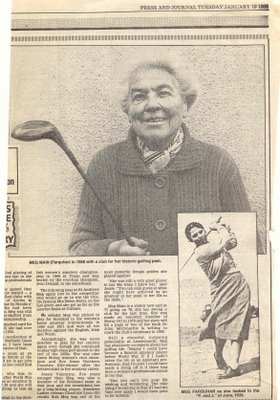 A
recent claim that Heather MacRae would be the first female to play in the Scottish professional golf championship was quickly withdrawn when Colin Farquharson reminded his fellow golf writers about Meg Farquhar. Colin interviewed Meg in 1988 for the article below.
Lossiemouth assistant Meg
Farquhar played in men's
pro championship of 1933
+This feature article was published in The Press and Journal in January, 1988 (pictured right).
By COLIN FARQUHARSON
Never, never claim that something has not happened before in the world of sport. That was my New Year resolution after billing Sarah MacLennan of Ballater as the first female assistant professional golfer in Scotland.
No sooner had the article appeared in the Press and Journal, than I was bombarded by phone calls and letters from the Lossiemouth area.
"Haven't you heard of Meg Farquhar?" was the question repeated over and over again.
To my eternal shame, I had not. But once the error of my ways have been pointed out, there was nothing for it but to go to Lossiemouth and speak to Meg in person. The story she had to tell me is well worth a place in the "Thanks for the Sporting Memory" series.
Margaret Farquhar was born at Lossiemouth April 29, 1910 – My father was a fisherman, a skipper, in fact."
She learned how to play golf as a youngster more of less by trial and error … "I never had a lesson in my life" … over the Moray Golf Club relief course. Her self-taught swing was so impressive that it triggered off a chain of events which led her into the professional ranks prematurely.
"Johnny McAndrew, who ran a golf school down in Glasgow, saw me play and said: 'I like your swing. Come down to Glasgow and work for me,' " recalls Meg.
"I was in my teens and looking for a job, thinking possibly about a future in nursing but I told my parents about Mr McAndrew's offer. They were not in favour of me going off to Glasgow.
"My father went off to see George Smith (the Moray Golf Club professional) on his own and came back to tell me that George would take me on if I was serious about wanting a golfing job.
"Willie Souter, one of George's assistants, was leaving for America at the time, so there was an opening and George Smith had seen me swing a club, so he did not think twice about giving me a job."
Meg Farquhar admits now she did not realise the full implications of becoming an assistant professional.
"To me it was a job and one I knew I would like. But it was a mistake because as a teenage girl I did not realise I was cutting myself off from amateur golf completely. I did not even have a handicap. I really should have achieved something as an amateur before getting a job as a professional."
In the years between the World Wars, when package trips to Spain, Portugal, France, etc had not even been thought about, places like Lossiemouth, which could boast a classic links golf course, would draw in every summer people from the south who had the money to spend on holidays away from home.
"I used to spend my summers giving golf lessons to visitors and their children. I became well enough known for some visitors to make a point of asking for me. It was unusual, of course, for a woman to be able to get lessons from a professional of her own sex.
"And some visitors used to pay me to go out and play rounds with them. I met some wonderful people and I have a friend in Edinburgh I taught to play in 1929. I still hear from her."
So how good a golfer was Meg in her own estimation?
"I could fair hit a ball - and remember I started in the days of the hickory shafts – and I could pitch and putt. We used to get long, hot summers in those days and the Moray greens would become very hard and very fast, which was the way I liked them."
In 1933 came the event which put Meg Farquhar's name in the golfing history books. She became the first woman to play in the Scottish professional championship.
"It was to be played that year at Lossiemouth and George Smith encouraged me to enter. There was nothing in the constitution to keep me out. All I had to do was became a member of the PGA and that's what I did."
Even in the enlightened 1980s, one can imagine the consternation that would be cause by a similar move but Meg Farquhar does not remember any concerted opposition to her joining the all-male field for what was Scotland's premier professional golf championship.
"They just accepted me for what I was. I could play golf and I made my living at the game, even though I was paid in pandrops!"
But at the age of 21 and with no tournament experience whatsoever, wasn't Meg just a little bit apprehensive about placing her female golfing skills in the spotlight and on the same platform as the male professionals.
"Not at all. I knew I could make rings round some of them. I had confidence in my own ability over the Moray course I knew so well."
Peter Craighead (later to become News Editor) reported on the championship for the "Press and Journal" and described Meg as being of "sturdy build and calm demeanour … the smiling-faced Diana of the links."
And the biggest galleries were drawn by the local Lossie heroine … "With her went a large number of blue-jerseyed fishermen. It was an intensely patriotic following."
The format for the "Scottish" in those days would have had the modern tournament pro throwing up his hands in horror – it was all over in two days with two rounds being played on each.
With scores in the 80s and 90s not uncommon, Meg was pleased to be only four shots behind the first-round leader with a 79 (40-39). Her round included a 7 at the eighth but there was encouragement from golf writer Craighead.
"At the last hole, Meg's tee shot against the wind covered 300 yards. At most of the holes she outdrove the male professional who partnered her."
But Meg Farquhar started her afternoon second round disastrously – 6 6 5 – and took two shots to get out of "Hell Bunker" below the plateau 18th green which cost her a closing 6. All that added up to an 85.
Meg's first-day efforts were featured prominently in "The P and J" but her second-day peformance was reduced to a footnote. Perhaps that was a tribute to her acceptance by then as a competitor and not a female interloper.
English-born Mark Seymour was the winner of the 1933 Scottish pro title at Lossiemouth. He had rounds of 75, 72, 70 and 75 for an aggregate o 292 and his second victory in the tournament in three years. Seymour had five strokes to spare over joint runners-up; James McDowall (Turnberry) and William Spark (Balmore).
Meg "putted weakly" according to the "P and J" in fishing with rounds of 86 and 81 – remember the third and fourth rounds were played on the second day – for a four-round aggregate of 331, 40 shots behind winner Seymour but her final placing of 50th was by no means last in the field of Scotland's top professionals of the day.
The publicity she gained that week did produce one reward – a new set of steel0-shafted clubs with the complments of Accles & Pollock made up for her by Nicolls o' Leven. Steel shafrfgts had been legalised in1929 but Meg was still playing with hickory-shafted irons at the time of the Scottish championship of 1933.
Meg still has the marked card for a round over 70 (37-33) she had over the Moray course only two years later in 1935. She has a v ague recollection of also playing in the Northern Open – first played in 1933 – at a later date but I was unable to get verification of that.
She seved five years asn assistant to george Smith at the Moray club and did try to get jobs within golf after that but could find "nothing suitable."
Meg Farquharson, whowas to become Mrs Main after World War II, was reinstated as an amateur in 1949 at the age of 39 and she still had +1 of a handicap as late as 1957, when plus handicaps, particularly in the ranks of amateur ladies were few and far between.
She made her debut in the Scottish womens amateur championship in 1949 at Troon and got as far as the semi-finals before being beaten by Jean Donald who went on to beat Helen Holm in the final.
The following year, at St Andrews, Meg again lost to the competitor who would go on to be crowned champion that week – the legendary Helen Holm – on the 18th green.

In 1951, Meg reached the last eight at Gullane where Jessie Valentine was the champion.
No wonder Meg was picked to play for Scotland in the women's home internationals in 1950 and 1951.
She recalls that she won all her matches – but, astonishingly, she was never selected to play for her country again, even through she continued to play high-class golf almost to the end of the 1950s.
Meg was nine times Moray women's club champion and five times Northern Counties title winner after the belated start to her amateur career.
Jessie Valentine, five years younger than Meg, was also a member of the Scotland team at that time and she remembers her as a long-hitting player.
Aberdeen Ladies veteran Charlotte Lyon (92) recalls that Meg was one of the most powerful female golfers she played against.
"She was still a very good player in her 40s when I knew Meg," Jessie told me at her home in Perth. "She made a mistake in turning professional at the time she did. You can only guess at what she might have achieved had she remained an amateur, particularly at her peak in her 20s in the years leading up World War II."
Meg Main is a widow now and 7 going on 78 she has swung a golf club for the last time. She was made an honorary member of Moray Golf Club in 1979 and her story will fill a page or two of the book Dr John McConachie is writing to mark the club's centenary in 1989.
Still a cheerful, outgoing personality at Lossiemouth, Meg has absolutely no regrets about her golfing life.
"Maybe I could have become a famous amateur player before World War II if I hadn't taken the job as an assistant professional. And I'm sure I could have made a living from it, if there had been a women's professional circuit in my day.

"But you can't live your life wishing and wondering. The only thing I would say is that if I had my time over again, I would have gone in for nursing!"
+The above article was published in The Press and Journal on January 19, 1988. Meg Farquhar died later that year, on November 9, aged 78.
Labels: Amateur Ladies, Pro Ladies