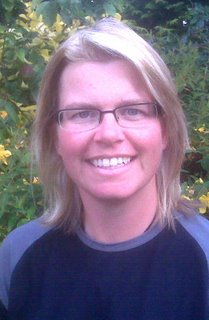 Karyn Burns wants to hear from lady
amateurs who would like to pay and
play in her women-only pro-am
PGA professional Karyn Burns,
pictured right
, is organising an all-women pro-am on August 21 at the exclusive venue of the Fidra Course at Archerfield Links Golf Club.
There will be 10 teams consisting of 10 Scottish lady professionals, including the seven who are currently members of the Ladies European Tour, and 30 lady amateurs.
"There are still a few team spots available," says Karyn. "I believe this is this first event of its kind in Scotland although I believe that Jane Connachan held a ladies' pro-am at some point.
"The 10 professionals are likely to Karyn Dallas, Heather MacRae and myself, who are PGA professionals, and from the Ladies European Tour: Krystle Caithness, Pamela Feggans, Lynn Kenny, Vikki Laing, Clare Queen, Michele Thomson and Jenna Wilson."
Kathryn Imrie may get involved if home from USA.
The price per team of three amateurs is £495
which is inclusive of morning rolls/tea on arrival, a short clinic/Q&A session, the 18-hole competition followed by a three-course dinner and viewing of the Solheim Cup match which starts that day.
If you break that down to a cost per individual, it works out at £165 a head.
Are there any husbands/partners/boy friends of lady amateur golfers out there who might like to give their loved ones a treat by buying them a place on a team for what is certainly going to be a day to remember?
Overnight stays can be arranged at an additional cost. More information is available from and entries can be made to Karyn Burns, PGA (AA) Professional by emailing
http://uk.mc870.mail.yahoo.com/mc/compose?to=karynburns@yahoo.com
or Mobile: 07720 442492.
Labels: Amateur Ladies, Pro Ladies