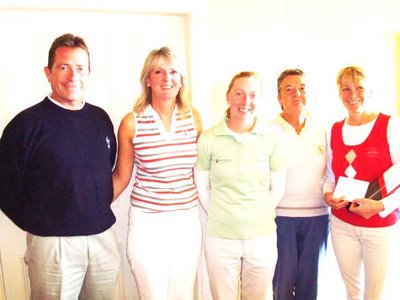 Krystle Caithness Fund-raiser winning team

The Krystle Caithness Fund-raiser took place today over the Jubilee course St Andrews.
The winners were Dunvegan with 83 points. The Dunvegan line-up (pictured above by Alma Robertson, left to right): Willie Tait, Lynne Tait, Krystle Caithness, Moira Wilbraham, Sheena Willoughby.
Second were Rule Britannia (Mary Forster, Dotty Kennedy, Nicola Davidson, Liz Childs) with 81 points.
Third were the R & A (G Howe, I Marshall, R Bunch and I Donald) with 80 points
Pictured (by Alma Robertson) above is the winning team with Krystle.
Twenty-two teams took part in the event which was organised by the St Regulus Club to help Krystle Caithness who joined the professional ranks earlier this year.


Labels: Amateur Ladies, Amateur Men