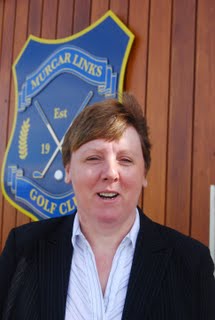 Carol O'Neill continues the trend
as Murcar Links' new secretary
By COLIN FARQUHARSON
Murcar Links Golf Club has appointed Carol O'Neill to be its new secretary. Carol, who had been close on 15 years as assistant secretary at Newmachar Golf Club, took up her new duties today.
"Carol is well known in North-east golfing circles and brings a wealth of experience in golf administration to the club," said Murcar Links captain Hugh Stuart.
"Murcar Links is celebrating its Centenary this year and has capacity membership with a waiting list.The club hosted the European girls' team championship in 2008 and the Scottish men's open amateur stroke-plsy championship in May this year. They may be a further announcement soon regarding the hosting of another big event.
"With our excellent clubhouse, course and practice facilities, we can think of no better time for Carol to be joining us - at the start of our next 100 years."
Carol, renowned for her multi-tasking at Newmachar Golf Club, succeeds Joanne Mitchell who is getting married soon.
Ironically, Carol, who lives in Dyce, has just bought a new house in NEWMACHAR ... "but it's not far to Murcar Links across country from Newmachar" she says.
Carol O'Neill's appointment continues if not a ladies-only, certainly a ladies-favoured trend in North-east golfing circles over the past 10 to 15 years - perhaps with the advent of computerised administration and the need for specialised knowledge and training - for clubs to appoint female secretaries/club managers.
Debbie Pern, Deeside Golf Club's secretary-manager for the past five years, has a different explanation, with tongue in cheek: "I don't think members shout so much at lady secretaries as they do at men doing the job!"
Banchory Golf Club recently appointed Ann Smart to succeed the retiring Bill Crighton as its secretary and Stonehaven's Willie Donald, when he came up to retirement age earlier this year, was replaced by Morag Duncan as club manager
.
Two of the longest serving permanent club staff officials in the North-east are Sandra Webster who has been secretary at Royal Aberdeen Golf Club for 20 years and Rosemary Pittendrigh who is retiring at the end of the year after 15 years as secretary/manager at Cruden Bay Golf Club. .
Others in the area include Eva Beech-Campbell at Oldmeldrum, Yvonne Forgen at Elgin and Marion Ferries at Aboyne.
Are there as many lady secretaries/club managers of golf clubs in your area?
E-mail
Colin@scottishgolfview.com
if you can name names.
Labels: GOLF DEVELOPMENT