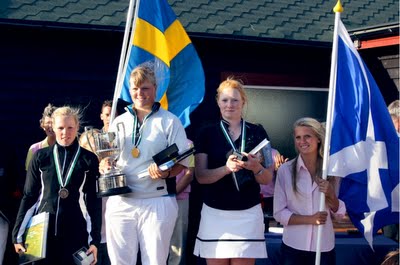 Louise Larsson, Caroline Hedwall and Kyle Walker at the presentation of medals ceremony in Sweden
.
Kylie 2nd and Pamela jt fourth in
European women's championship
Buchanan Castle's Kylie Walker and Pamela Pretswell (Bothwell Castle),both Great Britain & Ireland Vagliano Trophy team international players, finished second and joint fourth respectively in the European women's amateur golf championship at Falsterbo Golf Club, Sweden today.
It followed their sixth and joint seventh performances in the British women's open amateur stroke-play championship at Royal Aberdeen the previous week.
Judging by the general level of scores, it must have been very windy on the most southerly tip of Sweden on Saturday. Only one player matched the par of 72. Most of the better scores were in the mid-70s but others shot in the 80s.
But there was no doubting the supremacy of Caroline Hedwall (Sweden) who started the day with a seven-shot lead and extended it to win by 10 strokes with a 75 for one-over-par 285. The 20-year-old Oklahoma State University student also won this title in 2007.
"To be able to win a European championship in Sweden is a great experience and I have enjoyed the week," said a happy Caroline who lost to compatriot Anna Nordqvist in last year's British women's open amateur championship final at North Berwick.

Kylie Walker returned a 78, which included double bogeys at the fifth and eighth, but she birdied the par-5 18th to finish on 295 and hold on to the silver medal, one stroke ahead of Sweden's second player in the top three, Louise Larsson who closed with a 74 for 296.
Pamela Pretswell, the halfway leader after a second-round 69, was more like her old self after dropping out of the pole position with a third-round 80. In the difficult conditions, the Glasgow University student returned a 75 - same Saturday score as winner Hedwall - for 297.
Also on 297 was Royal Co Down's NUI Maynooth student Danielle McVeigh who signed off with a 77. Danielle won the British women's open amateur stroke-play championship at Royal Aberdeen in her last tournament before the European.
Only one player matched the par of 72 on the last day.
Caroline Hedwall's twin sister Jacqueline finished joint 32nd on 307.
LEADING FINAL TOTALS
Par 284 (4x71)
285
Caroline Hedwall (Swe) 70 74 66 75.
295
Kylie Walker
(Sco) 70 76 71 78.
296
Louise Larsson (Swe) 70 78 74 74.
297
Pamela Pretswell
(Sco) 73 69 80 75, Marieke Nivard (Net) 74 75 74 74, Danielle McVeigh (Ire) 70 75 75 77.
298
Gidali Manon (Fra) 78 76 72 72, Lucie Andre (Fra) 72 72 77 77.
299
Marion Ricordeau (Fra) 74 74 71 80.
300
Madelene Sagstrom (Swe) 74 80 69 77
301
Holly Clyburn (Eng) 76 72 74 79, Rachel Jennings (Eng) 74 75 72 80, Sophia Popov (Ger) 74 80 73 74, Daisy Nielsen (Den) 71 77 72 81.
307
Rhian Wyn Thomas (Wal) 73 69 73 82 (jt 32nd).
312
Hannah Barwood (Eng) 80 75 76 81 (jt 52nd)
314
Amy Boulden (Wal) 77 74 76 87 (jt 54th).
Labels: Amateur Ladies