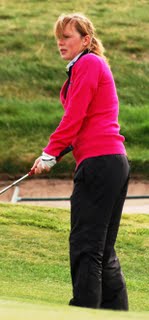 Megan is leading Scot after windswept
opening day at Balgownie
Scotttish champion Megan Briggs has perhaps not had the respect she has deserved since winning the national title at Southerness in May ... but that may be about to change.
The Kilmacolm 20-year-old student,
pictured right
, shot a 78 in a 30mpg gale at Balgownie today to be the leading Scot at the end of the first round of the 72-hole British women's open amateur stroke-play championship.
A six over par score is not generally one to write home about - but a southerly wind which made the inward half a battle for survival meant anyone who broke 80 had earned pass marks.
Ladies Golf Union tournament director Susan Simpson foresaw the problems that players would have even reaching some fairways into the teeth of the wind on the back nine.
"I went out early this morning and moved forward quite a few of the tees, some by up to 30 yards, to give the competitors a chance of clearing the rough from some of the tees," said Susan.
The wind was so strong that even downwind, with it at their backs on the outward half, it was little or no help as approach shots and pitch-and-runs were being blown through the greens.
Late in the day, when the wind had dropped just a tad, Europe's top-ranked female amateur, Lucie Andre, made the most of her window of opportunity and shot a one-over-par 73 to lead by two shots from Northern Ireland's Danielle McVeigh who has had plenty of experience of playing in high winds over her home course at Royal County Down.
"When the wind is this strong, knowing the yardages is no help at all. You have to develop an insttinctive feel for how hard to hit the shot, particularly downwind," said Danielle.
Megan Briggs did not make the best of starts downwind. She bogeyed the first, the fourth and the sixth. But a birdie 2 at the eighth settled her and she turned in two-over-par 38.
A birdie 3 at the 10th was followed by a double bogey 5 at the short 11th but she was able to limit any more damage over and above the single bogeys which were caused by greens being out of range as much as anything else.
Alford's Laura Murray (36-43), Emma Fairnie (Dunbar) (39-40) and schoolteacher Louise Kenney (Pitreavie), who birdied the last two holes in halves of 38 and 41, all finished on the creditable 79 mark.
Vagliano Trophy player Pamela Pretswell (Bothwell Castle) (39-42), repeating Scottish Under-21 champion Kelsey MacDonald (Nairn Dunbar) (38-43), North of Scotland champion Katy McNicoll (Carnoustie) (38-43) and defending champion Roseanne Niven (Crieff) (37-44) all finished on 81.
Curtis Cupper Carly Booh signed for an 82 with halves of 41 and then declared that she felt a wind of that strength affected her more on the greens than it did on the fairways.
"I hate it when the wind makes the balls bobble about on the greens," said 17-year-old Carly whose 19-year-old brother Paul arrived to cheer her on ... complete with four gold medals in powerlifting from the Special Olympics at Leicester.
Vagliano Trophy player Kylie Walker (Buchanan Castle), beaten by Roseanne Niven in a play-off for this British title 12 months ago, had halves of 42 and 41 for an 83.
There were several slow play warnings issued to players but, because of the abnormal conditions, no penalties were imposed ... but if the wind does not blow on the last two days, then
there is a more than even chance that the habitual slow coaches will be put on the clock and have a penalty stroke added to their score.
The Ladies Golf Union is determined to lead the way in taking steps to halt and eventually eradicate the creeping paralysis of slow play in tournaments.
Labels: Amateur Ladies