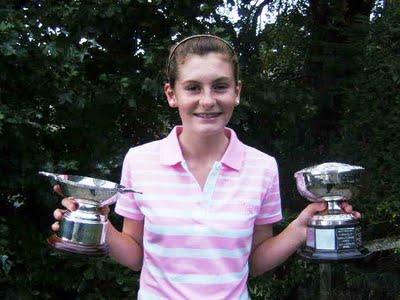 Tara Mactaggart with the two trophies she won over the Kelso course at the weekend.
Tara Mactaggart (13) wins Borders' Silver Jubilee
Quaich - and the Borders' girls championship
Thirteen-year-old Tara Mactaggart (Minto) scored a great double at the weekend. She not only took the Silver Jubilee Quaich in the Border Ladies County Golf Association competition at Kelso, but also won the scratch in the Border girls' championship over the same course.
Leading scores

Silver Jubilee Quaich
1 Tara Mactaggart (Minto) 34pts better last 6 holes.
2 Isobel Massie (Innerleithen) 34pts
3 Danielle Ker (Kelso) 32pts better inward half.

Borders girls' championship
1st Scratch: Tara Mactaggart 82 (Minto)
1st Handicap: Laura Mathewson (Kelso) (28) 71.
2nd Handicap: Vicky Shirra-Gibb (St Boswells) (32) 74.
Labels: County News, Girls