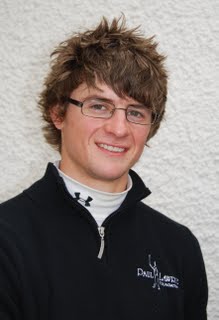 David Law out for "Royal " links treble
next
week in Duke of York Young
Champions' event at Dundonald
NEWS RELEASE

David Law, the first player to have won the Scottish men's amateur and the Scottish boys' championships in the one year, is out to capture The Duke of York Young Champions Trophy over Dundonald Links from September 8 to 10 (Tuesday to Thursday next week).
The 18-year-old Law,
pictured by Cal Carson Golf Agency,
could have his work cut out. Apart from having Tom Lewis, the English and British boys' champion, in the field, he will be up against 56 other top juniors from 34 different countries with handicaps averaging +1.
These include Claudio Vigano, who won The Duke of York Young Champions Trophy in 2007, and Jeroen Krietemeijer, the Dutch golfer who came out on top at this year's European Young Masters.
Law will also need to keep half an eye on the girls who play for the same coveted piece of silverware. As recently as 2007, two girls featured in what was a three-way tie for second place, two shots off the pace.
Perrine Delacour, the 15-year-old French player who won the recent British girls' championship at West Lancashire, is one who could make for trouble, with the extraordinary 14-year-old Klara Spilkova another.
Spilkova returned scores of 68, 65 and 69 at Golf National to win the girls' section of the European Young Masters by 14 shots, while she created another record when she captured the German girls' international championship with seven shots to spare. She also featured in the recent Junior Solheim Cup at Rich Harvest Farms.
Dundonald Links is in perfect shape for an event which, with its royal connections, might strike Law as being right up his street. After all, he won his Scottish Boys' at Royal Aberdeen and his Scottish Amateur at Royal Troon.
"The event gets better and better every year," said HRH the Duke of York. "Dundonald will ask difficult questions of these leading youngsters but I am sure they will come up with some great golf."
Apart from Tom Lewis, England will be represented by 15-year-old Elizabeth Mallett (Sutton Coldfield) who reached the final of the British girls championship at West Lancashire last month and another 15-year-old, Alexandra Peters (Notts Ladies) who was beaten in the semi-final by the French girl who went on to win the title.
Full list of competitors and other tournament information is available on:
http://www.doy-champions.com/page.asp?pageID=137
Labels: BOYSGIRLS