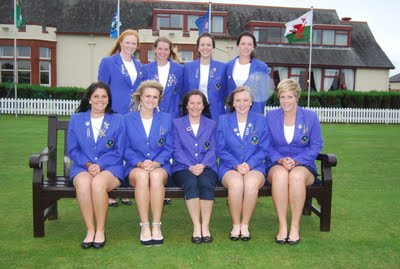 The Golfing Flowers of Scotland. Ready for action in the Women's Home Internationals at Irvine Golf Club, Ayrshire. Image by Cal Carson Golf Agency. Click on it to enlarge
.
IRVINE WET BUT PLAYABLE FOR WOMEN'S

HOME INTERNATIONALS
Fingers crossed, there's no danger that the Women's Home Internationals will not tee off on time tomorrow morning at Irvine Golf Club even though there was more heavy rain at the Ayrshire venue today.
There were big pools of water in the car park but not so many out on the course, thanks to the hard work of head greenkeeper Derek Wilson and his staff.
"Believe it or not but we have had rain here at some time or other during the day or night for the past 54 consecutive days," said Wilson.
"This summer the course has never had the chance to dry out and play the way it should. The greens, like the fairways, are much softer than I would like them but these players will probably prefer that they can fire the ball at the flag rather than have to drop their approach shots short and hope to judge the bounce."
Home skipper Lesley Nicholson is optimistic her squad can win the Miller Trophy for the first time since the Scotland were champions in 1990 and 1991.
Top-10 individual form by her team members in the recent British women's open amateur stroke-play championship at Royal Aberdeen and the European women's amateur team championship in Sweden, where Kylie Walker (Buchanan Castle) was runner-up and Pamela Pretswell (Bothwell Castle) joint sixth, suggests her confidence is not ill-founded.
In the opening foursomes against Ireland, Lesley Nicholson has paired Kelsey MacDonald (Nairn Dunbar) and Carly Booth (Comrie) against the new British stroke-play champion Danielle McVeigh and Charlene Reid.
Louise Kenney (Pitreavie), leader of the SLGA Order of Merit table, and Pamela Pretswell, are Scotland's No 2 foursomes pairing for the tie against Gillian O'Leary and Victoria Bradshaw.
Scottish champion Megan Briggs (Kilmacolm) is paired with the big-hitting Kylie Walker against Mary Dowling and Sarah Cunningham.
Wales, defending the title they won on home turf at Wrexham 12 months ago, open their campaign against an England line-up loaded with talent. Scotland's prospects would be considerably enhanced if Wales could claim England's scalp. But England will start favourites.
Wednesday morning's foursomes:
ENGLAND v WALES
8.30 am
Charlie Douglass & Holly Clyburn v Lucy Gould & Sam Birks.
Charlotte Wild & Hannah Barwood v Rhian WynThomas & Gemma Bradbury.
Rachel Jennings & Kelly Tidy v Tara Davies & Amy Boulden..
SCOTLAND v IRELAND
9am
Kelsey MacDonald & Carly Booth v Danielle McVeigh & Charlene Reid.
Louise Kenney & Pamela Pretswell v Gillian O'Leary & Victoria Bradshaw.
Kylie Walker & Megan Briggs v Mary Dowling & Sarah Cunningham.
Labels: Amateur Ladies