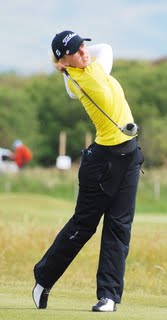 Sally Watson moves up to joint fifth in
Edean Ihlanfeldt Invitational
Curtis Cup Scot Sally Watson, pictured right at Harlech in June by Cal Carson Golf Agency, has moved up to joint fifth in a field of 73 players with one round to go in the Edean Ihlanfeldt Invitational women's college golf tournament at Sahalee Country Club, Washington state.
Stanford University, California freshman Sally, from South Queensferry before the family home moved to Elie, has had rounds of 77 and 72 for a 36-hole tally of five-over-par over the 6,136yd, par-72 course.
In her second round she had birdies at the first, short fifth and short 17th, dropping shots at the fourth, 10th and 13th in halves of 35 and 37.
Another Scot in the field, last year's British open amateur stroke play champion Roseanne Niven from Crieff, a senior year student at California-Berkeley University, is in joint 39th position with scores of 80 and 82. In her second round, Roseanne had one triple bogey and two double bogeys. In her first round she also had two double bogeys.
Two of Niven's team-mates, German-born Pia Halbig and Emily Childs are in first and second places after two rounds. Halbig has shot 73 and 72 for two-over 146, one ahead of Childs' 73 and 74.
Natasha Podmore from Delamere Forest and San Francisco University is sharing third place on 148 after rounds of 72 and 76. Natasha had a birdie at the long sixth but bogeys at the fifth and seventh and a double bogey at the eighth in an outward half of 39 before she bogeyed the 10th.
Natasha steadied up after that and parred the last eight holes.
California (599) lead the 13-team event by 10 shots from Stanford with Pepperdine (613) third, San Francisco (614) fourth and San Jose State - Janice Moodie's old university - come next on 620.
Labels: US COLLEGES