Scot has no ambition to turn pro before college days in California are over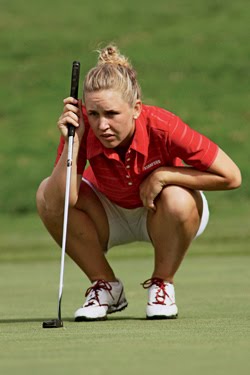 Sally Watson to stay at university for four years
FROM THE NEW ISSUE OF THE STANFORD UNIVERSITY, CALIFORNIA MAGAZINE
Scotland's Sally Watson, 18, freshman golfer. From that simple, roster-like listing flows quite a tale. To start with, Watson's presence at Stanford University is a coup, given that many consider her talented enough to consider turning professional now.
Watson, who made an international impression playing for the Great Britain and Ireland team in the 2008 Curtis Cup over the Old Course, St Andrews, says she wants the full experience of being a student-athlete at Stanford. "It's definitely my plan to stay for the four years."
Moreover, she's being billed a team leader. Stanford gets a fair share of competitively advanced frosh, but leadership is typically reserved to upperclassmen. "She's going to lead by example," says Caroline O'Connor, women's head coach. "She's going to speak her mind and push others to work harder." Not to mention whatever spark she provides just by playing.
Then there's a quality that doesn't always go hand in hand with natural ability at Watson's age: maturity. She talks with notable poise, for instance, about how formidable it would have been to turn pro—about how self-reliant and career-intense she would have needed to be, perhaps even to the point of an oppressive maturity.
"It's just a huge step," she says. "College is the last stage in your life where you don't necessarily have any worries. You still want to get A's, but you also have some freedom to be a little kid."
Watson's talent is a more complex topic. There's an obvious here-and-now to some of her skills, perhaps best demonstrated when she won three of five matches at the Curtis Cup, which pits the United States against Great Britain and Ireland in a competition for amateur girls and women. But her potential generates even more excitement.
That kind of rapid progression is special, says O'Connor. "She's a true student of the game, and she works at it like the best players in the country do."
Watson, a native of Edinburgh, lived in Scotland until she was nine then spent a few years in Orinda, when her father's work took the family to the Bay Area (San Francisc). She returned to Scotland for a while and then attended high school in Florida, where she got golf instruction at the David Leadbetter Golf Academy.
She had grown devoted to basketball until suffering a knee injury at 12; it was only then that she turned to golf in a serious way. Within just a few years she was showing off a swing that suggested a big future. In 2007, at 16, she made the cut at the Women's British Open and tied for 50th.
In Golfweek's preseason analysis of college teams, Watson was named to the third of three top-10 lists for women players, making her the only Stanford representative and just one of four freshmen rated among the top 30 selections in the country.
In her debut with the Stanford University Cardinals, Watson finished a little below the middle of the pack at the end of a rain-shortened, two-round event. But in the second of three fall tourneys, she was in contention to win, ultimately finishing fifth. At the Stanford Intercollegiate in mid-October, she tied for 51st in a field of 81.
As the year concluded, she was focused on her putting. "I think I can hole putts when I need to," she says. "It's the putting I'm doing in between that needs improvement, if that makes sense. I need to hole them more frequently."
Maybe Watson will be a golfer who's at her best when she's most in need of a clutch shot. "She manages stress on the golf course very well," says O'Connor. "When her back is against the wall, she's the one who wants to step up and perform."
Labels: Student golf