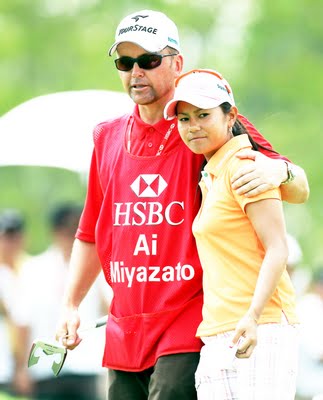 Ai Miyazato and her caddie after the third round of the HSBC Women's Champions tournament at Singapore. Below, joint leader Juli Inkster in action. Both images by courtesy of Getty Images/HSBC Women's Champions

.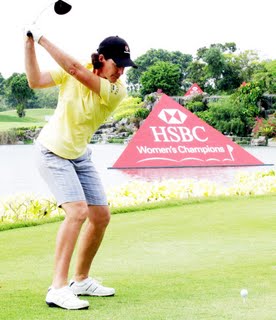 Ai Miyazato eyes second win
in as many weeks
By Lewine Mair
,
http://www.hsbcgolf.com/
Juli Inkster and Ai Miyazato, who are sharing the lead on seven under par going into the last round of the HSBC Women's Champions at Tannah Bay Resort's Garden Course, Singapore, could not make for a greater contrast.
Inkster is 49 and has been talking about this year being her last on tour. Miyazato, for her part, is 24 and is only now beginning to reach her potential. Where Inkster has bagged seven majors and a total of 31 LPGA titles, Miyazato notched her first LPGA win at the 2009 Evian. As for her second, that came in Thailand last week as she had a last-round 63 to seize the title from Suzann Pettersen.
Inkster says that if she could come out on top tomorrow, it would be "one of my best wins ever," partly because she has not won since the 2006 Safeway tournament and partly because her game has been playing up over the last few years.
She was still at odds with her irons at the start of this week but, in practising yesterday evening, she realised that there was a touch of the bad workman blaming his tools. Once she moved the ball forward in her stance, everything fell into place.
Today, she was hitting all her shots well, with her only mistake one of letting a few putts get away.
Asked if she thought her greater experience would tell tomorrow, Inkster was quick to say that she feels like the underdog. "Ai," she pointed out, "won last week so that experience has to be the more relevant."
Miyazato, who describes Juli as one of her idols, is no less desperate to get her hands on the trophy. Since the Women's HSBC Champions is viewed at Asia's major, she knows that this title would go down well in her homeland
.
It was Miyazato who came up with the shot of the day at Tanah Merah, one which detonated a roar to match that of any of the planes taking off at the adjacent Changi Airport. Having driven the green at the 269 yards 16th, she had a swirling putt of 15 meters for the eagle. Stroke perfect and head well down, she was soon breaking into a run as the ball chased towards the hole. "I was so happy," she said.
If Inkster were to win and to carry on playing good golf throughout the season, she could well have a change of heart about retirement. After all, it was the struggles she was having with her swing which were telling her to call it a day. "It's when you don't want to go out there and hit balls that you know that it's time," she said.
After yesterday's good play, the light was back in her eye – and her fans will be hoping that it stays there.
Both Inkster and Miyazato are well aware that they are not free of the pack. Momoko Ueda, Sun Young Yoo, Hee-Won Han and Hee Young Park are all lurking on five under par, with Suzann Pettersen, Cristie Kerr and Yani Tseng one shot further back.
Meanwhile, Michelle Wie gave herself half a chance when she added a 69 to a Thursday 72 and a Friday 73. Where, on Thursday, Wie finished bogey, bogey, she signed off today with a couple of birdies. In other words, with all guns blazing.
Catriona Matthew had a 73 for 221 - 12 shots off the pace.
Par 216 (3x72)
Players from United States unless stated otherwise
209
Ai Miyazato (Japan) 69 71 69, Juli Inkster 70 70 69
211
Sun Young Yoo (South Korea) 70 70 71, Momoko Ueda (Japan) 75 68 68, Hee-Won Han (South Korea) 73 67 71, Hee Young Park (South Korea) 68 74 69
212
Yani Tseng (Taiwan) 74 67 71, Cristie Kerr 68 73 71, Suzann Pettersen (Norway) 70 70 72
213
Vicky Hurst 73 71 69, Na Yeon Choi (South Korea) 73 69 71, In-Kyung Kim (South Korea) 70 72 71, Sakura Yokomine (Japan) 73 71 69, Angela Stanford 68 71 74
214
Lindsey Wright (Australia) 72 71 71, Karrie Webb (Australia) 70 72 72, Amy Yang 73 70 71, Song-Hee Kim (South Korea) 69 70 75, Maria Hjorth (Swe) 73 70 71, Inbee Park (South Korea) 72 73 69, Jee Young Lee (South Korea) 73 73 68, Michelle Wie 72 73 69, Jiyai Shin (South Korea) 71 71 72
215
Mika Miyazato (Japan) 73 72 70, Katherine Hull (Australia) 71 72 72
216
Anna Nordqvist (Sweden) 73 73 70, Brittany Lincicome 71 73 72, Hwa seon Lee (South Korea) 73 71 72, Shanshan Feng (China) 74 72 70
217
Sophie Gustafson (Sweden) 69 74 74
218
Chie Arimura (Japan) 74 74 70, Stacy Prammanasudh 73 71 74, Se Ri Pak (South Korea) 74 74 70, Eunjung Yi (South Korea) 72 74 72, Meaghan Francella 72 74 72, Kristy McPherson 70 77 71
219
Meena Lee (South Korea) 75 70 74, Nicole Castrale 77 74 68, Candie Kung (Taiwan) 71 76 72, Christina Kim 69 75 75, Kyeong Bae (South Korea) 73 76 70
220
Shinobu Moromizato (Japan) 74 72 74, Teresa Lu (Taiwan) 72 74 74, Morgan Pressel 74 73 73, Lorena Ochoa (Mexico) 68 79 73, Helen Alfredsson (Sweden) 78 70 72, Stacy Lewis 76 71 73
221
Catriona Matthew
(Scotland) 73 75 73, Soo-Yun Kang (South Korea) 77 72 72
222
Angela Park (Brazil) 76 69 77
223
Natalie Gulbis 73 77 73, M.J. Hur (South Korea) 73 74 76
225
Jimin Kang (South Korea) 77 75 73, Eun Hee Ji (South Korea) 77 72 76, Brittany Lang 76 72 77
226
Pat Hurst 78 74 74, Bo-Bae Song (South Korea) 80 72 74, Sandra Gal (Germany) 73 77 76
227
Ji-Young Oh (South Korea) 74 77 76, Wendy Ward 75 77 75
229
Michele Redman 74 79 76
232
Amanda Blumenherst 77 76 79
245
Joey Poh (Singapore) 82 80 83
Labels: LPGA TOUR