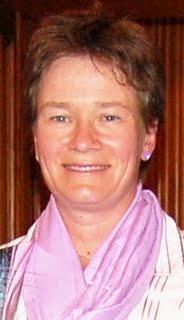 Matthew praises SLGA for ending
-
'taboo' of turning pro

-
FROM THE SCOTSMAN WEBSITE
By Martin Dempster
Catriona Matthew, the Ricoh Women's British Open champion, has praised the modern-day attitude of the Scottish Ladies Golfing Association and says it is creating a better environment for players bidding to follow her on to the world stage.
The North Berwick golfer believes turning professional was once a "taboo" subject with the ruling body for the women's game in Scotland and is delighted to see a definite change among officials about the role the SLGA plays in the development of talent.
"I definitely think the SLGA appreciate that people will turn professional in the end," she said. "When I was going through the ranks it was a bit of a taboo subject. However, they are beginning to see that successful professionals can help the amateur game as well. I think it (the SLGA set-up] is all getting a bit more professional."
Matthew, who has never lost sight of her amateur roots, agreed to become a vice-president of the SLGA earlier this year and recently joined one of its squads on a coaching trip to Spain.
"It was a good exercise for everyone, I think," she said. "We were there for four days and I was able to give them tips on course management, how I practise, that sort of stuff. I was showing them what it might be like as a professional.
"Hopefully we can get more Scottish ladies coming up through the professional ranks as there's not been many since myself, Janice (Moodie] and Mhairi (McKay]. It would be nice to see some more come through."
Matthew, who will defend her British title at Royal Birkdale in the summer, teed off the new season in Singapore last month and is now in America for two events – the Kia Classic at Carlsbad starting today and next week's Kraft Nabisco Championship at Rancho Mirage."
I've not done anything differently (as a result of winning a major]," she said.
"I had a bit of a break over Christmas and into January due to the weather but I've been out practising a lot recently. I'm playing well so I am really looking forward to the start of the season and getting going.
"I've played well in the Nabisco in the past. I love the golf course and, with me hitting the ball well at the moment, I'm really looking forward to getting out to that one. The US Open at Oakmont is a big goal for me this season and, with the British title to defend, I've certainly got a lot of things to look forward to."
On this side of the Atlantic, Matthew is also relishing the chance to join forces with Krystle Caithness, one of the rising stars on the Ladies European Tour, in the Scottish team for the European Nations Cup at La Sella, Alicante, towards the end of next month.
Matthew is the top Scot in the world rankings and Caithness has earned her place off the European money-list.
"I have played in a similar event in South Africa before and I'm looking forward to that," she said.
One event Matthew cannot say for certain she will be teeing up in this season is the Ladies' Scottish Open presented by EventScotland, even though it is being held at Archerfield Links, where she is a member.
"It will depend on my schedule," she said. "I will need to wait and see how I play at the start of the year, so things are up in the air a bit at the moment. It is good it is back, though, and the pro-am format will provide something different – every Tour has a tournament like that these days.
"Whether she plays in the Scottish Open or not, Matthew, who earned a whole host of deserved accolades following her major triumph at Royal Lytham last summer, including an MBE, insists she is unlikely to ever up sticks and move her family to America, even though that is where she plays the majority of her golf in a season
.
"I usually take four or five weeks off (over the winter] and don't touch a club," she revealed. "That's kept me refreshed and keen for the game. A lot of the players live in Florida but I've always felt that if I did that I would fee; guilty if I wasn't out practising if the weather was good. At least when it's awful you don't feel so bad about it."
Not surprisingly perhaps, Matthew will once again have husband Graeme on the bag this season, the pair having worked well together thus far in her career.
"Yes, I'll have the same caddie – he can't escape," she said with a smile.
Labels: Pro Ladies