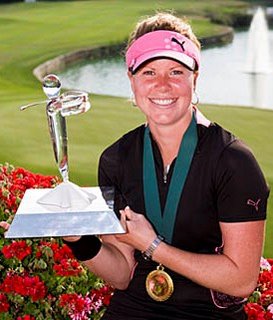 Lotta Wahlin wins by 12
since Laura in 1995
FROM THE LADIES' EUROPEAN TOUR WEBSITE
REPORT BY BETHAN CUTLER
Lotta Wahlin, a 24-year-old from Linkoping, Sweden carded rounds of 71, 71, 73 and 70 at the punishing par-73 National Golf Club course in Antalya, Turkey, to win by the Turkish Ladies Open by 12 shots on a total of seven-under-par 285 for the 72 holes.
Her winning margin was the second largest in the LETís 30-year history since Englandís Laura Davies won the 1995 Guardian Irish Holidays Open at St Margaretís by 16 shots.
Another Swede, Johanna Westerberg (71), shared second with South African Stacy Lee Bregman (72) and Spaniard Paula Marti (74), who was eight shots back in outright second entering the final round.
Wahlin, the only player to finish below par for the tournament, led from start to finish and never faltered on a course featuring narrow fairways, numerous red pine trees and extremely hard greens.
She extended her lead each day and became the second Swedish first time winner in only three events on the fledgling 2008 Ladies European Tour schedule, after Emma Zackrisson won the Open de Espana at Panoramica Golf and Country Club three weeks ago.
ďItís fantastic. Iím so happy. I only understood Iíd won on the 18th green because I didnít think about it before,Ē said Wahlin, who won a non-official invitational event featuring 20 of the LETís best players in Spain just a month ago.
ďI was just enjoying it. I wanted to finish well. My goal for today was to shoot in the 60s so I had to make a birdie on the last but I didnít. That was my only goal.Ē
Wahlin began the final round with an eight-stroke lead and went 10 strokes clear after two birdies and one bogey on her front nine. She birdied the par-5 12th to reach six-under-par with an 11-stroke lead, before dropping a shot at the par-four 13th hole.
A further birdie at the long 14th moved her back to six-under before she pulled 12 strokes clear with a birdie at the short 16th.
Despite having never previously led a Ladies European Tour event, Wahlin said: ďI only felt nervous on the first tee. I just wanted to hit a good shot because my shot there yesterday was so bad. The four days have just been so good. Iíve been playing good golf and I had a good focus. Me and my caddie Andy Danewid have just been having so much fun and itís fantastic. Itís the best moment in my career.Ē
Testament to her solid play was the fact that she entered just two bunkers over 72 holes, with one of those on the long fourth hole in the final round. Wahlin added that winning the invitational event in Spain had been a confidence boost:
ďIt was important because I knew that I can win. I finished with a 65 in the last round so I knew I could shoot a low round,Ē she said.
In taking the title and the Ä37,500 winnerís cheque Wahlin fulfilled one of her biggest dreams since she took up the game seriously four years ago. After she finished her schooling she worked as a secretary for a large computer firm for two years which only increased her appetite for golf.
She hated the job, and decided to choose full-time golf over studying, which appears to have paid off in her fourth season on the LET.
ďI have been on tour for three years so I think it was time to win,Ē Wahlin reflected, before adding that she aims to keep on winning. ďI have three wins to do this year so Iím going to keep on going,Ē she said.
The Ladies European Tour now takes a weekís break before the Deutsche Bank Ladiesí Swiss Open at Golf Gerre Losone from May 22-25. Wahlin will spend the lead up relaxing at home with friends.
+Picture above of Lotta Wahlin with the Turkish Ladies Open Trophy is by courtesy of the Ladies European Tour website (all rights reserved).
FINAL TOTALS
Par 292 (4 x 73)
285
Lotta Maria Wahlin (Swe) 71 71 73 70
297
Paula Marti (Spa) 73 77 73 74, Stacy Lee Bregman (Rsa) 74 80 71 72, Johanna Westerberg (Swe) 80 72 74 71
298
Marianne Skarpnord (Nor) 79 72 74 73, Amy Yang (USA) 77 77 72 72
299
Lisa Hall 80 74 74 71, Trish Johnson 78 77 74 70
300
Stephanie Arricau (Fra) 78 73 78 71
301
Iben Tinning (Den) 77 76 75 73
302
Rachel Bell 76 77 74 75, Anna Rawson (Aus) 79 74 73 76, Gwladys Nocera (Fra) 77 72 81 72
303
Laura Terebey (USA) 77 79 72 75, Emma Zackrisson (Swe) 75 74 81 73, Samantha Head 80 79 73 71
304
Joanne Morley 80 75 75 74, Becky Brewerton (Gbr) 77 80 77 70
305
Ana-Belen Sanchez (Spa) 74 76 79 76, Christine Hallstrom (Swe) 75 80 76 74, Ludivine Kreutz (Fra) 79 73 76 77, Martina Eberl (Ger) 79 77 74 75
306
Caroline Afonso (Fra) 80 76 77 73, Hanna Salonen (Fin) 77 79 74 76, Lill Saether (Nor) 80 76 77 73, Titiya Plucksataporn (Tha) 79 78 75 74, Cassandra Kirkland (Fra) 75 78 78 75
307
Martina Gillen 77 77 78 75, Dana Lacey (Aus) 78 79 78 72, Melissa Reid 77 76 78 76, Danielle Masters 77 80 76 74, Lara Tadiotto (Bel) 80 78 76 73
308
Lynn Kenny
77 76 81 74, Nikki Garrett (Aus) 78 76 74 80, Stefania Croce (Ita) 76 78 77 77, Anna Knutsson (Swe) 81 78 75 74
309
Jade Schaeffer (Fra) 74 78 80 77, Maria Verchenova (Rus) 81 71 78 79, Beatriz Recari (Spa) 82 77 76 74, Jehanne Jail (Fra) 79 77 76 77, Margherita Rigon (Ita) 75 78 81 75
310
Anja Monke (Ger) 74 82 81 73, Melodie Bourdy (Fra) 74 80 77 79, Yuki Sakurai (Jpn) 80 78 82 70
311
Anna-Lise Caudal (Fra) 74 81 79 77, Maria Boden (Swe) 77 77 81 76,
Clare Queen
78 78 80 75
312
Kirsty S Taylor 79 76 85 72, Ana Larraneta (Spa) 76 83 78 75
314
Nuria Clau (Spa) 78 79 78 79, Vittoria Valvassori (Ita) 83 76 83 72, Karen-Margreth Juul (Den) 76 75 82 81, Maria Beautell (Spa) 79 79 78 78, Nathalie David (Fra) 80 78 79 77
315
Mianne Bagger (Den) 75 84 78 78, Anna Temple (USA) 80 78 80 77, Stefanie Michl (Aut) 81 76 80 78, Emma Lyons 77 80 81 77
316
Rebecca Coakley 81 77 82 76
318
Hazel Kavanagh 78 79 80 81, Zuzana Kamasova (Svk) 75 82 79 82
321
Natalie Booth 75 82 84 80
325
Julie Berton (Fra) 79 80 82 84
Labels: LADIES EUROPEAN TOUR