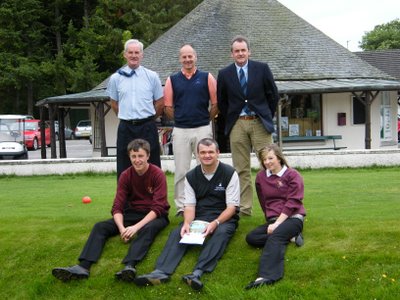 Paul Laurie (Front row, centre), and local competitorsfrom Banchory Academy, Chris Robb (left), LouiseMcGillivray (right) and (Back row, left to right) Banchory GC secretary Bill Crighton, Inchmarlo Golf Centre chairman and Managing Director Johnathan Shelbourne and Banchory Golf Captain Jim Christie
Paul Lawrie Scottish schools championships
at Banchory & Inchmarlo on Monday
Young golfers from all over Scotland will be converging on Banchory on Royal Deeside today for tomorrow's Paul Lawsrie Scottish schools championship.
The Scottish schoolgirls championship will be played over 36 holes at Banchory Golf Club while the Scottish schoolboys' championship, also over two rounds, will be played over the Lairdís course at Inchmarlo Resort and Golf Club on the outskirts of Banchory.
The leading finishers in both sections will boost their claims of being selected for the schools internationals against England schools.
++You can read the Scottish schools championship results - with pictures - first on this website on Monday evening.
Labels: Schools