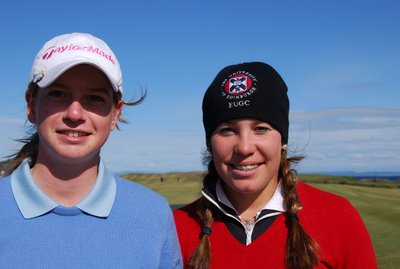 Pamela Pretswell (left) and Roseanne Niven on the first tee at North Berwick this morning before their third-round tie in the British women's open amateur championship (Cal Carson Golf Agency image, all rights reserved).
EARLY NEWS FROM THE THIRD ROUND
Caroline Hedwall (Sweden) one up on Jodi Ewart (Catterick Bridge).
Maude Aimee Leblanc (Canada) two up on Breanne Loucks (Wrexham).
Valentine Derrey (France) two up on Isabelle Boineau (France).
Kira Meixner (Canada) and Jacqueline Hedwall (Sweden) all square.
Roseanne Niven (Crie
ff) three up on Pamela Pretswell (Bothwell Castle).
Azahara Munoz (Spain) one up on Stefanie Endstrasser (Austria).
Anna Nordqvist (Sweden) one up on Hannah Ralph (Cowdray Park).
Maria Hernandez (Spain) two up on Caroline Masson (Germany).
Leblanc and Loucks all square.
Derrey four up on Boineau
Meixner one up on J Hedwall.
Niven three up on Pretswell.
C Hedwall (Sweden) bt J Ewart (Catterick) 4 and 2.
M-A Leblanc (Canada) bt B Loucks (Wrexham) 1 hole.
V Derrey (France) bt I Boineau (France) 4 and 3.
J Hedwall (Sweden) bt K Meixner (Canada) at 20th.
R Niven (Crieff) bt P Pretswell (Bothwell Castle) 2 and 1.
A Munoz (Spain) bt S Endstrasser (Austria) 2 holes.
A Nordqvist (Sweden) bt H Ralph (Cowdray Park) 4 and 3.
M Hernandez (Spain) bt C Masson (Germany) 5 and 3.
Labels: Amateur Ladies