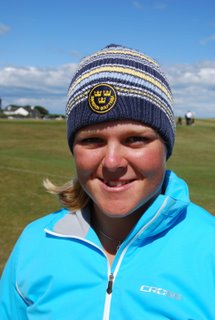 Caroline Hedwall (Sweden) leads by four shots going into the second qualifying round today (image by Cal Carson Golf Agency, all rights reserved)
End of first day's play at North Berwick
BRITISH WOMEN'S OPEN AMATEUR CHAMPIONSHIP
North Berwick Golf Club.
FIRST QUALIFYING ROUND (Par 72, CSS 77)
68
C Hedwall (Swe).
72
D Smith (Co Louth), M Hernandez (Spa), C Lennarth (Swe).
73
M Ricordeau (Fra), A Munoz (Spa), M Nivard (Net), H Burke (Mid-Herts).
74
J Pease (Braintree), R Jennings (Izaak Walton).
75
M-A Leblanc (Can), B Loucks (Wrexham), N Holleder (Ger), K Smith (Aus), T Karle (US).
76
M Eikenaar (Net), C Booth (Comrie), K Meixner (Can), M Prat (Spa), C Boeljon (Net).
77
N Kitching (Claremorris), C Ellis (Minchinhampton), J Ewart (Catterick), P Pretswell (Bothwell Castle), I Boineau (Fra), L Henriksson (Fin), J Hedwall (Swe), K Walker (Buchanan Castle), K Caithness (St Regulus), M Kotnik (Aut), K Zaanen (Net), L Murray (Alford), O Jordan-Higgins (Royal Jersey).
78
M Bazin de Jessey (Fra), T Daffinrud (Nor), L Chemarin (Fra), E Bennett (Brokenhurst Manor), A Decharne (Fra), R Niven (Crieff), C Aitken (Mid Kent), H Aitchison (Bedfordshire), P Halbig (Ger), N Edwards (Ganton), K MacDonald (Nairn Dunbar), R Connor (Manchester), M Pow (Selkirk), A Nordqvist (Swe), C Gugler (Aut), L Stempfle (Ger), J Klattan (Fra).
79
S Attwood (Gog Magog), S Kim (Can), E Alonso (Fra), E Givens (Blackwell Grange), S Endstrasser (Aut), E Ikavalko (Fin), A Averna (Ita), V Derrey (Fra), E Ogilvy (Auchterarder), S Kirchmayr (Ger), B Mozo (Spa), D McVeigh (Royal Co Down). L Nicholson ( Haddington), C De Vries (Net), T Cuningham (SAf), R Wyn Thomas (Vale of Glamorgan), M Smit (SAf), C MacDonald (Gullane Ladies), A Goodman (US), B Genuini (Fra).
== PROJECTED CUT-OFF POINT FOR QUALIFYING & PLAY-OFF==

80 M Silva (Spa), S James (Bristol & Clifton), K Delaney (Carlow), C Masson (Ger), A Lucie (Fra), A Vilatte (Fra), H Jenkins (Cradoc), T Delaney (Carlow), S Hassan (Vale of Glamorgan), K Smith (Waterlooville), L Whittaker (Ger), G Molinaro (Ita), V Sternebeck (Ger), S Round (Tadmarton Heath).
81 C Andrade (Spa), K Van Leeuwen (Net), P Lindberg (Swe), J Kirby (Can), J Hodge (Knowle), A Knight (Ita), L Ball (Matfen Hall), S Juneau (Can), G Webster (Hilton Park), F Sanderson (Heworth), B Dowell (Enmore Park). A Ramsay (Kirriemuir), N Muhl (Aut), M Thomson (McDonald Ellon), T Davies (Holyhead), A Riguelle (Fra), C Perez Narbon (Spa), T Luccioli (Bel).
82 L Jansone (Lat), S Derrey (Fra), H Ralph (Cowdray Park), T Metzendorf (US), C Herbin (Fra), L Katzy (Ger), F Parker (Royal Birkdale).
83 S Aboff (US), S Yocum (US), J Potter (Can), R Livingstone (Musselburgh Old), K Larratt (Kibworth), C Douglass (Brocket Hall), S Evans (Vale of Llangollen), A Roscio (Ita), T Hoffmeister (Ger).
84 J Lochhead (Can), M Mangone (US), A Felgueroso (Spa), M Pretorious (SAf).
85 E Geury (Bel), S Sherlock (Can), M Naafs (Net), J Turner (Craigielaw), N Dunn (Harrogate), J Dotten (Can).
86 K Kinnerud (Swe), C Wolf (Aut), G O'Leary (Cork), M Macias (Spa).
87 L Collin (John O'Gaunt), J Carthew (Ladybank), M Bal (Ind), M Briggs (Kilmacolm).
88 M Gunhildrun (Nor).
89 S Harju (Fin).
90 K McNicoll (Carnoustie Ladies).
91 E Nummenpaa (Fin).
93 A Bushby (Strathmore).
Retired – A Scott (Consett), neck injury.
Disq – R Svahn (Fin).

+The leading 64 after Thursday's second round will go forward to the match-play stages. There will be a play-off if necessary to produce the precise number of 64 qualifiers.

+There are 70 players with scores of 79 or better with 20 of them on 79.

TEAM EVENT - HOW THEY STAND
145 Spain.
146 Sweden.
149 Netherlands.
153 Scotland.
154 Wales
155 Canada, England, France.
156 Ireland.
157 Austria.
158 South Africa.
159 Germany.
161 Italy.
180 Finland.

Labels: Amateur Ladies