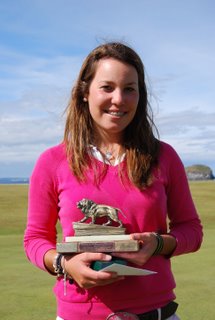 THIRD TIME LUCKY FOR ANNA
NORDQVIST IN A QUALITY FINAL

Anna Nordqvist is the new Ladies British open amateur champion. Having lost the past two finals, the 21-year-old Swedish player from Eskilstuna and a student at Arizona State University made no mistake this time round.
She beat 19-year-old compatriot Caroline Hedwall by 3 and 2, in a quality final which was all over inside three hours – very good golf at the gallop!
The match provided a bonanza of birdies, 10 in all, which is what you would expect from two so highly-rated players. Nordqvist has +4 of a handicap while Hedwall, who beat her twin sister Jacqueline in the morning semi-finals, has a rating of +5.4.
Nordqvist killed off home hopes of a first British title-winner since Rebecca Hudson in 2002 when she beat Roseanne Niven from Crieff by 2 and 1 in the penultimate round.It is Anna's second "British" title. She won the girls' championship at West Hill, Sussex in 2005.
With both players pulling their clubs and striding out at a fast pace, the good-sized gallery were hard pushed to keep up.
The fast pace of play did not affect the standard of scoring – anything but.
The first hole was halved in birdie 3s, Nordqvist knocking her approach to within a foot of the hole. Hedwall sportingly conceded the putt, confident that she was going to hole her own five-footer for a half … and she did.
Nordvist made it three birdies in a row when she holed a 6ft putt to win the second and then took the long third with a birdie 4 to go two up.
Hedwall stopped the slide with a birdie 2 at the short fourth and the next four holes were halved, the eighth in birdie 4s in a quality final played at an old fashioned brisk pace.
There was an out-of-character blip at the long ninth which was halved in bogey 6s, but Nordqvist, one up, had still reached the turn in three-under-par 34, thanks to four birdies. Hedwall, with a bag of three birdies, was an approximate two under par 35 for the first nine.
Nordqvist was off on the birdie trail again with a 3 at the 10th to go two up but Hedwall was back in contention again when she birdied the 12th to get back to one down.
But Nordqvist had even more birdies up her sleeve. She produced her sixth birdie to win the 13th and go two up with five to play.
After the 14th and 15th were halved, Nordqvist wrapped up the title at the 16th with a par 4 for a 3 and 2 win.
Anna was five under par for the holes played. Caroline was one under the card.
A bonus prize for Nordqvist is that she gains exemption from pre-qualifying for the Ricoh British Women's Open at Sunningdale at the end of July.
+Picture (by Cal Carson Golf Agency, all rights reserved) shows Roseanne Niven with the trophy she received for being the semi-finalist beaten by the eventual champion.
"I didn't play as well as Anna Nordqvist as I had done in beating Azahara Munoz but I enjoyed the experience. Anna is a very good player," said Roseanne.
Labels: Amateur Ladies