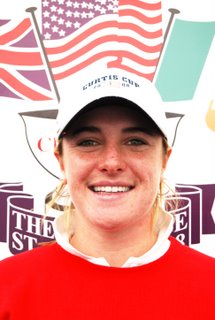 US Curtis Cup winner Alison could
have played for Ireland ...
By COLIN FARQUHARSON
Alison Walshe, the 23-year-old Galway, Ireland-born winner of four games out of four for the United States in last weekend's Curtis Cup match over the Old Course, has confirmed that she will be turning professional this summer.
She has completed her education at the University of Arizona.
I put it to Alison - who emigrated to Boston, America with her family when she was five (round about 1990) - that there were stories going the rounds that in her teens, before she went to university, she had approached the Irish Ladies Golf Union and asked them: "Can I play for Ireland?" ... to be told: "You will have to come over to Ireland and play in the Scratch Cup, the Limerick Cup and other 36-hole events before you can be considered."
Alison told me that she personally had not made such an approach but she believed that a member of her extended family in Ireland, possibly, an uncle had contacted the Irish Ladies Golf Union on the subject.
She is the daughter of Mary and John and has a brother, Dave, and a sister, Jan.
"All of my family is from Ireland but I've basically grown up just outside Boston, Massachusetts for the last 17 years. Boston is very Irish, as you know," said Alison whose father worked for the Digital company when the family moved from Ireland to America. He is now an operations manager for Sun Microsytems.
"I haven't been to Ireland in four years but I did go quite often when I was younger. Yes, I do feel Irish. Definitely. My whole background and my family, my grandparents, aunts, uncles, everyone is very Irish.
"I'm proud of my Irish heritage but obviously I felt strongly about playing for the United States in the Curtis Cup.
"I had about 10 of 12 of my relations come over from Dublin, Galway and Mayo to see me play at St Andrews. It was really special for me because I have a lot of family who live in Ireland. I haven't seen some of them in years and they all came over on the ferry to see me and support me.
"They had kind of mixed feelings because they're on the Irish side as well as the US side. But it means something to have your own folk there to see you play for America.
"It was definitely a goal of of mine to play in the Curtis Cup. The reason why I stayed amateur was to play in this tournament and over the Old Course, St Andrews. I'm a rarity that I stayed on at college for five years."
"To play in the Curtis Cup and win four games out of four was such a great ending to my amateur golf career."
Alison finished eighth in the 2007-2008 United States women's college golf rankings.
What clinched her place in the 2008 US Curtis Cup team was probably winning the Harder Hall Invitational in early January on the Orange Blossom Women's Amateur Tour in Florida.
Among her collegiate victories in America were the 2007 North and South Women's Amateur Championship, the BYU Dixie Classic, the 200 Stanford Invitational and Mason Rudolph Championship, the 2004 Hartford Women's Invitational and 2003 Rutgers Invitational.
She shot a career-low round of 66 at the 2007 Harder Hall Invitational on the Orange Blossom Tour and has had two holes in one.
Any player is qualified to represent the United States who is born a citizen or becomes a citizen of that country, provided she is an amateur golfer in accordance with the amateur regulations in force in that country.
Should any player be invited to compete on both teams, the choice shall be left to the player who, having made her choice, shall not be eligible to play for the other team in the future.
Labels: Amateur Ladies