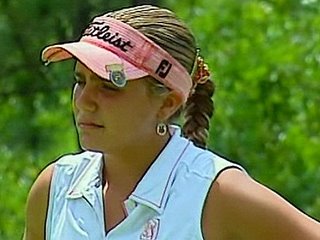 Alexis Thompson wins US
Make a note of the name Alexis Thompson. The same age - 13 - as Ireland's Maguire twin sisters - all three will be playing Curtis Cup golf within two or four years, Alexis for the United States, Lisa and Leona for Great Britain & Ireland.
Alexis (pictured right) already has a golfing CV as long as her strong right arm.
On Sunday, at Hartford Golf Club, West Hartford, Connecticutt, she added an under-18 "major," the United States girls' championship.
Alexis beat another 13-year-old - very good golfers seem to be coming through at an earlier age, don't they? - Karen Chung 5 and 4 in the 36-hole final to become the second youngest winner in the US girls' championship's 60-year history.
Last year Alexis became the youngest qualifier in US Women's Open history, and qualified again this year.
At 13 years, 5 months and 17 days, Thompson is only two months older than 1999 champion Aree Song Wongluekiet.
This was also the first time two 13-year-olds had met in a US girls' championship final.
Though Thompson and Chung share the same age, the championship final highlighted their completely different playing styles.
Thompson took full advantage of her length. She consistently outdrove her opponent by 40 or 50 yards.
The petitie Chung, who has a great short game and an admirable never-say-die attitude, only took up golf three years ago and has made amazingly quick progress to get to this level. But she threatened Thompson only briefly.
Two down after 18, Chung rallied and was one down after five holes of the afternoon session. But Thompson quickly reversed the momentum, making a 35ft birdie putt on the par-3 24th and a winning par at the next.
At the par-5 28th, Thompson played her shot of the final - a seven-wood from 200yd range that stopped 12 feet from the hole. She holed it for a winning birdie.
Labels: Girls