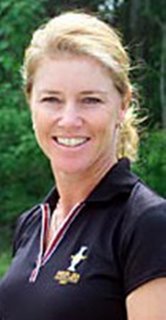 Helen Alfredsson wins play-off for
third Evian Masters title
FROM THE LADIES' EUROPEAN TOUR WEBSITE
Helen Alfredsson claimed her third Evian Masters title with a birdie at the third extra hole of a sudden death play-off against South Korea's Na-Yeon Choi and Angela Park of Brazil at Evian-les-Bains, France today.
The 43-year-old Swede birdied the par-5 18th hole three extra times to earn her 20th worldwide victory. Park was eliminated with a par at the first extra hole while Choi took 5 as she played the 18th for the fourth time in a row.
Last year's European Solheim Cup captain, Alfredsson came from four shots behind the overnight leader Park, posting a final round of five-under-par 67 for a 273, 15-under-par total. She birdied the last two holes in regulation to force the play-off.
After securing her first title for five years, with a two foot birdie putt, an energetic Alfredsson jumped in the air and told reporters: "I really am too old for this. I keep saying that but this is really too far to go."
Her closest competitors, Park and Choi, were aged 19 and 20 respectively. In this case experience and a fighting spirit paid off.
"I can't even describe it in words. Like I said so many times this week, this tournament is so special for me," said Alfredsson. "Look where it's been. It's an amazing golf tournament. It's a very emotional event for me. I've had nothing but great memories here. I just love this place. Somebody's looking after me for this to be my next win."
Alfredsson was the first ever winner of the Evian Masters in 1994 and claimed the title for a second time in 1998. Ten years later, in the tournament's 15th edition, she posted rounds of 72, 63 (which was a course record), 71 and 67 for the victory and first prize of US$487,500.
"At this point the satisfaction of winning and making your putt or making some putts that I made today, there is nothing, there is no money in the world that can pay for that," said Alfredsson.
"I worked so hard, especially last winter I worked out. Every day I had a fitness coach, I was trying to get fit. I was working very hard on my golf game, and I absolutely got nothing out of it.
"This year, obviously because of my injuries they found what it was. I didn't work out as hard. I mean, I work out five days a week, so it's not like I'm not working out, but it was a different way. "I saw progress. I started getting my feeling back in my right arm. Then I had to figure out the swing to work with that.
"You never know if you're going to win, obviously. Especially, time is running out a little bit for me. But I knew I was playing really well. I was third in greens regulation in the States almost all year. So I knew I was hitting the right shots. It was really about connecting to make the putt."
Alfredsson began her final round with a bogey at the par-4 first hole, where she hit her tee shot right into the trees and had to chip out to the fairway. However she bounced back with three birdies on the front nine at the second, third and ninth holes.
She was five strokes behind Choi after three-putting the 13th for bogey, but then the South Korean dropped shots at holes 15 and 16.
"I just got a little bit of feeling that it was within the reach. She played amazingly well. I thought my course record was going to fly out the window today, because she was just making birdies and they were going so well. And, you know, she (Choi) was 17 under very quickly," said Alfredsson.
Choi, a rookie on the US LPGA Tour seeking her maiden victory, posted a final round of six-under 66 and was feeling numb after missing her six foot birdie putt at the third extra hole to lose the play-off.
"Right now I don't feel. I cannot think of anything," said Choi. "I feel a little disappointed that I was very nervous. I always thought that I could do it."
Park, a second year player on the LPGA, admitted that she had also been a little nervous in the play-off.
"My ball faded a little bit to the right. I had no shot to the green, so I had no choice but to lay up," she said. "It's just going to take a lot of patience (to get my first win). I'm going to be out here for, I don't know, 10, 15 years. I don't think I'm going to let one tournament let me down."
Mhairi McKay finished with a 76, her worst round of the four, for a total of three-over-par 291 for which she earned 6,368 Euros.
SCROLL DOWN FOR THE FULL FINAL SCOREBOARD
Labels: LADIES EUROPEAN TOUR