Junior Ryder Cup team place consolation for Scot
The first five girls in the 2008 European Young Masters championship. Left to right: Lisa Maguire, Leona Maguire, Anna Arrese, Carly Booth and Kelly Tidy (who was officially placed fifth with the better last round than the others who finished with the same total).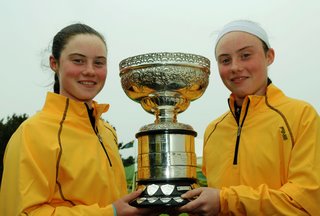 Carly slumps - Irish Maguire
twins
finish first and second
in European
Young Masters
Leader through the first and second rounds in defence of the European Young Masters girls' golf championship, Carly Booth suffered an uncharacteristic last-round slump to finish fourth behind the 13-year-old Irish wonder twins Lisa and Leona Maguire,
pictured right
, at Chantilly Golf Club, France today.
The 16-year-old Curtis Cup player from Comrie, Perthshire, who retained the Scottish Under-18 girls' match-play championship 10 days ago, had rounds of 72, 72 and 75 for a 54-hole total of level par 219 over the par-73 course.
Carly slipped off her pedestal with an outward half of three-over-par 40, bogeying the first, fifth and eighth. She regained her momentum with three birdies in a row – the 12th, 13th and 14th, but then let it slip again with bogeys at the 16th and 18th.
One consolation for Miss Booth is that fourth place is good enough to gain her automatic selection for the Europe team to play the United States in the Junior Ryder Cup match in Kentucky on September 15 and 16.
Carly played in the 2006 Junior Ryder Cup match when she was only 14.
Lisa Maguire (Slieve Russell), the Irish Under-18 girls champion, got better every day at Chantilly with rounds of 74, 71 and 69 for a brilliant total of five-under-par 214. That closing round, in which she had six birdies, saw Lisa first make up the leeway on Carly Booth and then leave the Scot and the others in her wake.
At the prizegiving, Lisa Maguire said: "I will not forget this golf course. The Chantilly greens are the best I've ever played."
Lisa won by four shots from her sister Leona – the Irish WOMEN'S champion – and Anna Arrese (Spain). Leona had scores of 78, 70 and 70 including five birdies in a row from the 11th in her final round.
(If you scroll down past the scores, you will see the final scorecards for Carly Booth and the Maguire sisters. They make interesting reading).
So the Maguire girls and Anna Arrese join Carly as automatic choices for the Junior Ryder Cup. Gary Strang, captain of the Europe team, has four wild-card choices - two boys and two girls - to add to the leading four boys and leading four girls, to make up a team of 12 who will play the Americans at foursomes and also mixed four-ball on the first day at The Club at Olde Stone Golf Club, Bowling Green, Kentucky, followed by a concluding programme of singles on Day 2.
The European team will also play an exhibition match over nine holes at the actual Ryder Cup course, Valhalla, on the Wednesday.
Kelly Tidy's joint fifth place finish alongside Israel's Laetitia Beck and Jessica Korda (Czech Republic) probably means that the captain will pick two of the three as his girl wild cards.
The other Scot in the girls' championship, Eilidh Briggs finished on a high with an inward half of 35 for a 75 after earlier rounds of 84 and82. She finished joint 30th onf 241.
The Scots in the boys' championship never got in contention as French boys filled the first two places. Stanislas Gautier won with a two-under-par total of 211 from his compatriot Julien Brun.
Jack Scott from Deeside finished joint 22nd with scores of 83, 74 and 74 for 231.
Andrew McLachlan (Bonnyton) tied for 24th place with 75, 81 and 78 for 232. England's Chris Lloyd finished fifth, one spot outside an automatic selection for the boy representatives in the European Junior Ryder Cup team but close enough to make him favourite for one of the two boy wild-card selections.
The team event, combined boys and girls, at the European Young Masters was won by France (648) from Ireland (656) with Spain (664) third and England (671) fourth. Scotland finished joint eighth on 681. Wales came 13th with 688.
FINAL TOTALS
BOYS

Par 213 (3 x 71)
211
Stanislas Gautier (Fra) 72 70 69.
213
Julien Brun (Fra) 68 73 72.
216
Moritz Lampert (Ger) 71 71 74.
217
Adrian Otaegui (Spa) 74 71 72.
219
Chris Lloyd (Eng) 72 76 71.
Also
:
222
Rhys Pugh (Wal) 77 74 71 (jt 7th)
226
Paul Dunne (Ire) 81 72 73 (jt 13th).
229
Oscar Sharpe (Eng) 77 75 77 (jt 17th).
231
Jack Scott (Sco) 83 74 74 (jt 22nd).
232
Andrew McLachlan (Sco) 75 81 78 (jt 24th).
235
Oliver Lewis (Wal) 81 80 74 (jt 30th).
239
Chris Selfridge (Ire) 78 79 81 (jt 35th)
GIRLS

Par 219 (3 x 73)
214
Lisa Maguire
(Ire) 74 71 69.
218
Leona Maguire
(Ire) 78 70 70, Anna Arrese (Spa) 73 72 73.
219
Carly Booth
(Sco) 72 72 75.
223
Kelly Tidy
(Eng) 77 74 72, Laetitia Beck (Isr) 74 72 77, Jessica Korda (Cze) 77 78 79
Also

234

Amy Boulden
(Wal) 77 78 79 (jt 16th).
238
Alex Peters
(Eng) 82 78 78 (27th).
241

Eilidh Briggs
(Sco) 84 82 75 (jt 30th).
245
Kelly Miller
(Wal) 78 88 78 (37th).
TEAM EVENT
(best three from four individual scores counted daily)
648
France.
656
Ireland.
664
Spain
671
England.
672
Czech Rep.
673
Germany.
675
Norway.
681
Scotland, Belgium, Denmark.
684
Netherlands.
687
Italy.
688
Wales.
682
Sweden.
695
Finland.
702
Austria.
717
Slovenia.
720
Israel.
722
Portugal.
723
Iceland.
733
Russia.
744
Turkey, Hungary.
771
Greece.
791
Latvia.
THE LAST ROUND CARDS THAT DECIDED THE GIRLS' CHAMPIONSHIP
LISA MAGUIRE 69 (-4)
4 (birdie)
3 (birdie)
4 (bogey)
4
4
3
4
4 (birdie)
4 (birdie)
Out in 34 (-3)
4
3
4 (birdie)
4 (birdie)
4
4
5 (bogey)
3
4
Back in 35 (-1)
LEONA MAGUIRE 70 (-3)
5
5 (bogey)
3
4
3 (birdie)
3
4
6 (bogey)
5
Out in 38 (+1)
4
2 (birdie)
4 (birdie)
3 (birdie)
3 (birdie
3 (birdie)
5 (bogey)
4 (bogey)
4
Back in 32 (-3)
CARLY BOOTH 75 (+2)
6 (bogey)
4
3
4
5 (bogey)
3
4
6 (bogey)
5
Out in 40 (+3)
4
3
4 (birdie)
4 (birdie)
3 (birdie)
4
5 (bogey)
3
5 (bogey)
Back in 35 (-1)