North of Scotland amateur championship at Strathmore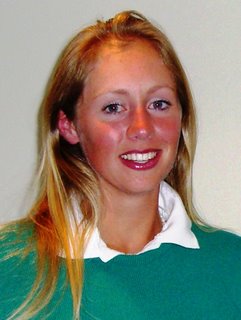 McNicoll v Arbuckle and
Hunter v Bushby last 4

Leading qualifier Katy McNicoll (Carnoustie Ladies) had a smooth passage into Wednesday morning's semi-finals of the North of Scotland women's amateur golf championship at Strathmore Golf Centre.
But last year's finalists, title-holder Laura Walker (Muckhart) and Scotland cap Emily Ogilvy (Auchterarder) both fell by the wayside.
Walker was beaten by home course player Alexandra Bushby (pictured right) who won the North title in 2004, when the championship was also played at Strathmore.
Aileen Hunter (Monifieth) beat Ogilvy by one hole in the morning and qualified to meet Busby in the semi-finals by beating North challenger Gillian Dowling 4 and 3 in the afternoon.
In the other semi-final, young McNicoll will play Susan Arbuckle (Panmure Barry) who had to go to the 22nd to get the better of Tain's Mary Smith in the quarter-finals.
Match-play results:
CHAMPIONSHIP – First round -
K McNicoll (Carnoustie Ladies) bt G Lambie (Dunkeld) 3 and 1.
H Anderson (Downfield) bt A Ingram (Fort William) 5 and 4.
S Arbuckle (Panmure Barry) bt A Ramsay (Kirriemuir) 1 hole.
M Smith (Tain) bt J Brown (Monifieth) 1 hole.
G Dowling (Inverness) bt J Grubb (Montrose) 3 and 2.
A Hunter (Monifieth) bt E Ogilvy (Auchterarder) 1 hole.
L Walker (Muckhart) bt A Ryan (Tain) at 19th.
A Bushby (Strathmore) bt J Vass (Tain) 5 and 3.
McNicoll bt Anderson 4 and 3.
Arbuckle bt Smith at 22nd.
Hunter bt Dowling 4 and 3.
Bushby bt Walker 3 and 2.
Semi-finals at 8.52 and 9am.
HANDICAP – First round -
J Chalmers (Monifieth) (13) bt S Leighton (Alyth) (5) 5 and 4.
J Griffiths (Strathmore) (8) bt N Morrison (Dunblane) (10) 2 and 1.
L Kelly (Newmachar) (17) bt A Alston (Royal Montrose) (12) 3 and 1.
G Wilson (Monifieth) (14) bt S Irvine (Blairgowrie) (26) 2 holes.
S MacKinnon (McDonald Ellon) (11) bt M Horn (Newmachar) (12) 2 holes.
E Anderson (Deeside) (21) bt H Gibson (Alyth) (10) 2 holes.
M Aird (Strathmore (11) bt S Belton (Kirriemuir) (14) 2 holes.
Jennifer Sneddon (Alyth) (17) bt S Bradley (Kirriemuir) (17) 2 and 1.
Quarter-finals
Chalmers bt Griffiths 4 and 3.
Wilson bt Kelly 3 and 1.
MacKinnon bt Anderson 1 hole.
Sneddon bt Aird 3 and 2.
Semi-finals at 9.07 and 9.15.


Labels: Amateur Ladies