European women's team championship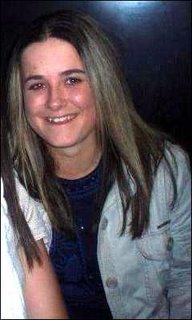 Scots need something special
to bridge the gap in Sweden

Scotland are ninth at the halfway stage of the stroke-play qualifying for the match-play stages of the European women's amateur team golf championship at Stenungsunds Golf Club, Sweden.
Only the leading eight teams after 36 holes will make up the championship match-play flight and the Scots are six shots behind eighth-placed France. Which calls for an exceptional team scoring performance by Scotland if they are to bridge the gap
Curtis Cup players Michele Thomson, pictured right, the Scottish champion from McDonald Ellon, and Krystle Caithness (St Regulus) were the Scots' lowest scorers, both returning two-over-par 74s.
Michele's halves were 36 and 38, Krystle a pair of 37s.
Louise Kenney (Pitreavie) came next with a 75 (38-37), and then Laura Murray (Alford) with 76 (38-38) and Kylie Walker (Buchanan Castle) with 77 (36-41).
Only five from six scores count in the qualifying and Scotland's non-counter was Scottish universities champion Pamela Pretswell (Bothwell Castle) with an 80 (40-40).
Spain (353) lead from England (354) who had a super 66 from Curtis Cup player Jodi Ewart, followed by Rachel Jennings on 69, Naomi Edwards 71, Elizabeth Bennett on 72 and Florentyna Park with a 76. England's non-counter was Kerry Smith with a 78.
Wales, jt 10th on 377, and Ireland, jt 12th on 379, have even less chance than Scotland of making the top flight.
Wales' top scorer was Curtis Cup reserve Sahra Hassan with a 72, one ahead of Curtis Cup player Breanne Loucks.
For Ireland, Tara Delaney led the way with a 73.
One of the first-day surprises was the poor showing of Italy, last of 16 at the moment on 384.
FIRST QUALIFYING ROUND
Par 360 (5 x 72)

353
SPAIN.
354
ENGLAND (J Ewart 66, R Jennings 69, N Edwards 71, E Bennett 72, F Parker 76. Non-counter: K Smith 78).
362
AUSTRIA, DENMARK.
363
SWEDEN.
365
NETHERLANDS.
369
GERMANY.
370
FRANCE
376
SCOTLAND (M Thomson 74, K Caithness 74, L Kenney 75, L Murray 76, K Walker 77. Non-counter; P Pretswell 80).
377
WALES (S Hassan 72, B Loucks 73, H Jenkins 75, R Wyn Thomas 77, S Evans 80. Non-counter: Kirsty O'Connor 83), SWITZERLAND.
379
IRELAND (T Delaney 73, M Morrin 75, D M Conaty 76, D McVeigh 77, G O'Leary 78. Non-counter: N Kitching 79); BELGIUM>
382
FINLAND
383
NORWAY.
384
ITALY.
Jodi Ewart (66) inspires England with course record
PRESS RELEASE FROM ENGLISH WOMEN'S GOLF ASSOCIATION
Yorkshire's Jodi Ewart kick-started England's campaign in the European ladies' team championship with a superb course record of six-under par 66 at Stengungsund, Sweden.
There were more sub-par scores from Staffordshire's Rachel Jennings and Yorkshire's Naomi Edwards – and the six-strong England team ended the day on six-under par and just one shot behind the leaders, Spain.
After tomorrow's second day of stroke-play qualifying, the top eight teams will qualify for the championship match-play flight.
Jodi, 20, was the first of the English players to tee off and she set the tone for her day with a birdie on the first. The Curtis Cup player went on to score six more – and had just one bogey. Her score knocked three shots off the previous record and she leads the individual table by two shots, from Sweden's Caroline Hedwall.
Meanwhile Rachel Jennings, the French lady junior champion, had an immaculate round of 15 pars and three birdies for a 69.
Naomi Edwards had four birdies in her one-under 71, while Hampshire's Liz Bennett returned a level par score.
Lancashire's Florentyna Parker returned England's final counting score of the day with a fighting 76 after she notched up a triple-bogey 6 on the second hole.
England captain Sally Watkins said: "This is a fantastic start to the week. To be just one shot behind Spain is brilliant."
Labels: Amateur Ladies