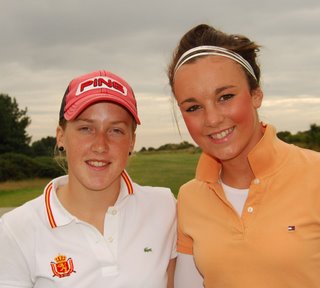 Mandy Goyos, whose mother Angela comes from Manchester, and Kelly Tidy, who lives in Manchester, on the first tee before their semi-final (Cal Carson Golf Agency image, all rights reserved). You can enlarge the image by clicking on it.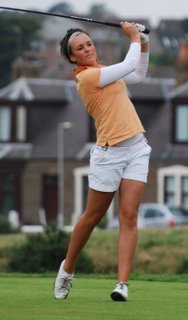 It's Kelly versus top seed
Laura in British girls'
final at Monifieth

By COLIN FARQUHARSON
Manchester 16-year-old Kelly Tidy, a member at Royal Birkdale, has reached the final of the British girls' open amateur championship for the second year in a row.
This morning at Monifieth Links, Kelly beat 17-year-old Spanish player, Mandy Goyos, whose mother Angela (Ball) comes from Lancashire, by 5 and 3.
Kelly, pictured by Cal Carson Golf Agency (all rights reserved), on the second tee in her semi-final lost last year's final at Southerndown to another English girl Henrietta Brockway.
Kelly qualified as No 6 seed this week and in the final she will play the top qualifier, 17-year-old Laura Gonzalez-Escallon from Brussels, Belgium.
Laura was five under par in winning her semi-final by 4 and 3 against Laetitia Beck from Israel.
"I hope I can go one better than last year," said Kelly after her victory.
Tidy, who will play for Europe in the Junior Ryder Cup match in Kentucky next month, said earlier that she felt she was a better player than she was at this time last year.
Kelly Tidy got off to a flying start against Mandy Goyos.
The Royal Birkdale player won the first four holes with a par-par-birdie-birdie start.
Another birdie by Kelly at the fifth put her five up. And yet another birdie at the eight gave the English girl international a commanding six-hole lead which she still held after 10 holes.
The 11th provided Goyos with her first success of the morning. She had to birdied the hole to achieve it and get back to five down. Another birdie by the Spanish player at the 13th cut her deficit to four holes.
But Tidy's par 4 at the 15th was good enough to win the hole and the match by 5 and 3 with three-under-par figures.
Both semi-finals were full of quality play.
After the first eight holes were halved - including the first, fourth and eighth in birdies in the first semi-final, Laura Gonzalez-Escallon broke the deadlock by winning the ninth with a birdie to go one up.
The Belgian girl, whose father comes from Colombia, quickly added to that by winnig the 10th and 11th with pars to be three up with four-under-par figures.
Laura's fifth birdie put her four up at the 12th and halves at the next two ended the tie with Gonzalez-Escallon the winner by 4 and 3.
Amazingly, 16-year-old Laetitia never won a hole, yet she reached the turn in three under par and was one or two under for the holes played.

RESULTS
SEMI-FINALS
Laura Gonzalez-Escallon (Belgium) bt Laetitia Beck (Israel) 4 and 3.
Kelly Tidy (Royal Birkdale) bt Mandy Goyos (Spain) 5 and 3.

Labels: Girls