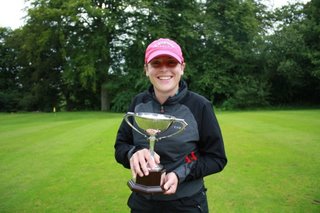 Susan retains UK optometrists'
title at
Gleneagles

Drumpellier two-handicapper Susan Wood won the Viva International golf tournament for UK optometrists at Gleneagles yesterday for the second year in a row. She shot level par over the Queen's Course at Gleneagles.
"I got to three under par after 10 holes by making birdies at the first two par-5s on the front nine and then a further birdie at the 10th," said Susan who then dropped shots at 11, 12 and 13 to drop back to level par.
"But I managed to finish with six pars and take the title at the formal dress prizegiving in Gleneagles Hotel last night."
A total of 120 optometrists from all over the UK took part, including four ladies (only one other from Scotland - Dunblane Golf Club member Tracey Erskine (who happens to be Andy Murray's aunt), handicap nine, of Erskine opticians, one from Belfast and one from London.
"Overall we held our own against the men! It was a wonderful day with no rain and overall the condition of the course was amazing for the amount of rain we have had," said Susan.
Labels: Amateur Ladies