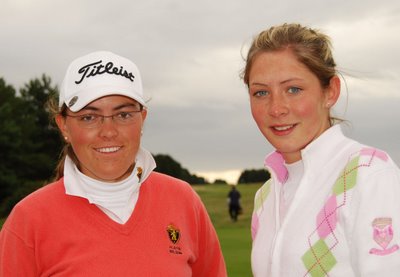 Top seed Laura Gonzalez-Escallon from Royal Waterloo GC, Belgium (left) and Eve Muirhead (Pitlochry) on the first tee at Monifieth this morning before their third round tie in the British girls open amateur championship (Cal Carson Golf Agency image, all rights reserved). You can enlarge the image by clicking on it.
Note from Colin Farquharson.
In my report from Monifieth yesterday, my comments could have been interpreted that Eve Muirhead had never been offered coaching from the Scottish Ladies Golfing Association.
This is not the case. As SLGA chairman Pat Wilson told me this morning Eve has twice had to turn down invitations to be a member of an SLGA coaching squad because of her commitments to her principal sport, curling, of which she is a member not only of the Scotland international squad but also the Great Britain squad for the 2010 Winter Olympics at Vancouver.
Labels: Girls