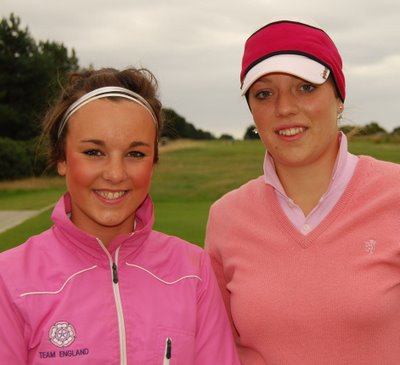 Kelly Tidy (Royal Birkdale), left, and Ellie Robinson (Middlesbrough Brass Castle) pictured by Cal Carson Golf Agency (all rights reserved) before their all-England third-round tie in the British girls open amateur championship at Monifieth this morning. Kelly was beaten finalist last year. Click on the image to enlarge it.
EIGHTEEN-HOLE MONFIETH LINKS COURSE
BACK IN OPERATION FOR TODAY'S TIES
The flood water from the Ashludie Burn had subsided enough overnight to allow access to the sixth and seventh holes - not played in yesterday's first and second round ties because bridges over the burn were under water - and so an 18-hole course was back in operation for the round of the last 16 this morning at Monifieth.
"Not one girl complained about two holes being missed out on Wednesday. In fact, one or two of them said they rather liked a 16-hole golf course!" said Joan Neville, president of the Ladies Golf Union, and chief starter at the British girls championship.
Labels: Girls