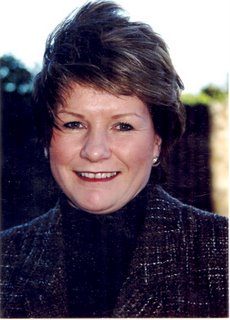 Fiona de Vries leads field
at soggy Templepatrick
St Andrews hotelier Fiona de Vries leads the field with a four-over-par 75 at the end of the first round of the Senior British women's open amateur championship over a soggy Hilton Templepatrick course near Belfast today.
Only a week ago the neighbouring river burst its banks and some of the greens were completely underwater. The greenkeeping staff have done a great job in making the course playable but more torrential rain on Sunday evening has resulted in preferred lies being in operation.
The end result is a course playing very very long for the competitors, all of whom are over 50 and quite a few another decade older.
Fiona,
pictured above by Cal Carson Golf Agency (all rights reserved),
looked like getting the closest to the par of 71 when she turned in one-under-par 35 with birdies at the short fourth and ninth, either side of a bogey at the eighth. She improved to two under par with a 2 at the short 11th - but that was as good as it got for the Scot.
She ran up a double bogey 6 at the 12th and then dropped single shots at the 13th, 15th, 16th and 18th for an inward 40.
Eight times Welsh champion and past Curtis Cup player Vicki Thomas (Carmarthen), winner of the Irish senior women's open amateur stroke-play championship in similar conditions at Lisburn last week, was one of the few who did not have a double bogey on her scorecard of 76.
But she had only one birdie, at the sixth, in halves of 38.
Sharing second place with Vicki on 76 is England's Susan Dye (Delamere Forest).
Lorna Bennett (Ladybank), winner of the Scottish seniors' match-play championship at Deeside three or four weeks ago, is lying joint fifth on 79 (40-39) after opening her round with a double bogey 6. She did have two birdies, at the second and 16th, to offset the steady leaking of shots over par.
Title-holder Alison Murdoch from Vancouver lost her Irish seniors title last week and faces an uphill task to retain the British title. She had an 82 (43-39), halves which included a triple bogey 7 at the fifth and double bogey 6s at the sixth and 14th.
It was tough going for everyone, even legends like Ireland's Mary McKenna, recently reappointed skipper of the GB&I teams for the Vagliano Trophy (2009) and the Curtis Cup (2010). The Donabate player had an 83 in which she had only five par figures. High points were birdie 2s at the fourth and seventh in halves of 40 and 43. Low point was a triple bogey 7 at the 12th.
Labels: Senior ladies